---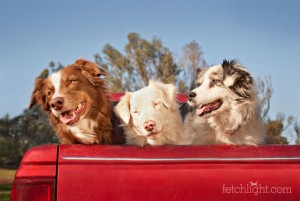 Aussies in a Truck: Lucky, Pearl and Smooch
Did you know that the dogs in this photo are Becky's dogs, in the back of her husband, David's, Ford pickup truck?
Lucky (left) was rescued after being hit by a car. He had 2 broken legs and was going to be euthanized. After a long rehab, he is now our best assistant and helps newly rescued dogs feel comfortable.
Pearl (middle) is the product of a double merle breeding, she is deaf and almost blind. She has attached herself to her Dad, she is his constant companion.
Smooch (right) was found tied to a tree after her original family just up and moved when she was only two years old. Thanks to Aussie Rescue, she became part of a loving family where she helped many dogs understand that good things do happen.
---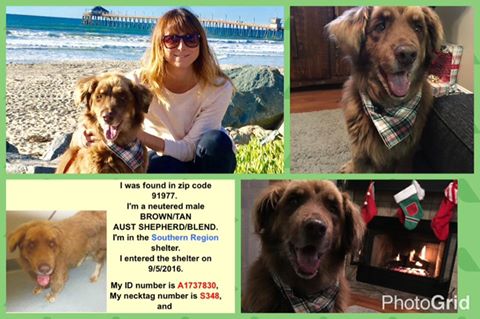 Harry
Sweet Harry has found his soulmate!!This poor guy was in poor shape when brought to a local shelter. They had to bathe him 3 times to get him clean. Over the past few months, he has gotten healthier and more lively. Then he met Serena, a new volunteer who offered to foster him….and he began to GLOW. Serena did such a wonderful job taking him out and showing him off. He received compliments everywhere he went, charmed her boyfriend, family and even Ben, the cat. She was bewildered as to why there wasn't a line of people wanting to adopt him. "He is so wonderful!" Well Serena, he is wonderful… because of you. Because you love him and bring out the best in him. We are so happy that you chose to adopt this charming guy! We can't wait to hear more about your adventures together! 
---
Eddie
Eddie was turned in because he wasn't responding to sounds and the vet they visited thought him to be deaf. While Eddie may have a hearing impairment (or not), he IS responding to conditioned sounds. LittleEddie was purchased from a deplorable puppy mill where dogs have been seen in small cages or crammed in together. If a puppy is caged in a loud busy environment and not interacted with, they can tune out things around them. They do not learn to respond to normal sounds because they were overwhelmed and desensitized. We are very happy with Eddie's progress. Time will tell if he has full hearing or not but so far he is doing very well. Eddie has been adopted.
---
Goose

Goose came to us one holiday season at only 9 weeks of age.  We received an email about a pup needing help. His owners produced a litter of puppies that they sold, and they were planning on giving Goose away on Craigslist for free. (Free Craigslist dogs often end up research projects, or bait dogs, or worse!) A neighbor stepped up because he knew "the dog had disabilities".  Even though we don't think of Goose's being deaf as a disability, we are thankful that this man reached out to his local Aussie Rescue, who worked with us to help transport this baby over 5 hours to San Diego. Those who helped transport can tell you that just because a pup is deaf doesn't mean they don't bark and cry. He sang quite a song! Once he got to his foster home, he decided he didn't want to leave! Luckily, they felt the same way. He was given his name because he is our co-pilot, guiding us as we grow. Goose has helped us find homes for other double merles who have hearing and/or vision limitations. He continues to help educate people so that his escaped future doesn't happen to other pups. He also helps train people to be proactive and focused on what they want their dogs to do instead of reacting to what they don't want to happen. Thank you Goose!
---
Tawny

Tawny was hit by a car as a puppy and arrived at the shelter in 2009, with both back legs broken and one of them de-gloved. Aussie Rescue got her out of the shelter and took care of her, including finding a vet that performed experimental skin grafts on her de-gloved leg, which worked! She did not need her leg amputated as previously feared. Tawny was a very brave girl, quietly licking peanut butter out of a Kong while her bandages were replaced daily. Tawny now has no problems walking or running and was climbing the rescue's fence even with her "chopstick" legs still in casts. After she healed, Tawny had several different homes and kept going back to the rescue. She has pancreatic insufficiency and will need always need medicine on her food in order to absorb the calories and nutrients.  Tawny was adopted by Jen of Fetchlight Pet Photography in 2011 (after she found a new, Tawny-friendly apartment)  and Tawny now visits the rescue to supervise the adoptable dog photo shoots. You can read more abut Tawny on the Fetchlight blog here.
---
Scooby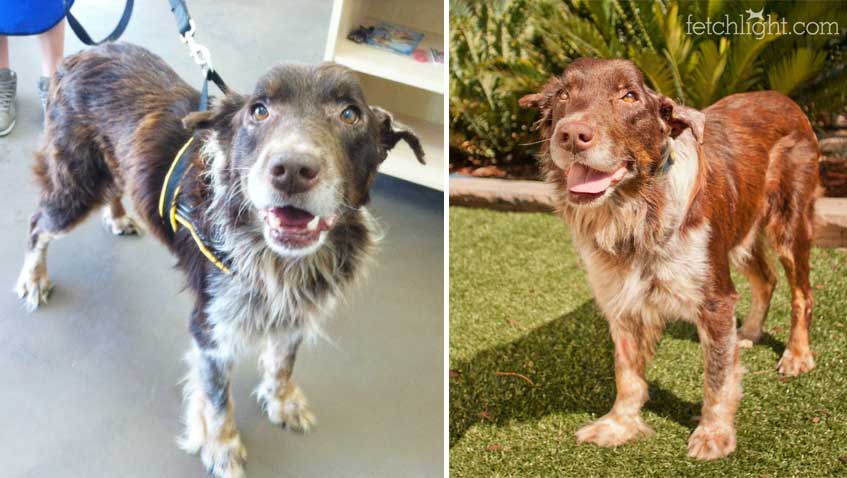 Scooby is an 8 to 10 year old Red Merle Australian Shephered who was rescued from the Camarillo shelter in 2013. All the other rescues were full, and this is part of one of the emails Geri received about Scooby: "No photo up yet, but we have a SUPER SWEET Red Merle boy (no tail) that was probably dumped & wandering for weeks until a Good Sam brought him to our shelter. He's in BAD SHAPE. Our vet cleaned foxtails out of his ears & his elbows are scarred up and he has a skin condition & missing patches of hair. He's an older guy, but may not be as old as he looks right now. God bless him — he has the most beautiful soul! He will sit at your feet and look up into your eyes…Our vet would like him to exit as soon as possible once he's available, because he will not do well in a shelter situation." Aussie Rescue had to help!
This is Scooby's picture when he first came in, on the left. He was such a stinky, sweet mess! He had a horrible ear infection and every time the medicine bottle was picked up, he would scream in pain. Scooby had bad skin issues with scabs all over his body, needed blood panels done and had 14 teeth pulled. He is a very sweet, special guy who was adopted by his long time foster, Judith. It was love at first sight!
---
Bingo

Bingo was waiting at the shelter. What he was waiting for he did not know. It seemed like he had been waiting a lot lately.  He was dumped by his owner at an estranged family member's house without her consent. She could not provide for him so he waited a month until she finally called Animal Control.  He could barely walk due to severe obesity and a Cantaloupe sized abscess on his front leg. Now it seemed he would wait more.
Luckily, Aussie Rescue has a dedicated volunteer who found him right away and notified us. We knew right away that he was waiting for us…for us to help him. Another volunteer was in the area and brought him the 2 hours to San Diego. He was greeted by several caring volunteers. More tears poured as people apologized to this poor baby while they cleaned him up, loved him with pets, brushing and sponge bath. He was given water, food, care and gentle touches while it was determined what needed to happen next. His abscess oozed from 2 sides and looked ready to explode but he laid on his soft blanket while slowly realizing that this had been what he had been waiting for. "Don't cry for me. Don't cry what has happened to me. Don't cry for what wasn't given to me. Smile at me, Love me, hold me, care for me, let me lean on you. I am now safe to feel the comfort of your hands, to be warmed by the compassion from your hearts, to know the hope that is in your eyes."
After receiving caring medical treatment at the ER and conferring with specialists, Bingo was diagnosed with a very aggressive, extremely painful bone cancer and infection.  "Don't cry for me, I feel no more pain I have filled up my heart with your love. Set me free, love me, remember me. I thank you for giving me what I had been waiting for. Thank you." May Bingo always be remembered in our hearts and memories and guide us in helping other dogs in need.
---
Phoebe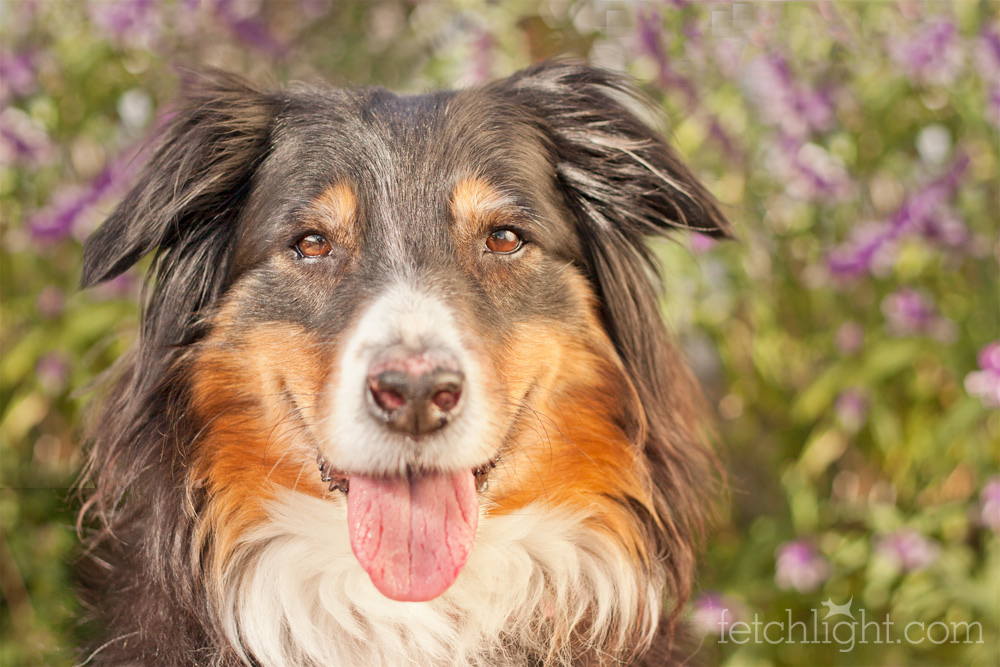 Phoebe was found and brought to Aussie Rescue in July 2013 with major skin infection and mammary tumors. She had not been spayed even though she was at least six years old. She may have been a puppy mill mom because it appeared she had multiple litters. After recovering from her skin infection, she had surgery to be spayed and remove her tumors. Her tumor was cancerous, but her margins were clear. Phoebe was our breast cancer survivor dog and was fostered and adopted by Kathy and Brett who loved to pamper and spoil her. She enjoyed playing with her toys and spending time with her foster sister, Zena.
---
Zena
Zena was a beautiful 13-year old Aussie Shepherd whose previous owner passed away. Zena was a senior dog and needed a home with someone who knows the extra care she needs. Seniors deserve the best you can give them because they spent their lives being at your side and loyal. But just like us, the older they get the more care they need. She came to us very timid, shy and unsure of where she was, but she was welcomed by Phoebe and 2 cats. As a senior she had some vision, hearing and stability issues, but it doesn't mean she didn't enjoy morning walks, special treats, sunny sleeping spots, and spending time with her best buddy Phoebe. Her favorite spot was lying in the kitchen and helping with clean up. She's such a great sous chef! There's a lot of satisfaction taking care of a senior dog and making sure they are loved and cared for.
---
Bob

We received a call from a Good Samaritan who had found a scared dog on a highway. The dog was not micro-chipped and no owner could be found. The good Samaritan and his family thought they might be able to keep this dog and give him much needed safety and love. Poor doggie was too scared and would often hide on their embankment. He wouldn't come inside. Of course, this all happened during a very rainy time! We just couldn't stand the thought of this poor baby out in the rain so we went down to see if we could help. We looked up the embankment and there he was hiding under a tree. Poor wet baby! Armed with hot dogs and wearing good hiking boots, we climbed up and sat down near him tossing him treats. He decided he just might like a taste of hot dogs and began taking the ones close to him. After a bit we figured out that he was scared and wouldn't come to us. We went to him, picked him up and carried him down the hill. Whew!
We named him Bob but he was affectionately called "Wiggies" by all those that knew him, because he would greet his friends with a toothy grin and butt wiggle. He was hilarious! He'd put his head down, grin showing his teeth and wiggle his butt. He was still shy at first, but with loving support and encouragement he built confidence to meet new people. He became a "greeter" at Howlistic, his favorite place for treats, making friends and taking a bath.
---
Lee's story coming soon!
---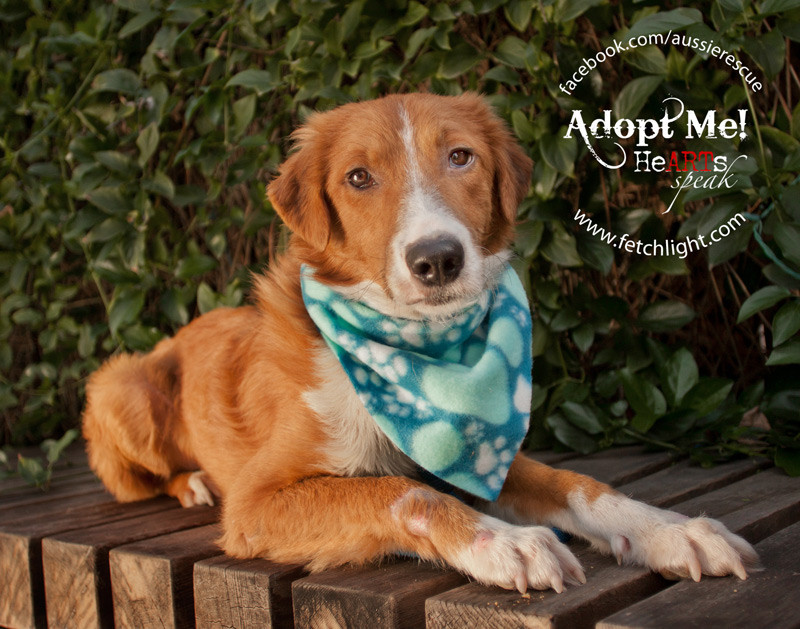 Shamus the Wonder Dog!
On Friday January 16th, 2015 we rescued Shamus the Wonder Dog (previously named Flaco) from the San Diego County Animal Shelter in Bonita. He was found January 12th, when Animal Services received a call from a tow yard down by the border of a dog that could not stand. Animal Control Officer Regina Jones responded and found the dog which she described as "very emaciated". Pressure sores on the dog's body are proof that the dog rarely, if ever, was able to move. The dog was brought to the San Diego animal care facility in Bonita where staff were both horrified by the dog's extremely poor condition yet smitten by the dog's sad eyes. The decision was made immediately to try and save the dog's life. Due to the loving care and support he received, Shamus was alive and able to be rescued. He is continuing to gain weight, becoming more active and always ready for a cuddle. Shamus is truly a wonder dog! He has been adopted.
---
Mikey
2.5 year old male Sheltie/mini Aussie mix, who weighs 25lbs.
Mikey is a friendly, cuddly boy who loves people and other dogs. He is unknown with cats. He loves treats, playing ball, going on walks, watching tv and hanging out. Mikey has issues with depth perception which affect his vision slightly. He is a happy pup who needs a family to love him as much as he will them. Mikey is microchipped, neutered and up to date on his shots. Mikey has been adopted.
---
Savannah

Savannah is a one year old Australian Shepherd/Dutch Shepherd mix. Savannah is so Amazing! Even though she is still a pup herself, she raised her 6 puppies to be healthy and well mannered. Savannah likes people, other dogs and enjoys having fun. She is very gentle in nature but since she is a puppy, she will still get into mischief. She needs a family who will love her and admire her while teaching her basic skills. She will need attention…things to do…She does not want to be bored! Savannah walks well on a leash, comes when called and is house trained.
She and her puppies were rescued from the Bakersfield shelter, which is a high volume shelter where many dogs are overlooked. Savannah has been a very good mom, who is completely devoted to her four baby boys and two baby girls. She is so devoted that she forgot to take care of herself. She came to us dirty, severely underweight, dehydrated and she had a nasty skin infection. Dr. Nadis at Cuyamaca Animal Hospital helped clean her up, gave her meds to help her skin, and said she was ready to be separated from the pups. Her babies are eating well on their own and have fat little puppy bellies! Everyone is now doing very well.
Thank you to Intuit and our volunteers, Tammy and Kjell Martin, who began their journey up to Bakersfield at 6:30am. Kjell works for Intuit, a software company that has generously matched their employees' donations to approved 501C3's. Intuit also has a program called We Care & Give Back, which allows their employees to take time off to help a charitable nonprofit and get paid for that time! We at Aussie Rescue really like this program!
Savannah and all her puppies were adopted.
---
Abbi

She is a female Australian Shepherd, 10 years old, 45lbs. Sweet Abbi was rescued from the shelter after not being claimed by her owner. Abbi was really sick and we found out that she had pyometra (a uterine infection that commonly affects un-spayed females). Luckily she was able to have surgery right away and is now much better. Abbi loves people, other dogs, cats and will sing for more attention. She is a bit stiff and slow but is doing well with her joint supplements. She has been adopted.
---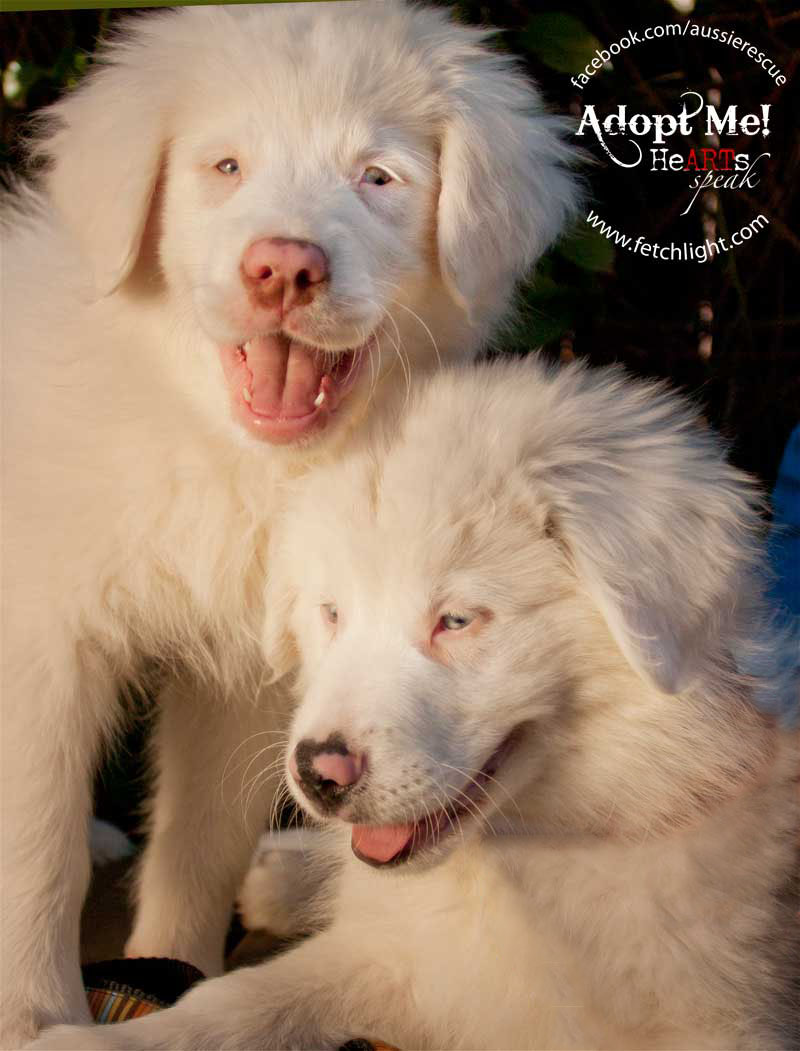 Leah and Andy
These two 12-week-old adoptable puppies came to Aussie Rescue in February 2014. They will be about 45-55lbs full grown. Their breeder wanted to euthanize them and somehow a groomer saved them and gave them to a vet to keep safe until homes or rescue could be found. They are the most AMAZING adorable puppies!!! Both are deaf but it doesn't hold them back at all! They love people and other dogs. They have not met a kitty yet. They don't need pity or sad feelings…Be proud of these pups and in awe of their greatness. They appreciate it 🙂 You may be tempted by their cuteness, but living with a deaf dog takes a lot of time, focus and diligence. For more info on living with a deaf doggie, visit deafdogs.org. Both dogs have been adopted.
---
Have you adopted a dog from Aussie Rescue San Diego? We'd love to hear from you and see a current photo of your dog! We may feature the photo and story here and on Facebook.