Courtesy Posts!
  Please contact Owners/Rescues directly
---
Disco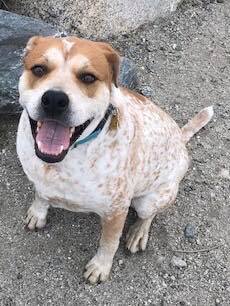 Courtesy Post! Please contact owner Jay at jmathis251@gmail.com
Per owner: Disco is a very large mix breed( 95 lbs.) He looks like a cattle dog and some type of hound. Disco loves to fetch and play with his balls and toys. He is extremely protective of our home and our new 1 yr old daughter. He tends to nip children when he wants to be left alone and knocks them down unintentionally. He has never broke anyone's skin, but around children you have to be cautious. If you throw a ball, he will run right through you to get it. He is house broken, does well on leash, and doesn't chew. Disco lives inside and uses a doggie door. Disco loves to run and hike with the family. We are super sad to see him go but think he will be better off with someone without small children. He has a strong herding instinct. When there is a lot of commotion with smaller children, he tries to manage the situation by pinching whoever he thinks is being too rowdy with his front teeth.
We are hoping to find a home with some space and a new owner that can spend time with him. He is not alone much but does well at home for 8 hrs. Please contact Jay at jmathis251@gmail.com
---
Sophie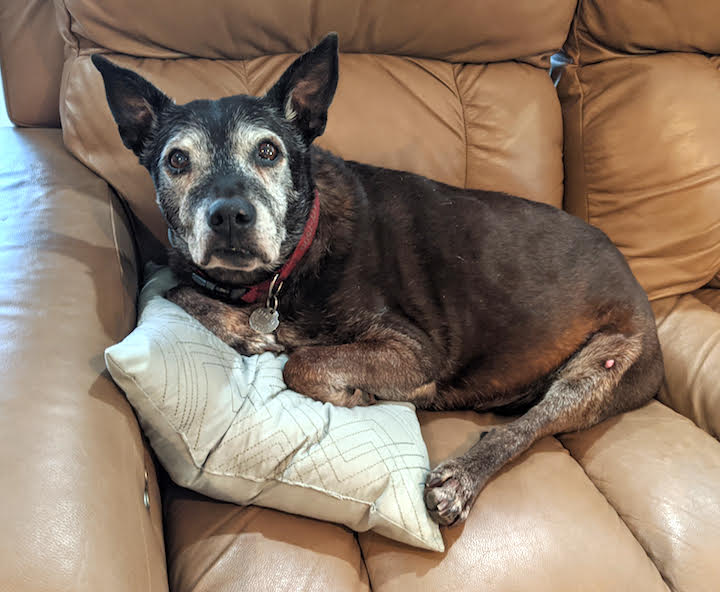 Sophie
Australian Cattle Dog Mix
14 years old
Female, spayed
Sophie is approximately 14 years old, female, spayed. She was a family surrender to a shelter in Los Angeles and was housed there for six months prior to adoption by my spouse's mother. Due to my spouse's mother's death, we are now fostering her in search of a new home for her. She is not compatible with cats (we have two). She comes on strong initially with other dogs, but mellows out after time and a few introductions. She loves to go on walks and heals well, plays ball and continues to have moderate to high energy. She is an excellent companion, although she loves to sleep on the couch and cuddles on pillows.
If you are interested in this senior gal, please fill out the adopt app: https://www.aussierescuesocal.com/applications/adoption_v2/ and it'll be forward it on to her caregivers (Torrance/South Bay area)
---