Courtesy Posts!
  Please contact Owners/Rescues directly
---
Disco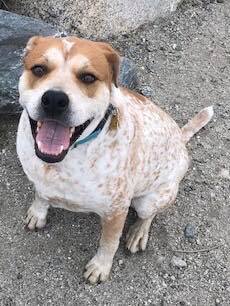 Courtesy Post! Please contact owner Jay at jmathis251@gmail.com
Per owner: Disco is a very large mix breed( 95 lbs.) He looks like a cattle dog and some type of hound. Disco loves to fetch and play with his balls and toys. He is extremely protective of our home and our new 1 yr old daughter. He tends to nip children when he wants to be left alone and knocks them down unintentionally. He has never broke anyone's skin, but around children you have to be cautious. If you throw a ball, he will run right through you to get it. He is house broken, does well on leash, and doesn't chew. Disco lives inside and uses a doggie door. Disco loves to run and hike with the family. We are super sad to see him go but think he will be better off with someone without small children. He has a strong herding instinct. When there is a lot of commotion with smaller children, he tries to manage the situation by pinching whoever he thinks is being too rowdy with his front teeth.
We are hoping to find a home with some space and a new owner that can spend time with him. He is not alone much but does well at home for 8 hrs. Please contact Jay at jmathis251@gmail.com
Journey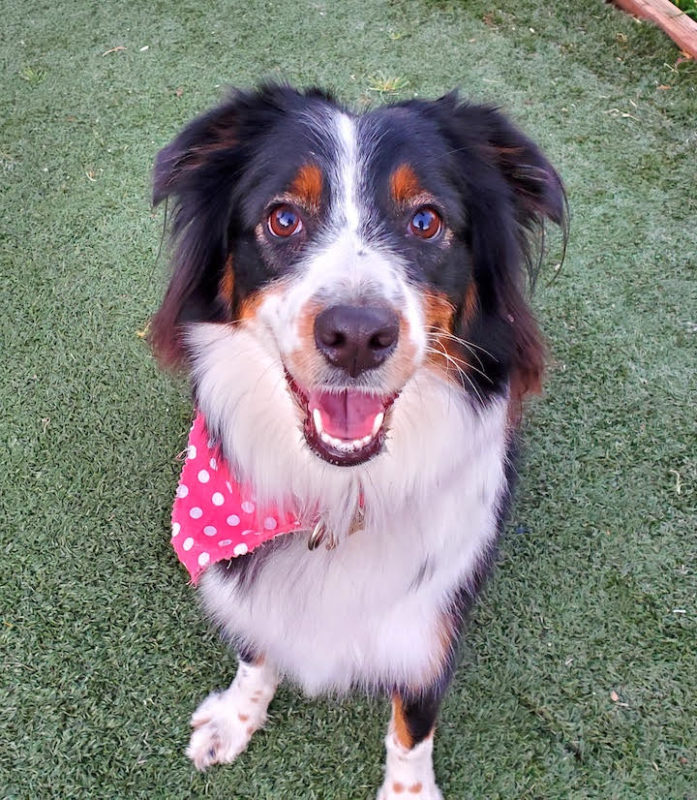 COURTESY POST–Contact Laurie in Orange County at laurie@wagsandwiggles.com
Journey is a 1-year old black tri female purebred Australian Shepherd. She was owned by a college student who did not have time for her. She is timid with new people and new situations. However in the short time she has been in foster care, she has been good with dogs and people. She is very active, loves to run. She is a great swimmer. She knows some basic obedience cues. Potential adopters must be Aussie experienced without kids and not leave her home alone longer than 6 hours a day. Ideally, she would go to a home with another male dog. Contact Laurie in Orange County at laurie@wagsandwiggles.com.
---
Buster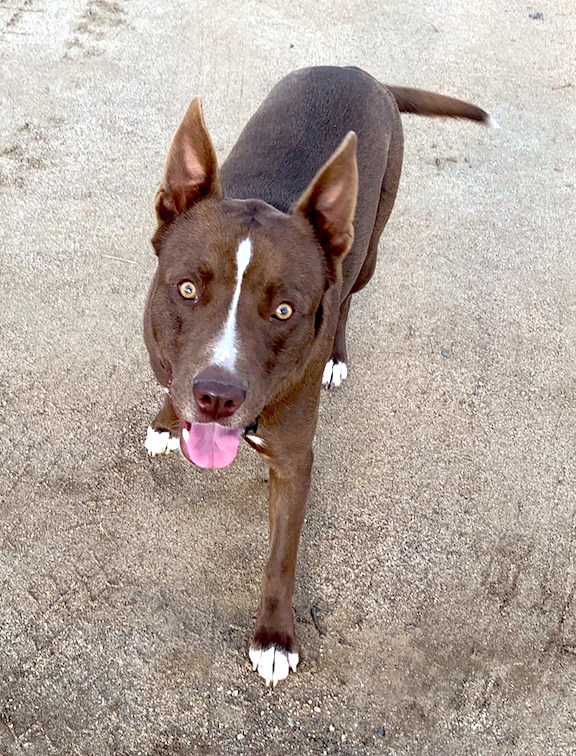 COURTESY POST—Apply through Aussie Rescue So Cal at https://www.aussierescuesocal.com/applications/adoption_v2/ (Temecula area)
"Buster is a roughly 18 month old neutered male Shepherd type mix. He is current on shots. Buster is the sweetest guy and is in need of a home where he can be an inside and outside dog. He loves to run and chase, he plays fetch but doesn't always bring the ball back…work in progress. He is wonderful with children, adults, females and males. He always greets people with a wagging tail. He is gentle too when he wants to sit on your lap . He rolls over all the time for belly rubs and knows how to sit and shake. He has been good with other dogs of similar size or bigger, but I don't recommend him to live with small dogs – when he saw a Chihuahua, he fixated on it like he wanted to chase it. Because of this I don't recommend he live with cats either. We originally adopted Buster from the shelter, where he had been picked up as a stray (so no background information) as we wanted a companion for our female dog and to help her protect our property and farm animals. Our female was in fight mode from the beginning, we've worked with her to accept him, but months have gone by and she just wants to attack him. He defends himself so they both get hurt, so I now keep them separated. We require our dogs to be outside mainly but Buster would really prefer to be indoors with his family and I feel bad for him. An ideal home would have a fenced yard and/or someone to take him on walks everyday and play with him. He would make a wonderful companion dog, therapy dog and family dog. Buster has so much love to give!"
If you are interested in giving Buster a loving home, please fill out the adoption application and ARSC will forward it onto his owners: https://www.aussierescuesocal.com/applications/adoption_v2/ (Temecula area)
---
Callie
COURTESY POST—Contact Contact Stephanie at Stephanie.storm@yahoo.com  (Orange County)
Callie is a 5 year old spayed female blue merle purebred aussie. She has lived with a loving family her whole life. However, her family had a child and with another baby on the way, Callie is too rambunctious for the toddler and has grabbed food from toddler's hands, not being overly careful about it. The family has tried a trainer and medications to calm Callie down but ultimately she needs a different living situation. She's needs a yard and a family that will be able to exercise her more.
Callie is loving at home and does well at the vet. She does interact well with other dogs that visit her home but she does bark at other dogs on walks. Callie should not live with kids or live in a home where kids visit. Callie is actually very loving and protective. Once she decides you're in her crew, you're in for life. She is happy to snuggle up and take a nap with you, cuddle while you watch a movie, will be by your side when you're sad. Callie would prefer a home where her people are home a lot.
Callie is located in Orange County. Contact Stephanie at Stephanie.storm@yahoo.com 
---
Sophie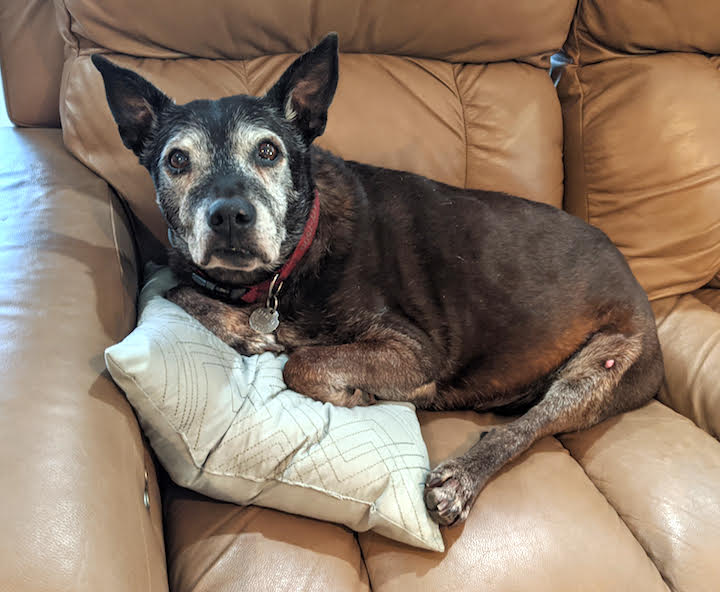 Sophie
Australian Cattle Dog Mix
14 years old
Female, spayed
Sophie is approximately 14 years old, female, spayed. She was a family surrender to a shelter in Los Angeles and was housed there for six months prior to adoption by my spouse's mother. Due to my spouse's mother's death, we are now fostering her in search of a new home for her. She is not compatible with cats (we have two). She comes on strong initially with other dogs, but mellows out after time and a few introductions. She loves to go on walks and heals well, plays ball and continues to have moderate to high energy. She is an excellent companion, although she loves to sleep on the couch and cuddles on pillows.
If you are interested in this senior gal, please fill out the adopt app: https://www.aussierescuesocal.com/applications/adoption_v2/ and it'll be forward it on to her caregivers (Torrance/South Bay area)
---