Are you interested in adopting, or may be interested in the future? Please fill out this application online. To see adoptable dogs of our friends, Aussie Rescue SoCal, click here. To view dogs available at our local San Diego shelters, click here. To sponsor one of our adoptable dogs, click below.
You can pay with a credit card, link will be on the bottom left of the next page where it says "Don't have a Paypal Account?".
---
 Jewell
Jewell is truly a jewel. She is a mix of several breeds making her one of a kind ❤️ Jewell's favorite volunteer sponsored her dna test and is preparing Jewell for a furever home.
Name: Jewell
Age: 8 years old
Gender: Female
Breed: Mix, short wavy hair
Weight: 45 lbs
Jewell was at a local shelter where she was so shut down, staff members had to carry her when moving her. She was very sick with pyometra, scabies, skin infection and more. They took excellent care of her and we rescued her as soon as we had an open spot. Jewell has come a long way! She is now healthy, has a gorgeous coat and sweet adoring eyes. She is still very shy with new people but usually will take food. Jewell has learned to walk on a leash but may need coaxing in new situations. Jewell has been great with her foster dog siblings and is very easy to live with. She is not good with cats! Becasue she is so shy, we ask for a home with at least a small yard and with no children since they will overwhelm her.
If you would like to adopt Jewell and give a loving home, please fill out our adoption application http://bit.ly/ARSD-AdoptionApp. Answer every question even if with "n/a" or it will not submit. We will respond to your application within 48 hours. If you do not hear from us, email us at info@aussierescuesandiego.org.
---
  Courtesy Posts!
  Please contact Owners/Rescues directly
---
Buddy
COURTESY POST—Please contact his owner: 626.255.5388 or email: cramerrsvp@gmai (Glendora area)
Buddy is a 5 year old neutered male Aussie with a shorter coat, weighing about 45 pounds. He is looking for a home where he can be inside again and have more interaction with his family….hubby in the current home is allergic to him and now that he's retired and home more, getting worse to where it is causing him asthma attacks, even with Buddy being primarily outdoors now. Buddy did used to sleep indoors with one of the kids and was fine (now sleeps in garage). Buddy has been fine with other dogs, used to go to the dog park and was okay, does live with 2 other small male dogs and has been fine with them, nervous around cats, good with the kids in the household, is reserved at first meeting strangers but if you can offer him up some good treats, he warms up 😊 He has a medium energy level, enjoys walks, plays ball for a bit, but really enjoys a good belly rub 😊 He can be protective of his yard and his people, so like most Aussies, does need to be introduced first (again, good treats go far), but is a loving boy once he knows you. If you are interested in this sweet boy, please contact his owner: 626.255.5388 or email: cramerrsvp@gmai (Glendora area)
---
Maddie
COURTESY POST—Apply through Helping Herders Rescue
Meet lovely Maddie. She is a 3 year old, 45 pounds, purebred Australian Shepherd who is needing an active home. Maddie is as smart as you would expect. She knows sit, stay, and come. She is house trained and crate trained. She would relish a home that keeps her learning. Maddie is social. She is good with men and women. Small kids make her nervous, but I feel the same way about small kids! Maddie is good with other dogs who are polite. With polite dogs, she could play all day! She also likes to play with people. A game of fetch is fun, and she could learn to bring the ball all the way back. Maddie is good on leash, especially with a gentle leader. She is also good in the car. Maddie is looking for a family who is as fun as she is. A walk a day won't do it. She wants someone who will wear her out! Then, after all of the fun, she will cuddle with her person. Maddie is spayed, microchipped, and he is up to date on vaccinations. She is located in Sierra Madre, CA. We do not ship our dogs. She is available for a meeting and adoption in SoCal. A home visit and vet reference are required.
Apply for Maddie here: http://post.rescueme.org/20-02-05-00531?fbclid=IwAR1WVPsI7sFzRYmdzOB9NA_KAgjEJ9DI0TzY0IWtaTg-r3oZ4qDMsMkS2i0
---
Chance
COURTESY POST—Apply through Aussie Rescue So Cal at https://www.aussierescuesocal.com/applications/adoption_v2/
Chance is a 9 yr old neutered red and white male Border Collie x Retriever mix who's owner had to go into assisted living and was unable to take him along.  He had not had much done with him prior coming to our rescue but with his foster mom's dedicated help he has really blossomed.   He is housebroken, walks wonderfully on leash, enjoys walks, goes with his foster mom to places like Tractor Supply, the car dealership when work was needed to get done on the vehicle, the courthouse, spent a morning at the doggie day care just for something different, the phone store – very well behaved, calm, laid down and patiently waited when needed to
  He is more reserved and may take a little to warm up to strangers but once he does he is loving and affectionate,  his sweet silly side comes out to play.  No kids please, they scare him – another dog is not necessary, although he is okay  with them in general, he doesn't really want to share your attention or play with them and is leery of pushy dogs.  He'd love a nice quiet home that will take him on some good walks and occasional visits to other places, but also allow time for some nice naps and just hanging out together
If you are interested in this delightful gentleman, please fill out the ARSC adoption application:  https://www.aussierescuesocal.com/applications/adoption_v2/  (Cherry Valley area)
---
Sophie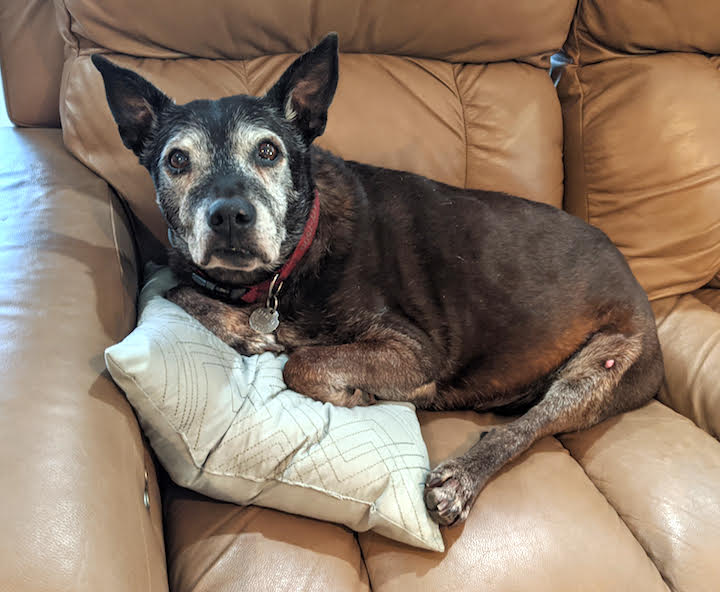 COURTESY POST—Apply through Aussie Rescue So Cal at https://www.aussierescuesocal.com/applications/adoption_v2/
Sophie
Australian Cattle Dog Mix
14 years old
Female, spayed
Sophie is approximately 14 years old, female, spayed. She was a family surrender to a shelter in Los Angeles and was housed there for six months prior to adoption by my spouse's mother. Due to my spouse's mother's death, we are now fostering her in search of a new home for her. She is not compatible with cats (we have two). She comes on strong initially with other dogs, but mellows out after time and a few introductions. She loves to go on walks and heals well, plays ball and continues to have moderate to high energy. She is an excellent companion, although she loves to sleep on the couch and cuddles on pillows.
If you are interested in this senior gal, please fill out the adopt app: https://www.aussierescuesocal.com/applications/adoption_v2/ and it'll will forward it on to her caregivers (Torrance/South Bay area)
---