Are you interested in adopting, or may be interested in the future? Please fill out this application online.
To see adoptable dogs of our friends, Aussie Rescue SoCal, click here.
To view dogs available at our local San Diego shelters, click here.
To sponsor one of our adoptable dogs, click below.
You can pay with a credit card, link will be on the bottom left of the next page where it says "Don't have a Paypal Account?":
Blue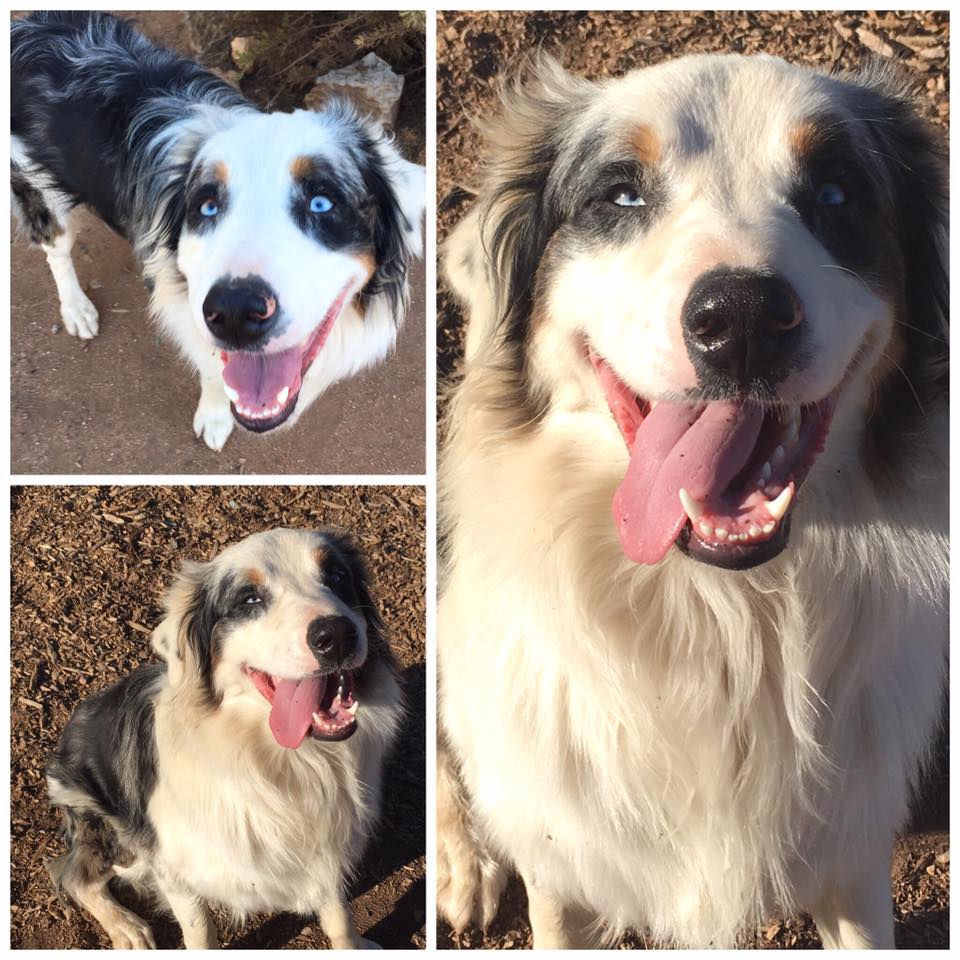 Spazzy
Quimby
Panda
Breed: Australian Shepherd
---
 Andy
Breed: Mini Australian Shepherd
---
 Mugsy
Breed: Australian Cattle Dog Mix
---
 Carter
Breed: Australian Shepherd
---
 Jewell
Breed: Aussie Mix, short hair
---
  Courtesy Posts!
  Please contact Owners/Rescues directly
COURTESY POST—Bruce @ 818-636-8600 or email: bhamous@naicapital.com (Moorpark area)
Name: Bear
Breed: Australian Shepherd
Age: 6 years 
Gender: Male, neutered
Weight 60 lbs
We rescued Bear from the Shelter a year ago, and we have known this sweet boy since he was a puppy. He was surrendered by one of our neighbors...so we decided we HAD to rescue him and become his Foster Parents until we could find the perfect "forever" home for him. We fell in love with Bear and decided to keep him. Unfortunately, my wife and I are getting a divorce and no one is at home during the day to keep bear company. I am out most of the day and feel bad that he is left alone and since we are going to sell our home, most of the places I am looking at do not allow for large dogs. Bear is about 60 pounds of love. He is a love! Bear is sweet, affectionate, fun loving, housebroken dog. He likes to play, have his tummy rubbed, take long walks, go for car rides, play with toys and most importantly be included with the family. He does not like people in uniform or delivery people as he tends to want to protect the family. Bear is great with children and can be a great guard dog and protective of family members, but he is loving with people and good with other dogs. He has even been amazing with our older dog who is 17. He likes to snuggle and put his head on your lap. Bear does quite well when left home alone during the day as he likes to relax but loves interaction too. He is intelligent, listens to commands, learns quickly, and responds well to positive voice affirmation. Bear is a neutered male, black tri Aussie, and would be a wonderful addition for any family who includes him in family activities, whether inside the house or outside. I believe he prefers the house mostly. Bear is a neutered 6 year old male and loves to have his walks 1-2 times a day. He would do well with a family who walks him and interacts with him on a daily basis. Bear will bring joy to any home. Bear is a fairly large Aussie (about 60 lbs). He loves his treats for being a good bear. You will fall in love with Bear too. 
If you are interested in sweet Bear, please contact Bruce @ 818-636-8600 or email: bhamous@naicapital.com (Moorpark area)
---
LIZZIE
LIZZIE is a 1.5 year old spayed double merle girl that is looking for a home where she can be an only pet.  She is deaf and knows sign language for commands, very smart girl who is active and loves to run.  She is housebroken, great on a leash, and loves meeting new people and going on road trips.  No idea on cats but don't recommend it as she does resource guard food, toys, her people, against other dogs, to the point of getting in some serious fights in her current home, so may do the same with cats, just don't know.  She is 42 pounds, and loves to sleep in bed with you!  If you are interested in Lizzie, please contact Lesley:  sbaussies1@gmail.com   and fill out our adoption application: http://www.aussierescuesocal.com/applications/adoption-application/
---
COURTESY POST—Contact: Jeanette at 714-856-2523 or jeanetten2@ymail.com
Name: Layla
Breed: Cattle dog/Dalmatian mix
Weight: 50 lbs
Gender: Female
Age: ~12 years old
This is Layla. The shelter said she is Cattle dog/ Dalmatian. She is approximately 50 pounds and estimated to be 12 years old. I rescued her at the LA animal shelter. She was on her last days there with no adoption and was submitted in early July. She is spayed and up to date on shots with a microchip. She is registered with LA county. She is the most mellow dog around. She does love to be outside, so someone with some sort of yard with grass is ideal for her. I did notice she barks at little dogs, but is not aggressive. She tries to keep up with my Australian cattle dog who is 7 but she has some hip problems. She is a little wobbly and shakey when walking and sitting. She sometimes leans over when sitting cause she can't support herself. She was filthy (and has been groomed) and has some skin issues. Nothing major and nothing a bath can't fix. She is missing teeth and slowly chews food. She is friendly with other dogs and just likes to hangout. My dog has already nipped her so I have to keep them separate. I am located in Orange County. The ideal person who can foster or adopt this precious would have time for her and have some sort of yard. She is so easy to care for and is the sweetest. I would require a meet and greet and a thorough interview before accepting fosters or adoptions. She deserves a great home. Contact: Jeanette @ 714-856-2523 or jeanetten2@ymail.com
---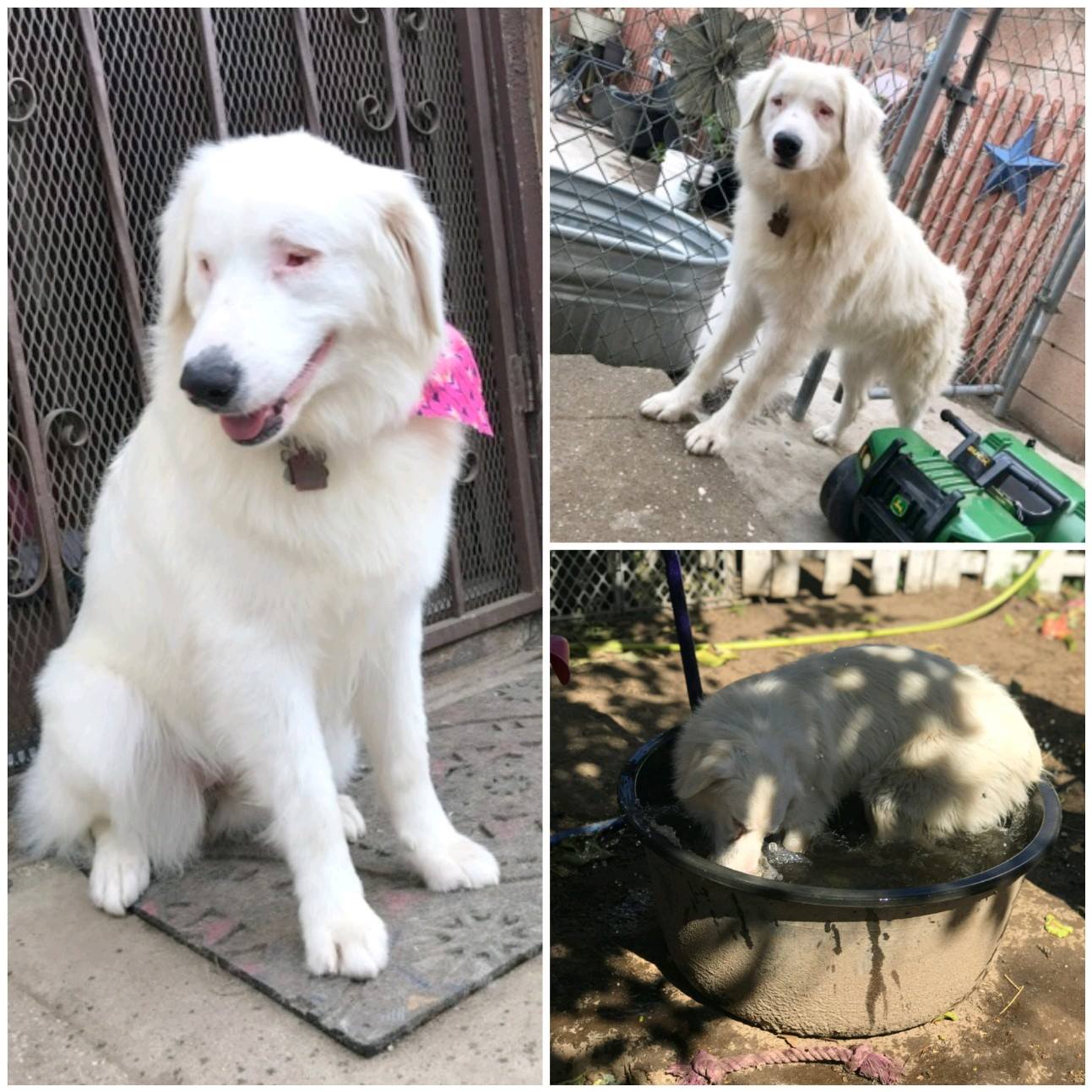 COURTESY POST—Apply at Aussie Rescue So Cal  https://www.aussierescuesocal.com/applications/adoption-application/ (Sylmar area)
Name: Laska
Age: 1–1.5 year old
Gender: Female, spayed
Breed: Aussie, double merle
Laska is an approximately 1-1.5 yr old spayed female Aussie. Because she is a double merle, she is deaf and has limited vision, but that does not stop her from enjoying life! 
This is what her foster mom says about her: 
"Hey y'all! I'm super excited that my little foster is finally going to be ready for a new forever home! She's a doll and has come a long way from the scared pup that would hardly move in more then a circle when I got her from the shelter. This little fishy loves to play in water, go to the farmers market, play dates, is great for the groomer, eager to please and loves to learn new things. She's house broke and crate trained. She's just as comfortable lounging around the house as she is walking the strip. I've taken her to the ranch I work my herding dogs at, around my horse, the flea market, pier, farmers market, pet functions, work with me, doggie play dates, and even out to dinner at our local dog friendly restaurant. She loves it all!
Laska does seem to have some allergies that make her eyes tear up, but she gets the "Vet's Best Seasonal Allergy Relief Dog Supplements" and that takes care of it." 
If you are interested in this beautiful girl, please fill out our adoption application: https://www.aussierescuesocal.com/applications/adoption-application/ - if you've already filled one out in the past, just drop me an email: aussierescuesocal@gmail.com (Sylmar area)
---
COURTESY POST—Contact Karyl at 951-961-7575
Name: Macy
Age: 7 years
Breed: Aussie Mix
Gender: Female
This is Macy, she will be 7 yrs old yet this year and is spayed. She is in the high desert area and we are looking for either a foster or adoptive home for her where someone can be home/with her 24/7 initially. 
She is currently a primarily outdoor dog (kids let her in occasionally short term, and when she is inside she just lays down wherever you are)—she is noise sensitive so every time she hears anything loud (thunder, fireworks, etc), as well as every time the owner leaves the house, she goes over the 5 foot chain link fence and goes to the neighbors—who are getting irritated by it. Per the owner, she has tried coyote rollers, hot wire, extending the fence up in some areas, she just keep climbing up and over (they are on an acre), so there is some panic involved with Miss Macy, and it sounds like the older she gets the worse she is getting about it, so she is going to need a home that can be patient and careful with her anxiety. 
She is excellent/very friendly with people/kids (been around babies and up)/other dogs/cats, a calm girl, currently lives with an older female GSD mix and having another dog around does not keep her in the yard. When she is returned home (and the owner isn't home) she is shut in the garage and apparently is okay with that—I'm guessing the garage is attached to the house—but one time she got accidentally shut in the laundry room in the garage and she did some damage in there when that happened (trying to get out). They have not tried a crate with her, so no idea if that would work or if she would would panic further. 
If you are interested and understanding of what this girl needs, please give me (Karyl) a call - 951-961-7575.
---
COURTESY POST—Contact dogadopt21@gmail.com (Santa Barbara area)
Name: Little Ricky
Breed: Aussie mix
Age: 8 years old
Gender: Male, neutered
Weight: 36 lbs
Little Ricky is a 8 year old Aussie mix or Aussie with a tail. He is very affectionate and wants to be someone's best friend.
He is very good with other dogs and is currently in foster with two other Australian Shepherds. He will chase cats.
He likes to go for walks and rides in the car, and basically wants to go wherever you go.
He has had a full medical and has all his vaccines and is neutered. He weighs approx 36 lbs.
---
Beau
2/22/18

Courtesy Post—Contact Owner Directly: Jaime at ggu926@yahoo.com
Name: Beau
Gender: Male
Breed: Australian Cattle Dog Mix
Age: 2.5 years old
Beau is a neutered male Australian Cattle Dog Mix, he is 2.5 years old, fixed and current on shots (2/2/2018). He is a great dog, but has a very high energy level and some anxiety issues. He needs to be on a property with a lot of land and/or with an owner that is home more often. I walk and take Beau to the dog park as often as I can, but he still has a tremendous amount of energy. Beau does pretty well with other dogs although he can get nervous around large dogs. He has a companion dog with which he gets along well (my 4 year old Chihuahua mix Scooter). Beau has not shown aggression towards people except when I have taken him to the vet. However, he can be skittish around new people. He has received training and knows his basic commands.
---