Are you interested in adopting, or may be interested in the future? Please fill out this application online.
To see adoptable dogs of our friends, Aussie Rescue SoCal, click here.
To view dogs available at our local San Diego shelters, click here.
To sponsor one of our adoptable dogs, click below.
You can pay with a credit card, link will be on the bottom left of the next page where it says "Don't have a Paypal Account?":
Molly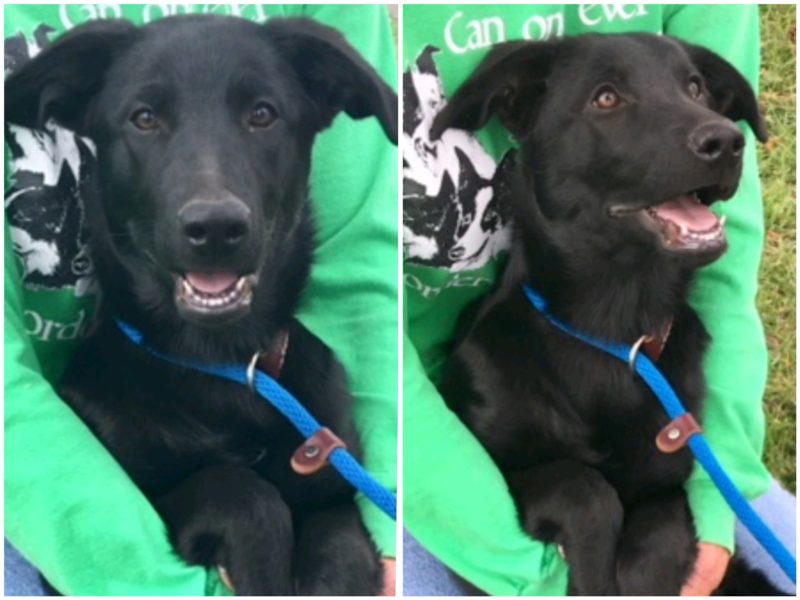 ---
Odin  
---
Foxy  
---
Locket
Locket
2 yr old
Female
Australian Shepherd,  small
39lbs
Locket is currently in our rehab program where she is learning basic manners and how to interact comfortably with people. She came to us after being rescued from a large commercial breeder. She was severely matted and fearful of being handled. Locket is also learning to walk on leash. She still needs spay and medical evaluation. She is not yet available for adoption, but if your interested in fostering and are in the San Diego area. Please complete our foster application http://aussierescuesandiego.org/foster-and-volunteer/foster-application/ . 
---
Mystic
Mystic
7 1/2 years old
Female
AustralianShepherd, small
39lbs
Mystic was recently rescued from a commercial breeding operation. She is in our rehab program where she is learning to not be so afraid and anxious. Because her world has changed so much, she needs consistency. Poor girl is trying to figure out how to be a fun loving dog. Mystic has had a full dental and Is spayed. She is available to a home committed to working with a fearful dog. http://aussierescuesandiego.org/foster-and-volunteer/adoptionapplication/
---
Trudy
Trudy
8 1/2 years old
Female
Australian Shepherd, mini
33lbs
Trudy was recently rescued from a commercial breeding operation. She has been in our rehab program learning to be comfortable with everyday noises and situations. She loves to lay on her bed when visiting with volunteers and is enjoying being brushed and pet. While she tolerates the presence of other dogs, Trudy prefers to be the only dog in her home.
Trudy needs a full dental and spay. She is available for adoption to a home.
http://aussierescuesandiego.org/foster-and-volunteer/adoptionapplication/
---
Stella
Stella
4 year old
Female
Border collie
31 lbs
Stella is a great girl 
❤
 She loves to help her person do ANYthing! She is a border collie...
Stella wants someone with a sense of humor and who can give her stuff to do even if just tagging along during the day. She may be scared of traffic, lots of new people, or loud noises so her owner will need to be patient and understanding. She does recover fast. She has been good with her foster siblings, unknown with cats and kids. If you would like to adopt Stella, please fill out an adoption application 
http://aussierescuesandiego.org/foster…/adoptionapplication/
---
  Courtesy Posts! 
  Please contact Owners/Rescues directly
Pantz & Coco
4/29/18

COURTESY POST--contact Donna at (949) 413-6787 (Costa Mesa area)
Sadly because of a divorce and loss of home, a fellow Aussie owner is desperately trying to find a loving retirement home for her 2 senior Aussies, Pantz & Coco. Pantz is a neutered blue merle male, 13 yrs old, about 60 pounds, and Coco is a spayed black tri female, 9 yrs old, about 35 pounds -- they are housebroken, primarily used to being indoors, don't know about cats, seem to be okay with other dogs (have been around and played with neighbors' dogs in the past), not really been around kids but fine with people - Pantz is more confident/outgoing one, very sweet, Coco is more reserved at first, she does better if Pantz is with her. Coco loves to play fetch, both love on go on walks and ride in cars, they do play together. From their owner, Donna: " They need a family that will love them like I have. I love dogs and am crushed I have to do this. I'm hurting so bad, but if I know they are going to a good home and if I can come visit them I would love that. They cannot be separated please." If you can help Pantz and Coco, please contact Donna at (949) 413-6787 (Costa Mesa area)
Ivy
4/25/18

Ivy is a beautiful spayed female blue merle Aussie, about 7 yrs old, and about 45 pounds.  She is housebroken, is primarily used to being loose indoors, is a high energy girl and enjoys playing frisbee/catch.  She does pull on the leash when walked and can be very barky when strangers come over, so some training/work on that would be a good idea.  She is NOT good with young children, cats or other female dogs, not sure about male dogs.  She has nipped the owner's 3 yr old granddaughter, who is now living with her, on the face, so thus the need for a new home for Ivy as soon as possible, before it becomes a bite situation.  If you are interested, please contact her owner Sue via email: 
klockzien@hpe.com
 (La Palma)
Orion
4/13/18

Orion is a 5 year old neutered male, Red Tri Australian Shepherd, weighing at 30 pounds (previous owner called him a mini).  Orion would do best with an owner who has a very predictable and quiet life style.  He is the kind of dog who can really appreciate a schedule.  While Orion is dog friendly he does not prefer the company of other dogs. He is a bit above all the tom foolery that dog friends bring 
🙂
  Orion is affectionate and bonds tightly once he gets to know you. He can be reserved upon first meeting as is with most Aussies.  He bonds so tightly he needs an owner who can also set boundaries  so he doesn't over bond.   Orion is looking for a home that is free of other animals and children.  His adoption fee includes a private training session from the trainers at Board-N-Behave that worked with him on body handling. When Orion first arrived he had a hard time being handled around the collar or for grooming. He had a hard time making transitions that were not his idea. NO he is not a dominant dog he simply lacked the skill set to think things all the way through.  
Orion has been fully vetted and healthy.  He is up to date on all vaccines and has recently had a full dental cleaning, blood work and x rays. He is healthy as can be. He is happy to curl up with you, go on walks, rides great in the car, knows sit, down, stay, and shake with both paws, and loves a good game of fetch!
Lakota and Fala
4/4/18

COURTESY POST—Contact Tonya (818) 518-4566 or email trippert2000@yahoo.com
FOSTER OR FOREVER HOME NEEDED ASAP! 
Names: Lakota and Fala
Age: 8 years old
Gender: Female
Breed: Heeler/Shepherd Mix
Lakota and Fala are 8 yr old female Heeler/Shepherd mix siblings that we adopted together as puppies. They are a bonded pair and are very affectionate and loyal family dogs. They grew up together in our family home and were indoor/outdoor dogs (always sleeping inside). We do not think they'd adjust well to apartment living, so our dream is to find them a loving home with a yard. They have lived with other dogs before, but would require an experienced owner and proper introduction before socializing with other dogs, (especially small dogs). They are wonderful with our school-aged children, but did not grow up with toddlers (although you'll see in one of the photos they were fine with my grandson). This is a very sad and trying time in our family - please know we've done everything in our power to prevent having to re-home them, but we're now left with no alternative and we must find them a home before April 15th. 
For more info or to meet these sweet and loyal ladies, please call Tonya (818) 518-4566 or email trippert2000@yahoo.com
Beau
2/22/18

Courtesy Post—Contact Owner Directly: Jaime at ggu926@yahoo.com
Name: Beau
Gender: Male
Breed: Australian Cattle Dog Mix
Age: 2.5 years old
Beau is a neutered male Australian Cattle Dog Mix, he is 2.5 years old, fixed and current on shots (2/2/2018). He is a great dog, but has a very high energy level and some anxiety issues. He needs to be on a property with a lot of land and/or with an owner that is home more often. I walk and take Beau to the dog park as often as I can, but he still has a tremendous amount of energy. Beau does pretty well with other dogs although he can get nervous around large dogs. He has a companion dog with which he gets along well (my 4 year old Chihuahua mix Scooter). Beau has not shown aggression towards people except when I have taken him to the vet. However, he can be skittish around new people. He has received training and knows his basic commands.
3/19/18

Courtesy Post--Contact Owner Directly at 760-787-1828
Senior Bichon Frise
Age: 8 Years
Gender: Male
Sweet Bichon Frise loves to be with people all the time, and is a potential emotional support dog material. He hasn't met a human he doesn't like (although we were told he isn't good with young children). He likes men and women equally and plays well with other pets. He loves car rides, sleeping in the bed, any type of people food. He is a happy boy, bouncy in the mornings, submissive and shy at times. He is quiet/not yappy, and sleeps through the night in his crate.
He is neutered and vaccinated. He has vision loss in one eye, and some slight hearing loss from ears full of foxtails. He has no special health needs, other than regular grooming. He does need a human around at all times; he is needy and anxious when alone. He was owner surrendered and seems to fear it will happen again.
Looking for an extremely patient couple or family willing to spend lots of time with him, but also teach him boundaries and rules. He learns new routines quickly, and does his best to become part of the family. Small yard OK.
Located in Ramona. Adoption and application fee apply. Please contact 780-787-1828 for more information.
3/19/18

Courtesy Post—Contact Owner Directly at 760-787-1828
Sibling Pair Seeks Family & Friends
These two small terrier mixes are seeking a new forever home after being sadly surrendered by their elderly owner. The female, all white, full of love and tail wags, wants you to know how much she loves you. The male, gray and white, is shy until he trusts you. She would be fine without him, but he cannot function with his sister.
Both get along well with most people (they have no experience with young children). They get along with most other dogs, cats, and birds.
Looking for an individual owner, couple, or family with time for a funny, low maintenance pair of house dogs. Prefer at least a small yard. They share a crate at night and like to sleep in mornings.
Both dogs are 6 years old, fixed, up-to-date on vaccinations, no special feedings or medical needs. Happy to answer questions from serious callers.
Molly 

MOLLY is a 7 month old spayed female, German Shepherd x Cattle Dog mix at best guess per the vet.  She is current on her vaccinations and microchipped, housebroken, and loves her toys and chews  🙂  She is excellent with other dogs, currently lives with a 3 pound Chihuahua, has had limited interaction with kids, seems okay, a very smart and sweet girl.  She was found on the streets and when no one claimed her, her rescuers took her in and got her vet checked, etc, and ready for adoption.  If you are interested in this sweet girl, please call Lydia or Richard @ 951-783-0437 or 951-309-3641  (Menifee area)
---