Are you interested in adopting, or may be interested in the future? Please fill out this application online. 
For most current available dogs, including courtesy posts, please visit our Facebook page Aussie Rescue San Diego. 
Cooper
Name: Cooper
Breed: Aussie / Cattle Dog mix
Gender: Male
Age: 1 year old
Weight: 48 lbs
Cooper loves to have fun! The first 10 minutes with Cooper are so exciting, he can barely touch the ground. No matter if it has been five minutes or an hour. With new people, he can be super happy and excited but also worried and unsure so he may need a few minutes to calm down and focus. Cooper loves to go outside in his yard, run around and play with toys. (Did we say, "toy"? He loves toys!) When Cooper first came to us, he was anxious and he did jump the chain link fence but since then, he has not tried again. Cooper is still insecure and working on building his confidence. He is looking for a home that will exercise and train him. He should be the only dog at least at first so he can get settled and become confident. He also needs a home where there is not a lot of coming and going. Cooper is going to bond tightly with his new owner(s) and will need to have them around until he is comfortable in his new home. Because of his shyness and low self confidence, he should not live with kids, cats or other dogs. He is not suitable for condo/apt type settings or dog parks. Those needs may change when he is comfortable in his environment and has a few more coping skills. Cooper is a sweet happy boy looking for an understanding and safe home where there are not a lot of comings and goings.
  Courtesy Posts!
  Please contact Owners/Rescues directly
---
Cookie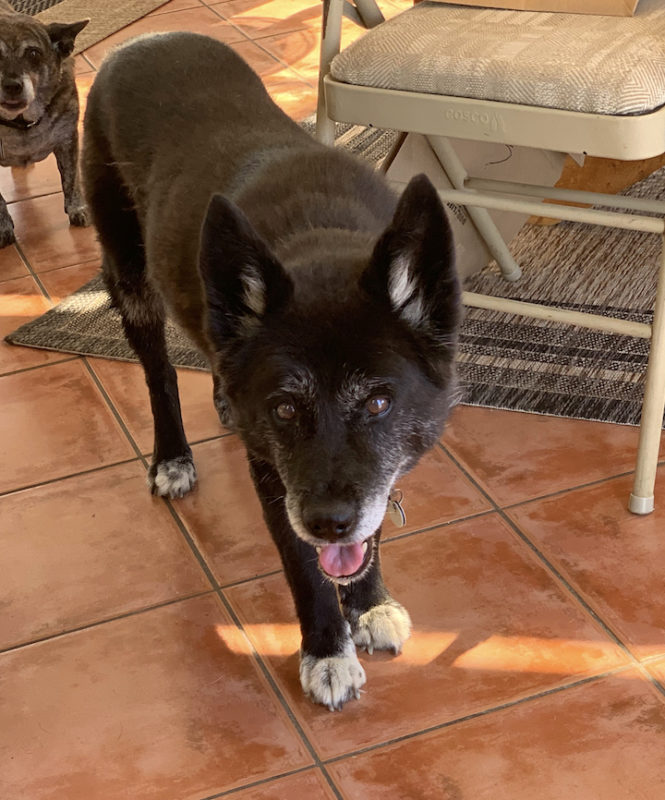 Name: Cookie
Age: 16 years
Gender: Female
Breed: Border Collie Mix
This is Cookie, at 16 years young an old lady with a lot of spring in her step! Our best guess is that she is a border collie mix. She certainly has the intelligence and energy level of the breed although she's also capable of a lot of mellow sleeping since she is a senior.
Cookie is easy to have around the house. She gets along fine with other dogs and cats in the home. She will bark at strangers but is friendly once she knows everyone is safe. I would not trust her around young children because she can be a little reactive to certain kinds of physical contact.
Cookie loves to go for walks. Truly loves it! The one challenge is that when she sees other dogs while she is out she gets very stimulated and will sort of fling herself at their faces. So she needs a strong hand on walks. She's also pretty nearly deaf so she needs to be on leash.
This is a girl with a lot of life in her even at her age for someone willing to meet her needs."  
If you are able to give this senior girl a loving home for her sunset years 
please fill out the Aussie Rescue So Cal adoption application: https://www.aussierescuesocal.com/applications/adoption_v2/. (Santa Barbara area)
---
Adoptable Dogs from Our Rescue Partners:
To view dogs available at our local humane societies and shelters: