Are you interested in adopting, or may be interested in the future? Please fill out this application online. 
For most current available dogs, including courtesy posts, please visit our Facebook page Aussie Rescue San Diego. 
---
Andy
Name: Andy
Age: 2 year old
Gender: Male
Breed: Aussie mix
Weight: 45 lbs
Andy is a good looking teenager who has had a few homes already. He will need an experienced owner willing to work him so that he can learn good doggie manners and become a balanced boy. Andy can be reactive to new people and some dogs. He loves to train, play with his toys, go for walks/car rides, and chew on his treats. He is still a teenager who needs lots of exercise and training. Andy has displayed separation anxiety so he will need an understanding owner who can help him him cope and won't leave him all alone until he can handle it. Based on Andy's history and current needs, he is not suitable for condo or apartment living and should not be expected to visit dog parks. He is also not recommended for homes with children, cats or other dogs. While he has been great with some dogs, he really needs to build his confidence and get settled before another dog shares his living space.
If you want to adopt Andy and you can meet his needs, please fill out an adoption application http://aussierescuesandiego.org/foster-and-volunteer/adoptionapplication/. Please answer every required question, otherwise your app will not submit. You will receive an immediate confirmation once it has been submitted. Please allow up to 48 hours for us email you personally. If you do not receive confirmation within 48 hours, email us at Adoptionsaussierescuesandiego@gmail.com.
  Courtesy Posts!
  Please contact Owners/Rescues directly
---
Opus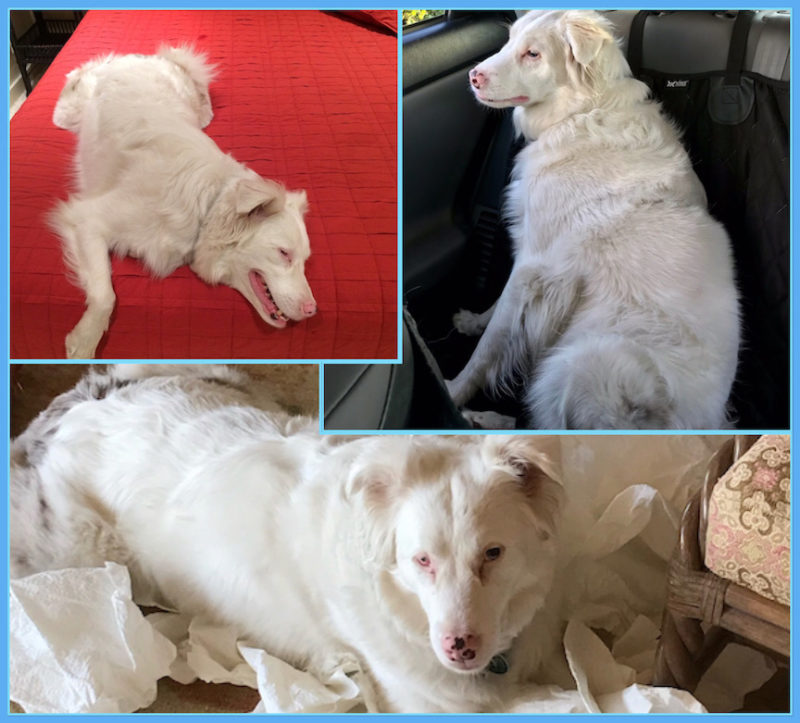 Searching for a loving home for Opus, (8-10-year-old Aussie rescue), in excellent health, very well cared for, with plenty of puppy energy. Sweet, beautiful to look at, soft to touch, with the best ears ever. Opus was born deaf and blind in one eye and is trained to respond to hand signals. He has been a wonderful companion. He loves people. He is good with dogs his own size or smaller but not with cats. With other dogs, given his limited perception, he can become defensively aggressive if approached too quickly, (like with a puppy). He can't really tell who is friend and who is foe. I walk him with other dogs all the time and he is fine. He does "defend his territory" with outside people coming onto the property, like the gardener and just needs to be confined in these circumstances. He has nipped at the gardener and he once bit me when I stopped him from coming inside when he was all wound up. This kind of aggression has been infrequent and controllable. The big change is I am now living with other people who have cats and he can't be trusted to not attack them. I have to keep him outside or on a leash while inside. He is used to being able to come and go and be part of the household. It breaks my heart, but I need to find him a better situation. An ideal home for him would have a big yard with easy access, and lots of walks with someone who is good setting alpha boundaries.
** If you are interested in Opus, please contact his owner Georgia via email: gnoble@cox.net or call: (805) 452-4724 (Santa Barbara area)
---
Cookie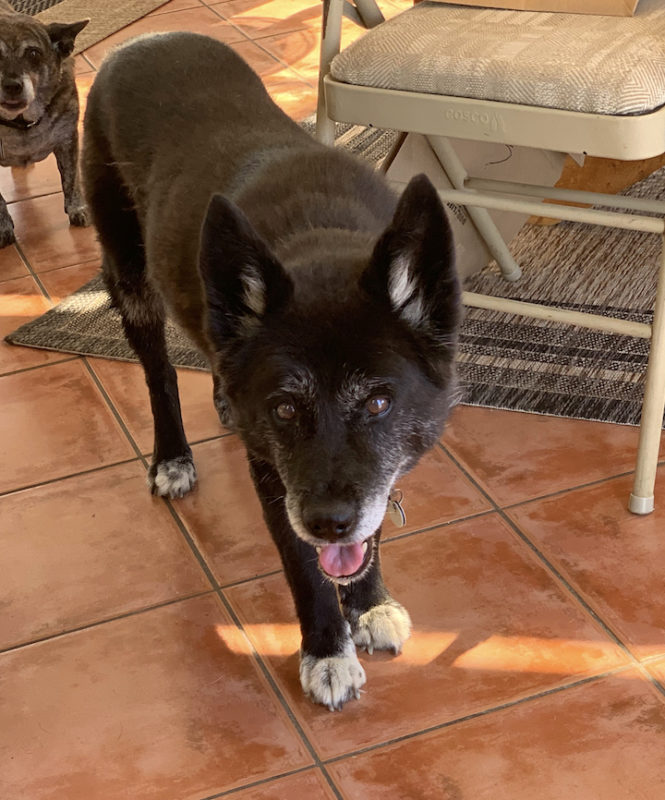 Name: Cookie
Age: 16 years
Gender: Female
Breed: Border Collie Mix
This is Cookie, at 16 years young an old lady with a lot of spring in her step! Our best guess is that she is a border collie mix. She certainly has the intelligence and energy level of the breed although she's also capable of a lot of mellow sleeping since she is a senior.
Cookie is easy to have around the house. She gets along fine with other dogs and cats in the home. She will bark at strangers but is friendly once she knows everyone is safe. I would not trust her around young children because she can be a little reactive to certain kinds of physical contact.
Cookie loves to go for walks. Truly loves it! The one challenge is that when she sees other dogs while she is out she gets very stimulated and will sort of fling herself at their faces. So she needs a strong hand on walks. She's also pretty nearly deaf so she needs to be on leash.
This is a girl with a lot of life in her even at her age for someone willing to meet her needs."  
If you are able to give this senior girl a loving home for her sunset years 
please fill out the Aussie Rescue So Cal adoption application: https://www.aussierescuesocal.com/applications/adoption_v2/. (Santa Barbara area)
---
Adoptable Dogs from Our Rescue Partners:
To view dogs available at our local humane societies and shelters: