Are you interested in adopting, or may be interested in the future? Please fill out this application online. 
For most current available dogs, including courtesy posts, please visit our Facebook page Aussie Rescue San Diego. 
---
Kaylee
Name: Kaylee
Age: 7 months old
Gender: Female
Weight: 35 lbs
Note: Blind in one eye (micropthalmia)
Kaylee's smile is contagious! She loves to have fun and has been good with other dogs if given time and space to get comfortable first. Kaylee is a rough and tumble player though. She likes to jump on other dogs, wrestle and run around. Jumping is actually one of Kaylee's favorite things to do. She has springs for feet! Her other favorite thing to do is getting dirty. This girl LOVES to roll in the dirt, mud, whatever and then share her happiness with you. Kaylee will need an experienced owner with a good sense of humor and appreciation for her "fun adventures". We want her to continue to have fun and really enjoy her future. She will need consistent training and structure so that she can become a well behaved girl. Kaylee is unknown with cats. Her ideal home would be with an Aussie savvy owner who has lots of time and energy for her and a home with a yard big enough for her to romp and play in. She will also need a well mannered and playful doggie sibling who is puppy friendly. Kaylee is too rough and energetic for young kids, senior dogs and dogs smaller than her. She is an active girl and will need an owner who has time and energy to engage her throughout the day.
If you want to adopt Kaylee and you can meet her needs as stated in this post, please fill out an adoption application http://aussierescuesandiego.org/foster-and-volunteer/adoptionapplication/. Please answer every required question, otherwise your app will not submit. You will receive an immediate confirmation once it has been submitted. Please allow up to 48 hours for us email you personally. If you do not receive confirmation within 48 hours, email us at Adoptionsaussierescuesandiego@gmail.com.
---
  Courtesy Posts!
  Please contact Owners/Rescues directly
---
Angel
Angel is an approximately 2 year old spayed female medium coat Border Collie. She was bailed out of the shelter and came to live with her foster parents as she was deemed "rescue only"  because she had some medical issues at the time that were quickly resolved.  When Angel was at the vet to get spayed it was noticed that she had some mild limping and it was soon discovered that she had a bad hip and required surgery. It is best guessed that she suffered injury as a puppy and developed some issues with her hip joint. The rescue had a FHO (femoral head osteotomy) performed . Angel has recovered very nicely from her surgery and most times you can't tell she ever had a problem. She will sometimes have the occasional limp but its more out of habit than injury as she runs and plays like the young dog she is!
Angel (so named because her ears would stand up like an Angels wings) is a very sweet and affectionate dog. She loves to be by your side and have you pet her. She seems to love all people and children. She is leashed trained but does require some more training.  She is also housebroken, and crate trained (night only).  However, Angel is a true border collie in that she is very active and loves to run and play. She does well with her foster siblings. We are not sure how Angel is with cats, but she does love to herd other small animals so its probably not a good idea.  
Angel requires a herding dog savvy home with someone who can spend a lot of time with her. She has the potential to do just about anything you ask of her.  
If you are interested in Angel, please fill out our adoption application: https://www.aussierescuesocal.com/applications/adoption_v2/  – if we have one from you already, please email aussierescuesocal@gmail.com  (Norco area)
---
Benny
Please read Benny's ENTIRE post –
"Meet Benny, my best friend. He is the most handsome 2 year old neutered Australian Shepherd you will meet. Unfortunately due to covid I have lost my job and place to live and in the midst of a crazy life transition I'm devastated to say I just can't keep him anymore. A little about his background…he is pretty new to the city, used to be a farm dog that ended up as a stray and in the shelter. He is the most loyal snuggle bug I have owned. He truly wants to just please you. He will follow you around most of the day and LOVES car rides and swimming.  He will hang his head as far out the window as he can; he loves soft toys and will steal all your socks. He will beg you for an entire head of broccoli you buy (in fact he loves all vegetables including cabbage), he could chase a squirrel all day and even plays ball with himself. He LOVES the snow and his favorite game is to play with the laser pointer. He is great walking and running on leash and loves to play with other dogs. He is the type of dog that could hike forever yet is also just as happy napping by your side on a rainy afternoon or sick day. (He would love and most likely needs a yard, but FYI he can jump a 5 foot fence). He is extremely food motivated and is probably a little too smart for his own good. When left home alone he will just wait by the door till you return as long as there is no food or trash to get into ( I have dealt with this by just shutting off the kitchen when I leave him alone).
Although he is the greatest dude in the world he needs an experienced dog owner who can work with him on some issues. He has some resource guarding issues and can show aggression towards strangers. He also has some food guarding issues – in the first week of having him he nipped aggressively at a friend who tried to take away some food and did draw blood.  He can be very protective of myself and my car when he is in it and has a thing for chasing cars, and especially white trucks. He can jump a 5 foot fence and is also is not good with younger children.
If you think you can provide the right home for him and are interested please reach out to me with a bit about your living situation. Thank you." Kgentilucc@gmail.com   (Glendale area)
---
Taffy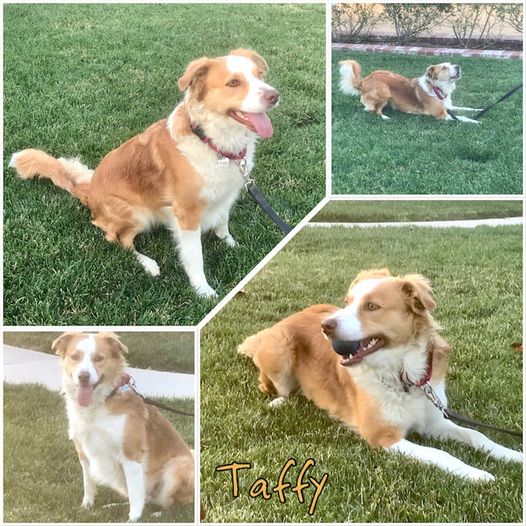 Taffy is an approximately 2 yr old spayed female Border Collie – she could be mixed with something but seems 100% Border Collie. Taffy was bailed out of a shelter in the San Diego area, she had been living with a homeless person who unfortunately died, and she ended up at the shelter. Because of her living conditions she was at first very wary of strangers and it took her a while to warm up to people, understandable since she probably was protecting her person. She has since learned to trust people more but is still a little wary of strangers and will bark at them initially until she gets to know them. It only takes her few minutes and then she is your best friend. She does seem to get along with her other foster brothers and sisters and loves to play with the younger dogs. Taffy does not do well with cats and has been known to try and chase them. She is also a true herding dog and wants to herd the livestock here. She does ok with older kids but not sure of any younger than 5. Taffy is a little forward on the leash but ok and knows some basic commands such as sit, stay, and ok, but she can use a lot more guidance and experience in this area. She is very active dog, not a dog to be left alone in the backyard, and needs a job to do, even if it's walking or running, seems to be housebroken and sleeps in her crate at night. Taffy will require an experienced herding dog home, preferably someone who is home a lot, no apartments please, and has time to dedicate to her. She loves her humans and just wants to please them, but because of her past experience, it does take her a while to trust you, so patience with her is a virtue!
Update:
Taffy has come a long way since we became her foster parents. Such a lovable girl now, just wanting to please. She loves to play ball, wants to sit on your lap, and be a part of your life. However, she still has a tendency to be leery of strangers and will bark and be protective . She will require a very experienced and herding dog savvy home, and because she is such a strong and active girl, a home with a large yard and someone who is very active is preferred, not an appropriate dog for small children.
Taffy is a beautiful golden medium hair Border Collie (mix?) with a lot of potential!!
If you are interested in Taffy, please fill out our adoption application: https://www.aussierescuesocal.com/applications/adoption_v2/ – if we have one from you already, please email aussierescuesocal@gmail.com (Norco area)
---
Buddy
This handsome fella is with Friends of Orange County's Homeless Pets – you need to contact them directly with any questions/interest!
Name: BUDDY
Age: 13 Years
Breed: Aussie
Posted: 2021-01-13
Buddy is about 13 years old and he is rather over weight. His owner has become homeless and he is living at a boarding facility. He is a very sweet dog, He is not good with other dogs. He does have a dog buddy he has lived with most of his life and he is good with her. He is really hoping to find a nice soft bed where he can spend the rest of his life enjoying the sun and family. He has no medical issues and likes to romp around the yard. If you are interested in meeting or adopting him please email fochp@yahoo.com
link to BUDDY'S page: http://www.fochp.org/dogdetail.php?id=57837
---
Fuzzy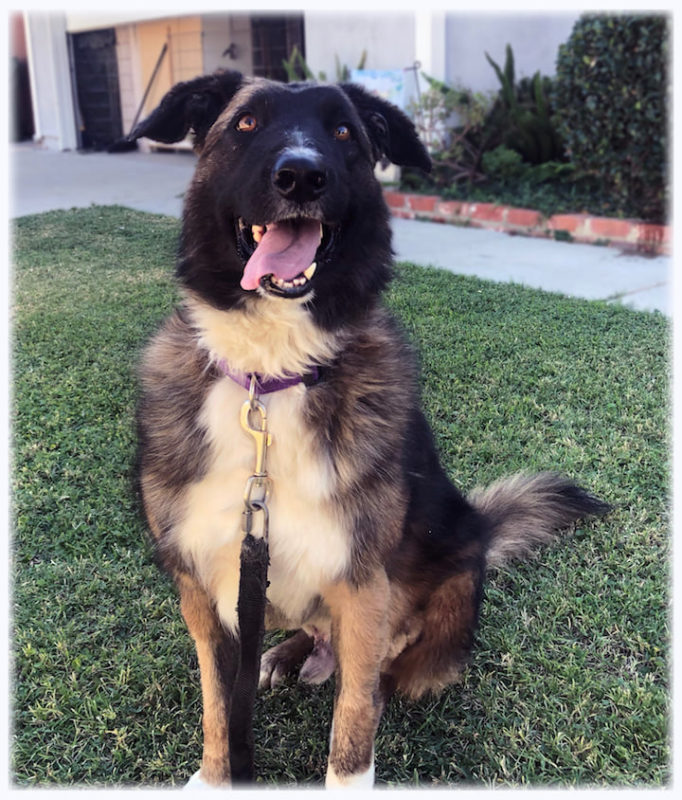 Fuzzy is gorgeous and has had a pretty tough start to life. He was surrendered with his brother to a high kill shelter and intercepted by a Malinois advocate. His brother was adopted immediately as a foster fail. Fuzzy has been under the care of our head trainer – she has over 20 years experience with Malis and other pups.
The litter was bred with an Australian Shepherd and Malinois.
Fuzzy is super sweet. He would be best in a home where he is an only dog and no cats/small creatures. (We imagine him with a doting couple) He grew up with children so is okay with good structure and boundaries.
He is super food motivated and loves working for his treats but is also pretty much a couch potato. His basic OB is on point – he even has a sit pretty! He has a dense undercoat and loves the camera. He will pose for a picture! Fuzzy loves baths and grooming time, he's also potty trained and crate trained. He is shy at first and gets uncomfortable with strangers just coming at him. He is pretty good for a few rounds of fetch and will definitely get a little tubby if overfed. Please LOVE me! I am too ridiculously cute
Currently located in: Simi Valley, CA
Applications please email adoptions@malinoisrescueleague.org
OR
fill out an application at www.malinoisrescueleague.org
---
Opus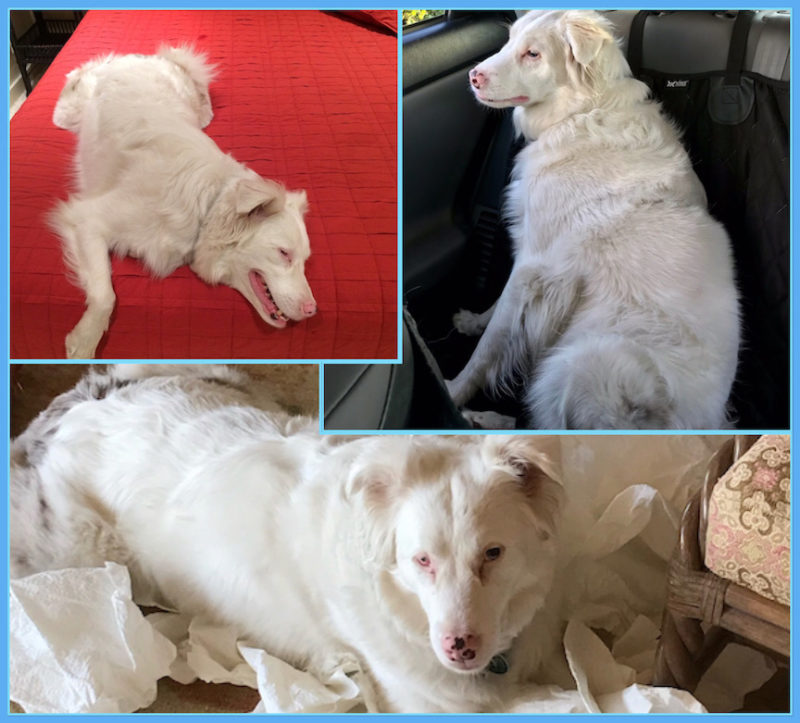 Opus is not with our rescue, his contact is at the end of his bio.
Need a loving home for Opus, a 10-year-old Aussie, special needs rescue. He is very sweet, beautiful, affectionate, very soft to touch, with the best ears ever. He is in excellent health, very well cared for, with plenty of vitality. Opus was born deaf and blind in one eye. He is trained to respond to hand signals. He comes with coaching available with a dog trainer to help acclimate to his new home.
Loves people, unless you are the gardener invading his territory. With his limited perception, if approached too quickly, (like a puppy might), he can become defensively aggressive. He is okay with dogs his own size or smaller but not with cats. He would most love being an only pet with a yard and some walks. If with other pets he needs a master who is good setting alpha boundaries.
Georgia Noble, gnoble@cox.net, (805) 452-4724
---
Cookie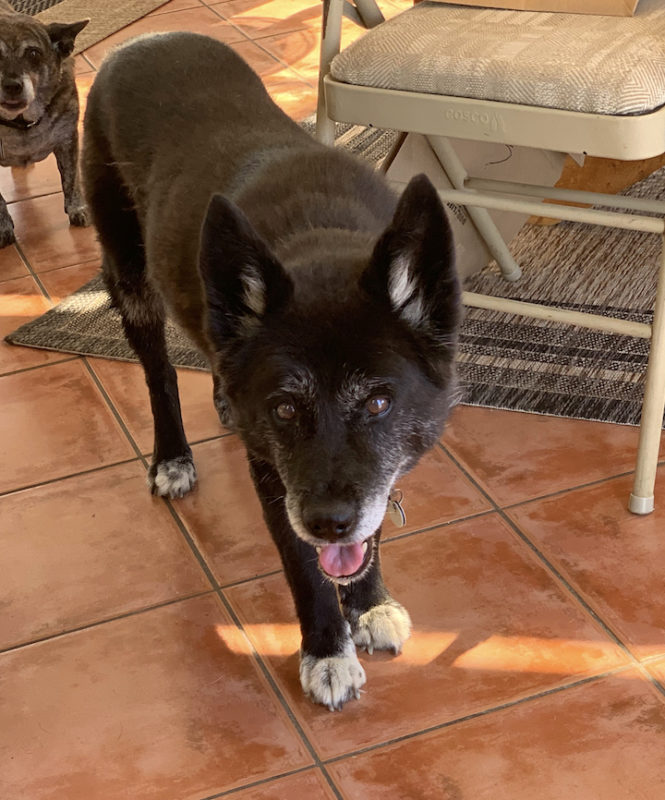 Name: Cookie
Age: 16 years
Gender: Female
Breed: Border Collie Mix
This is Cookie, at 16 years young an old lady with a lot of spring in her step! Our best guess is that she is a border collie mix. She certainly has the intelligence and energy level of the breed although she's also capable of a lot of mellow sleeping since she is a senior.
Cookie is easy to have around the house. She gets along fine with other dogs and cats in the home. She will bark at strangers but is friendly once she knows everyone is safe. I would not trust her around young children because she can be a little reactive to certain kinds of physical contact.
Cookie loves to go for walks. Truly loves it! The one challenge is that when she sees other dogs while she is out she gets very stimulated and will sort of fling herself at their faces. So she needs a strong hand on walks. She's also pretty nearly deaf so she needs to be on leash.
This is a girl with a lot of life in her even at her age for someone willing to meet her needs."  
If you are able to give this senior girl a loving home for her sunset years 
please fill out the Aussie Rescue So Cal adoption application: https://www.aussierescuesocal.com/applications/adoption_v2/. (Santa Barbara area)
---
Adoptable Dogs from Our Rescue Partners:
To view dogs available at our local humane societies and shelters: