Operation Perfect Match
– finding the perfect family for me!
Zippy
About Me: I am a 17lb very smart almost two old boy who loves to work and perform!
🔎: Searching for a director who will only show my good side (even though all my sides are good 😉). You must be confident and savvy or I will outsmart and outperform you.
👍: Likes
– learning and showing off my skills. Get your treats and toys ready! You're gonna need to pay me for my talents!
– moving real fast. I can zip around super fast. If you blink, you might not even see me. I am that fast.
– hanging out with like-minded people. Respect me and I will respect you!
– sitting with my person on the couch getting lots of pets
I need…
– to be the only baby in the house. No other pets or children.
– an experienced owner who has dealt with little stinkers like me.
– my own things. I can give on cue but don't be trying to take MY things unless you know how to ask nicely
– a home with a fenced yard where I can do my tricks and speed racing zoom zooms.
Ask anyone! My superstar power is dazzling people. With me at the end of your leash, people are gonna stop in their tracks to tell you how cute I am. They will ask you a bunch questions hoping to get close enough for a little touchy touchy. I look good doing what I do until that happens. If you love me at all, you'll keep my fans at a distance. 🤩
My friends at ARSD say: "Zippy is a smart boy and a lot of fun too! He is so much more than just a cute dog."
I know my perfect match is out there and that they will value me for my unique and fun personality as well as my ability to do lots of fun interactive things.
If you are interested in being my family, click below to fill out an adoption application.
NICHOLSON
About Me: Hi! My name is Nicholson. I am about 2 1/2 years old and weigh 40lbs.
My foster mom says that I have the most beautiful smile and joy for life. I am learning lots of new things like going for rides in a truck, playing with toys and walking on a leash. Even though I am usually smiling, I can be nervous so whoever adopts me will need to be understanding and able to train me. I love people and will be a bit of a velcro baby helping you do everything. It would be best if I was the only dog in my new home so I can get my feet under me and figure things out. I used to live with 17 dogs and I did well but that was a whole different situation and I don't want to do that again! If you are interested in adopting me, please fill out an adoption application so my people can contact you.
If you are interested in adopting me, please fill out an adoption application.
Notes from my foster mom:
Nicholson is a very happy and sweet boy. He will need a home with a fenced yard, no young children or other dogs. I do not know how he is with cats. Nichols will need someone who is home most of the time as he loves to be with his person. If you are willing to work with him to build his skills and confidence, he will be a wonderful boy for
ELLIOTT
About Me: I am 6 months old and will grow to be about 45-50lbs
I can be a little shy at first but once I know you, we will be best buddies. I love to get pets and cuddles. Lots of pets please! I am learning basic things like how to pay attention, follow commands using hand signals and also how to play with other dogs. I will need a home with a safe fenced yard and someone who is home most of the time. A fur sibling who is friendly and tolerant would be great too! That way I have someone to learn from and follow. I am deaf so I "listen" with my eyes. My foster mom says that I am doing really good with my training!
If you are interested in adopting me, please fill out an adoption application.
Please note: Elliott is not recommended for apts/condo living or families with young children. He will chase small animals and pester senior dogs.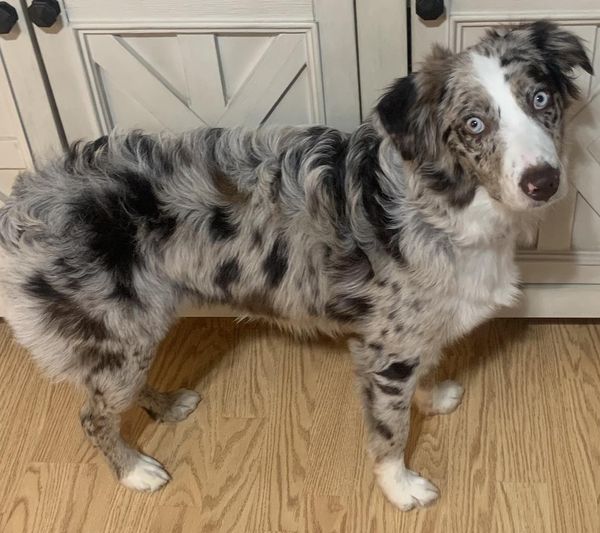 RUGER
About Me: I am 1 year old and 30 lbs.
Ruger has lots of energy! He likes squeaky toys, playing fetch, swimming in the pool. He needs a home that has a yard for him to run and play. Ruger walks well on a leash and is starting to learn commands like sit, stay, down. He is friendly with people but gets excited and still jumps up. Ruger needs someone who has lots of time and energy to interact with him as well as the ability to continue training him. Not suitable for apt / condo living and no young children please. Unknown with cats.
---
Courtesy Posts!
This section is dedicated to Becky Rice who loved connecting people and helping others. She had a gift for matching up a dog in need with a person in need.
Please contact Owners/Rescues directly.
Courtesy Posts are dogs currently still with their owners or another rescue. If you think you might be a good fit for one (or more) of them, please follow the contact instructions listed in the bio.
---
Finley
Finley is with her owner but needs a quiet home. She is not good with young children or busy environments.
Finley
Female
6 years old
50 lbs
Located in San Diego, CA
Per Finley's owner: "Finley's ideal home would be someone who has the desire for a 24/7 companion. She will follow you everywhere. A quiet environment outside is best because she does bark reactively. She loves to go to the beach or hike. She will lay in the grass at the park as long as you will allow so a backyard would be awesome for her but she loves her person so if you aren't out there she may prefer to come in with you. She has a skittish personality but she is not aggressive. She does great with cats she leaves them alone entirely or will try to play if the cat plays. She does well with other dogs too she just gets annoyed easily with puppies or too much energy. She is very afraid of kids and is scared around new people and may bark and back away. She will play fetch and loves to be pet but she typically won't come lay in your lap. "
If Finley sounds like a good fit for you, please fill out our adoption application and we will forward to her owner. https://aussierescuesandiego.org/foster-and-volunteer/adoptionapplication
---
Blu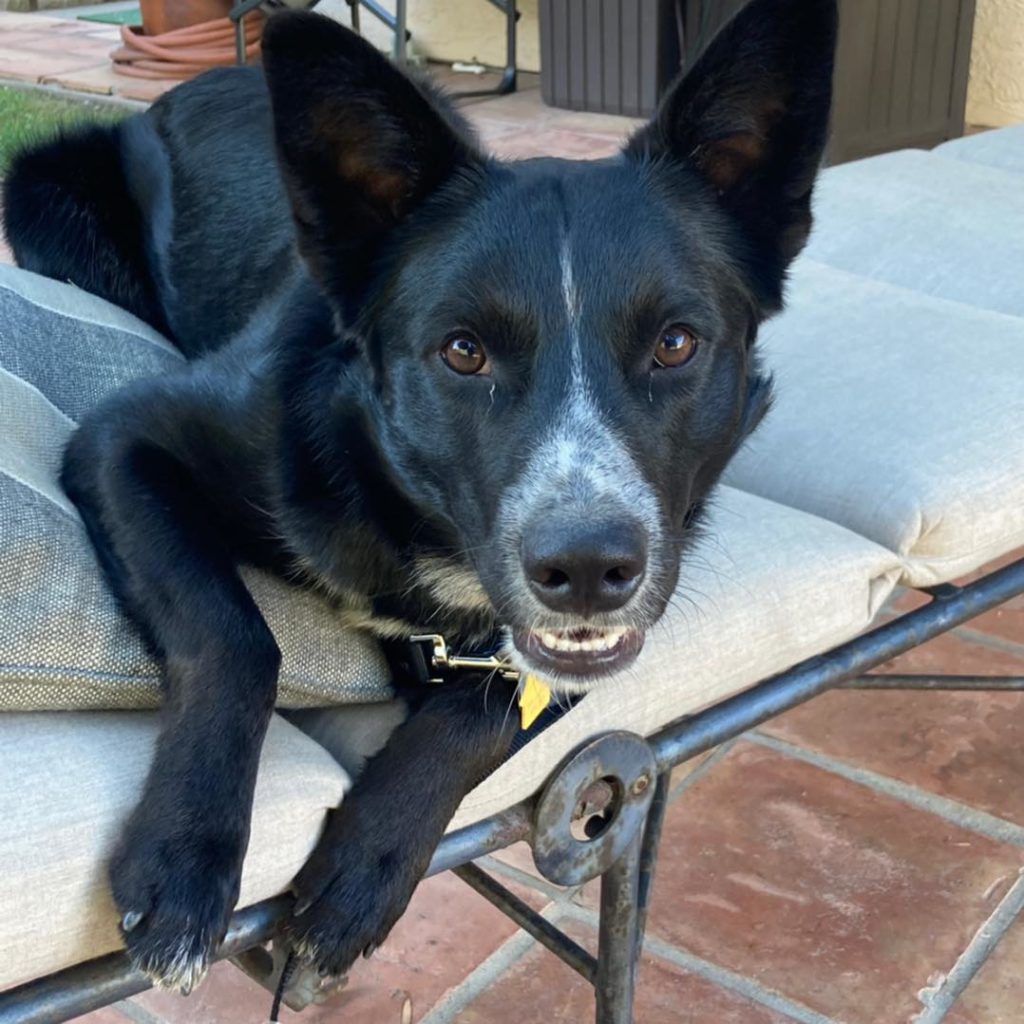 Courtesy Post! Please read info and if Blu sounds like a good fit for you, fill out the application linked in this bio. We will forward apps to Blu's owner.
Blu
1 year old
Male
42lbs
Texas Heeler (Aussie / Cattle Dog mix)
Located in Encinitas
We have not met this baby but per his info, he is a very sweet energetic boy. Here is what else Blu's dad has to say:
"He's a very smart, affectionate and well tempered dog. He understands commands, picks up on training quickly, and is very attentive to his people. He likes to play, go for walks, go for hikes, and get attention from people whenever and wherever he can.
He LOVES to play fetch. He especially loves squeaky balls, frisbees or any object with an unpredictable movement or bounce.
He LOVES to go to the dog park. He especially loves finding a play partner that likes to get chased so he can be the one doing the chasing.
He generally gets along with people and other dogs. I've never seen him be aggressive. On occasion where other dogs have been aggressive with him he handles it very well. He'll hold his ground while also coming to you for safety.
He has A LOT of energy! He'll play all day if he could.
He's generally well behaved and responsive to commands, but he's also still a puppy (1 year old) so he could use some reinforcement.
He does well with other dogs but he's never lived with another dog.
He's untested with cats.
He's really an amazing dog! I'm always impressed by how even tempered and responsive he is to his people. We'd love to keep him but some things have come up in our family where we're not able to give him the attention he deserves. He needs a new home with people that can give him more exercise and attention than we can."
Interested in adopting Blu? Fill out our application and we will forward to his owner. https://aussierescuesandiego.org/foster-and-volunteer/adoptionapplication
---
Izzy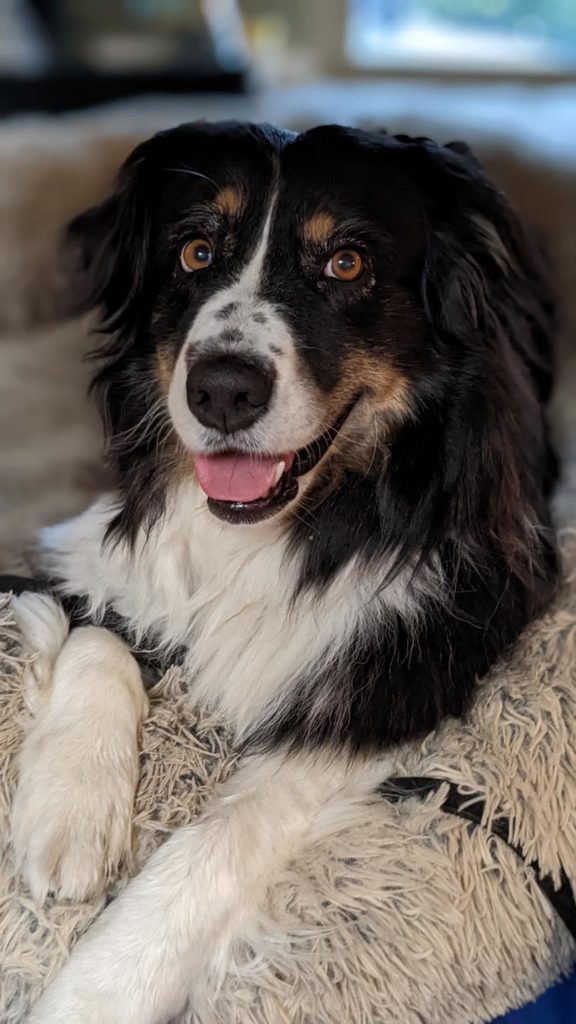 Izzy is with a private owner. Her previous owner passed away and she is now living with a family member. If after reading her bio, you are interested in possibly adopting her, please fill out our adoption application and we will forward to her owner. We have not met Izzy. All info is per her current owner.
Located in Reedley, CA
"Izzy is an 8 year old female Australian Shepherd. She is 50 lbs, spayed, housebroken, and knows a few simple commands. Izzy is very smart and has the ability to learn more commands. Her favorite things are to go on long walks or run for miles. Izzy is highly motivated when treats or food is available. She loves to spend her time indoors being brushed and to be near her people.
Izzy would be most happy as a single family companion without cats. She has never had any type of obedience training or socializing. Therefore, Izzy doesn't get along with other dogs and barks while on leash. Izzy needs a well experienced owner who can set boundaries and has the time and dedication to train and provide her with physical/mental activities."
If you are interested in more information, please fill out an adoption application and we will forward to her current owner. https://aussierescuesandiego.org/foster-and-volunteer/adoptionapplication
---
Lily
Lily – Available for adoption through Border Collies In Need. Located in Norco, CA.
If you are interested in meeting Lily, please fill out an adoption application. We require a pre-approved application to be on file before any meet and greets are scheduled. Our dogs have been sterilized, microchipped, and are up to date on their vaccinations. The electronic application can be found on our website at http://www.bordercolliesinneed.org/…/adoption…
Meet Lily. Lily is a female tri-colored border collie, about 3 years old. She was rescued from a high kill shelter.
Lily is very sweet and smart. Lily is very eager to please but also does not like to be scolded. It seems maybe in her prior life she might have been yelled at or scolded a lot. Lily has come a long way since being in her foster home, she has adjusted well and knows the rules here now.
Lily does ok with all her foster siblings, but based on our observation, she would do best in either a home with another male dog, or be the only dog. She plays well with the other dogs and the females but can at times want to be bossy of them. Lily loves her human and really wants to be with them all the time. Although a typical border collie, she can be a velcro dog, as well. She really does love to run and play and chase the ball! Lily does have her down time and come inside and just be a couch potato as long, as her human is there.
We have observed that Lily is NOT GOOD with cats. She has not hurt a cat here, but we see her high prey drive so she has not gotten a chance to get to one of the barn cats that lives here. Lily was exposed to some older kids and did ok with them. However, because of her prey drive we suggest no small children. Lily would do best in a very active home with someone who is home a lot, and someone who can provide lots of attention and activity for her. Lily seems to be house broken and sleeps well in the house.
---
Rocco
Name: Rocco
Age: 4 years old
Gender: Male
Weight: 76 lbs
Located in San Diego
Per owner: "Rocco is very athletic and loves to play! He especially loves his frisbee and ball. He obeys commands but needs a strong and consistent owner who is experienced dealing with reactivity. Rocco will need a home with no other pets. He gets nervous / anxious with loud noises so quiet home with securely fenced yard please. Rocco gets very reactive around other dogs and redirects on another dog, starting a fight. Except for these moments, Rocco is very sweet, loving and an amazing boy! No kids, cats or other dogs please."If you think your environment is calming and quiet and you have the skills to work with this handsome boy, please fill out our adoption application. We will forward to his owner. https://aussierescuesandiego.org/foster-and-volunteer/adoptionapplication/. Answer every required question, otherwise your app will not submit. You will receive an immediate on screen confirmation once it has been submitted. Please allow up to 48 hours for us email you personally. If you do not receive an email within 48 hours, email us at info@aussierescuesandiego.org
---
Adoptable Dogs from Our Rescue Partners:
To view dogs in Southern California shelters, click here >
To view dogs available at our local humane societies and shelters: