Are you interested in adopting, or may be interested in the future? Please fill out this application online. 
For most current available dogs, including courtesy posts, please visit our Facebook page Aussie Rescue San Diego.
---
Zippy
This delightful boy is more than a pretty face. Please read entire post and apply if you can meet his needs.
Name: Zippy
Gender: Male
Age: 7 months old
Breed: Mini Aussie
Weight: 15 lbs
This adorable boy can be the sweetest most fun partner but he needs someone who will commit to training and working with him. Zippy was relinquished by a family when he began nipping and barking at their toddler. He was previously placed in a 6 week board and train program because he was fearful around strangers. After he came back, he was even more afraid of everyone and his behaviors were worse. Zippy has been responding well to his new routine and positive reinforcement training. He is learning to think and cope. Being a teenager, he is still learning. It will take more time, consistency and training to develop good manners. He is reactive to new people and new dogs. Zippy will need a home with a dog friendly fenced yard, no apts/condo type living. He loves to do Zoomies, play with his toys, train, and help his person to chores. He is not used to being left alone for long periods of time. Zippy needs a home with someone who is experienced working with reactivity.
He is not recommended for young children or busy households. Unknown with cats. Good with his foster siblings but reactive to new dogs. If you can meet Zippy's needs and commit to his development, please fill out our adoption application: https://aussierescuesandiego.org/foster-and-volunteer/adoptionapplication/.
---
Tommy
Name: Tommy
Age: 6 months old
Breed: Aussie mix
Gender: Male
Weight: 31 lbs now; expected to be about 45 lbs
This cute boy is too smart for his own good! He needs an owner who can train him and give him jobs to do. He likes routine and structure. Tommy already knows lots of tricks and loves training sessions. He also loves playing with doggie friends. Tommy does best with playful well trained dogs who are his size or bigger. A house with a safe yard is required. No apts, condos, or grumpy neighbors. Tommy has been known to use his voice to let humans know when he wants something. He needs someone who is experienced raising an Aussie and knows that as a puppy, he is a work in progress. He will be as good as you teach him to be. Tommy is ok with dog savvy cats. No small children or other puppies please. He can barely handle his own energy let alone someone else's. And no senior doggies. He will just annoy them and they don't want to really play with him.
If you think that you are a good fit and are willing to work with Tommy, please fill out an adoption application https://aussierescuesandiego.org/foster-and-volunteer/adoptionapplication/. Please answer every required question, otherwise your app will not submit. You will receive an immediate confirmation once it has been submitted. Please allow up to 48 hours for us email you personally. If you do not receive confirmation within 48 hours, email us at Adoptionsaussierescuesandiego@gmail.com.
---
  Courtesy Posts!
  Please contact Owners/Rescues directly
---
Nicky
COURTESY POST **  Nick is with his owner still  
"Nick is a 40 pound Aussie, who will be 2 years old on 08/17/21.  He is neutered and up to date on vaccines. He is deaf but has good vision, and does know some hand signals.  I'm looking for a very active home for him. His energy level and pushiness  has become a problem with my other dogs that are blind and deaf both, as he pokes them in the face and will grab their nose.  Because they don't see it coming, it is causing a lot of stress for them.  He has never bit them or drawn blood, but does it randomly so its hard to catch him in the act.  He does get along with my dogs that are bigger than he and are able to see and hear.  Nick is good my cats, is house trained and sleeps in a crate with no problem.  He is mainly an indoor dog, going outside numerous times through the day, but while inside the house he is calm and will lay by my feet with a chew toy.  Nick likes car rides, going to pet stores, thrift stores and dog park, and LOVES playing fetch and playing in the water hose. 
He likes people but is nervous around children, he does not like them coming up from behind or their quick movements. He does not like to share his food with others so he eats in his crate. 
Nick would do best in an active home with a yard (no apartments)  and another playful dog his size or bigger – no small or senior dogs and no children.  He would not do well left in a backyard all day, you will be finding holes in your grass, would do best with someone at home most of the time.  Experience with the herding breeds and deaf dogs would be a plus.  He would make a great jogging buddy or even going bicycling, we had started that but I got injured and cannot do it any more."
If you are interested in Nick, please fill out our adoption application and we will forward it over to his owner: https://www.aussierescuesocal.com/applications/adoption_v2/  – if we have your adopt app already, just drop us an email: aussierescuesocal@gmail.com  (Riverside area)
---
Auggie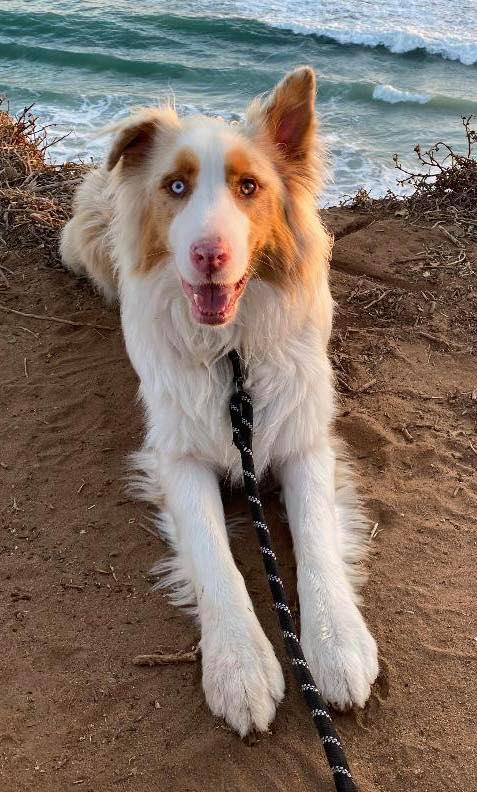 Courtesy Post! Auggie is still with his owner. Please read entire post and if you can meet this boy's needs, fill out our adoption application. We will forward to Auggie's owner.
Auggie
2 1/2 years old
Aussie mix
Neutered Male
72 lbs
Murieta area
Auggie needs an experienced Aussie owner who can exercise and train him. He will need a home with a fenced yard, no other pets and no children.
Per Owner: Auggie is extremely loving to his pack but he gets very protective of his humans around some dogs and men. He loves to go to the beach, parks camping and hiking. Auggie enjoys playing fetch but gets bored when you don't alternate it with another game/toy. He loves to chase and he loves to run … he's the perfect jogging partner. Auggie also loves to swim and he really really LOVED herding sheep. Auggie is extremely food motivated. He is house broken and knows lots of commands. He's working on loose leash walking as he does tend to want to walk ahead. Auggie is always excited to meet new dogs. He goes up, smells them and immediately engages in a play bow. He loves to chase and plays a bit rough. Auggie likes to wrestle and is very vocal. He will growl at other dogs if they come close to mom or dad, water/food bowls, toys or if they intimidate him. Auggie has nipped at a man who was stumbling towards his owner at a restaurant. Not before giving a warning bark first. He has been muzzle trained ever since.
Auggie needs an Aussie savvy owner who will work with him, engage his brain AND body. If you want to adopt Auggie and you can give this guy stuff to do, please complete our adoption application so we can forward it to his owner. https://aussierescuesandiego.org/foster-and-volunteer/adoptionapplication/
---
Teddy
Courtesy Post!
If after reading this post, you feel like you can meet Teddy's needs, complete the linked application. We will forward to his current owner.
Teddy
Neutered male
Australian Shepherd
7 years old
35 lbs
Mission Viejo area
Teddy is super sweet and cuddly and of course, absolutely adorable, but he comes with some challenges. He is very protective. He barks at people who
come to the house or are passing by. He will also bark at the tv if dogs or other animals are on. He did nip a handyman and broke skin. Teddy seems to be fine when people come in and sit down. Due to the pandemic, not many people have been over to the house. Teddy recently spent 3 weeks living with a dog trainer. Previously, he was hard to walk and challenged other dogs, but now he heels well when wearing a Haltie collar. Teddy loves to go on rides in a car. Even though loves the dog park, he should be the only dog in his home.
Teddy needs a quiet home with a yard. He can be reactive to outside noises so apts / condos may be too busy. Teddy should not live with children. He liked to herd the toddler at his original house. He needs an Aussie savvy owner who can set structure and boundaries so that he knows what is expected of him. Teddy is not getting enough exercise and now has begun to jump the 27″ wall to visit the neighbor's yard. If you have time and energy to give this boy the training and exercise (mental and physical) that he needs to be a balanced good boy, please fill out our adoption application (we will forward to owner). https://aussierescuesandiego.org/foster-and-volunteer/adoptionapplication/
---
Watson
Watson is with his owner – 
"I am looking for a loving home for Watson.  He is around 8 years old and loves people.  When he goes to the dog park he wants attention from people more than dogs. He is a mini Aussie with no health issues.  He is fixed and house broken.  He gets along with dogs and cats. He's a licker and a lover. He likes kids and shows no behavioral issues. Unfortunately,  my life has got complicated and my spouses brother who has mental health issues has tried to harm him. I need to keep him safe,  so I'm looking for a loving home for him. He is an inside dog who is used to being with people.  I want that for him.  He has lost his two buddies lately due to my son wanting his dog, and my cats disappearing.  This will be hard for him,  so I don't want him alone in an apartment all day by himself.  I don't think that would be beneficial for him.  He also needs to be an indoor dog because that's all he has ever known.  If you are willing to provide this type of loving home for him please email me at ornerywench@gmail.com."  (Lancaster area)
** pictures show him both before and after recently being shaved down
---
Lady Pearl
With ARSC 
Lady Pearl is an 18-month-old herding breed (Border Collie, German Shepherd and McNab) mix.  She has moderate energy and will entertain herself with toys for extended periods of time.  She does know how to "jog" on the treadmill, and run along side a bike, and is tired out after 20 minutes of either activity.  She likes her walks and enjoys sniffing everything  She walks well on leash, but is easily distracted and will just sit and watch people walk by.  She is still very curious about sights and sounds, and can be easily startled.  She does still get mouthy and nippy when in a state of high arousal (she is a herder!), only on occasion now, but will require continued reinforcement.  She loves to be with her human and will happily sleep in with you, and seems perfectly content to lay next to or near her human all day long!  She can be sassy and cranky at night.  Lady Pearl is a very vocal pup!  She does deep grumbles while playing which can be mistaken for growling.  She can be very bossy and becomes vocal when she does not get her way, so she will require a human that can be firm with her.  While asleep, again, she is easily startled so touching her while asleep has caused her to touch with her muzzle, but not bite.  She would do best either with another calm, non-reactive dog, or as an only dog.  She does chase cats if they run, but with work, will get used to the cats.  If you are interested in Pearl, please fill out our adoption application:  https://www.aussierescuesocal.com/applications/adoption_v2/  – if we have your adopt app already, just drop us an email: aussierescuesocal@gmail.com  (Huntington Beach area)
---
Ash
With ARSC **
Ash is about 1-1.5 yrs old, neutered male Aussie X Border Collie…?  He is housebroken and walks well in leash once he gets his ya-yas out  
  He does like to pick up everything he spots on the walk, but working on it and he is getting much better.  From his foster mom:
Ash is one of the most loving, cuddliest and happiest guys around. He will snuggle you all day and fall over for a belly rub without question. He is extremely smart, loyal, friendly and active. Very trainable and would be incredible with agility/nose training. Ash is looking for a house that can offer him lots of love, attention and play time. A fenced back yard is a must as he is very high energy and needs space to run around. He loves to fetch, tug-of-war, and all his stuffed animals/squeaky balls. Ash loves his humans immensely and will follow you everywhere you go, even if you just get up to grab some water. He is friendly with people, most dogs and children. That being said, he's not good around hyper or outgoing dogs that try to play/jump especially if they are close to his size. He gets very scared and hides. He does not like the dog park unless it is empty or with a few very calm dogs that keep to themselves. A few things to be aware of: Ash is very high energy but once he gets it out he will sleep for a while until he's ready to play again. If he doesn't get his daily exercise he will find a way to entertain himself in the house by chewing anything that looks fun including your shoes. He is house trained but not crate trained. He sleeps in his own bed as he gets pretty hot on our bed at night. He is also good when left at home alone for an hour or two. He will not be a good fit for a family that is gone/at work most of the day. Ash is a young dog and needs a lot of patience and understanding. As with any young dog, he can be a handful. It takes time to build trust in order for him to listen and follow commands. He gets mouthy but in a gentle way and we are working on it. Ash is one of the sweetest dogs you'll meet. He deserves a family that will give me a ton of love and attention and has experience with high energy herding dogs.  If you are interested in adopting Ash, please fill out our adoption application: https://www.aussierescuesocal.com/applications/adoption_v2/   (Beverly HIlls area)
---
Duke & Duchess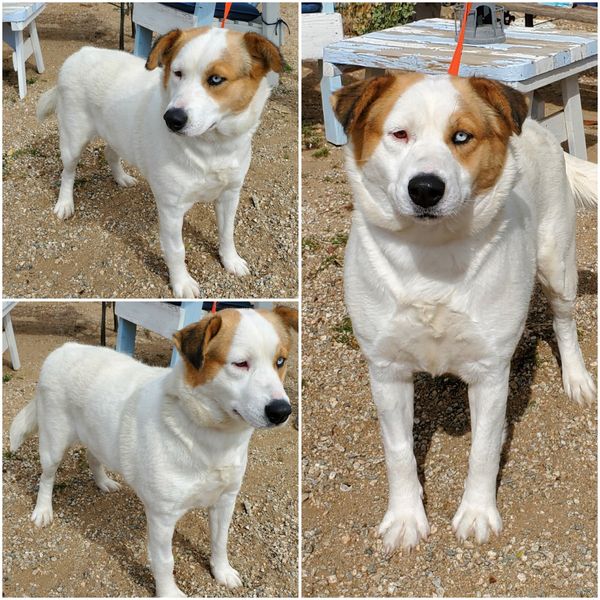 With ARSC –
Duke and Duchess are a pair of possible Aussie mixes – no idea with what, sorry. Duke is a black tri neutered male with 2 blue eyes and a bobbed tail, Duchess is a spayed female, white with red patches, one blue eye and the other looks like it may not have developed fully. They are about 18 months to 2 years old, they were relinquished to a rescue because they kept digging out (we got them from the other rescue, so have never talked to the original owners), so a secure fenced yard is a must. They are very bonded, so please do not ask if we will separate; they are social, both with humans and other dogs, and seem to be kid friendly – but no young kids, they may get knocked over! They are active, alert and playful, have a good start on being housebroken, just really nice fur-kids! If you are interested in this delightful pair, please fill out our adoption application: https://www.aussierescuesocal.com/applications/adoption_v2/ (Palmdale area)
---
Noodle
Courtesy Post! This dog is with her owner. Please read entire post. If you can meet Noodle's needs and work with her to build her confidence, complete our adoption application. We will forward to her owner.
Noodle
4 years old
35lbs
Mixed breeds (aussie, bc, acd, chihuahua and more)
Per Owner:
Noodle is a sweet girl who needs to build confidence so she can be comfortable around new people. She needs a home with adult or older calm children. A house with at least a small yard is a must. The noise from apartments triggers her anxiety. She is terrified of the noise from loud construction vehicles and only recently adjusted to the garbage truck. She will also need someone around throughout the day as she is not used to being alone. Noodle is very sweet and loving. She loves giving kisses and getting cuddles. She is very protective and will bark when people come to the door or enter her home. Noodle needs someone who actually knows what they were doing so she can really shine as a sweet, loving, intelligent girl. She likes to play with balls / toys, climbing activities like ladders/ slides/ stairs and she loves treat filled toys or relaxing with a dog chew. Agility activities and training relax her. Noodle likes learning tricks in general. She's also good being groomed at home when it comes to teeth brushing, hair brushing, cuts and baths. If you are interested in adopting Noodle, please fill out our adoption application: https://aussierescuesandiego.org/foster-and-volunteer/adoptionapplication.
---
Kulture

COURTESY POST—Kulture is with her owner, not with rescue
Kulture is a 2 year old Aussie Mix. She would thrive in a home where she is the only pet as she is an Alpha female. She is a sweet dog full of energy, her favorite thing to do is play ball. She is very smart and likes to show off all the tricks she knows: sit, lay, stay, play dead, roll over, paw, high five, spin. She also loves to do agility training and loves challenge and puzzle toys. She is very nervous and anxious around new people but once she knows you she is very loving and affectionate. She is an amazing dog but in need of rehoming due to us having another Alpha female and they recently got into a dog fight so we believe it is best to rehome Kulture since she would do best in a home by herself. She loves taking trips to the beach and playing fetch in the water. She is crate trained, potty trained, and has completed basic obedience courses. She could use some more strict training with heel and when walking on leash. She is very reactive to other dogs. but this comes from fear and anxiousness. She is great with my sister's baby but that may be because they grew up together. She is spayed, and up to date on all her vaccines, she is also microchipped. She is definitely an indoor house dog but loves to play outside with you during the day. Kulture is a bigger dog weighing 77lbs. The family that wishes to rehome her will receive her crate, bed, toys, food, favorite treats, balls to play fetch, collar, leash vaccination records, and microchip info.
I hope to find her the perfect home so a phone interview and home check will be required. And questions or if you would like more info and pictures or videos please feel free to contact me: (209) 672-5207. (San Jose area)
---
Zephyr
COURTESY POST—he is with his owners, not with rescue
Zephyr is a 5 year old neutered male mini Aussie (approx weight 34 lbs).
He is house and crate trained, and he remains calm during baths/brushing. He walks well on a leash, but will occasionally lunge at strangers or bikes/skateboards/scooters that pass close by. He has a medium energy level, which is currently managed with walking/jogging 3 miles daily (1.5 – 2 miles in the morning, 1-1.5 miles in the evening).
Zephyr loves to play frisbee, squeak his toys, alternate between sunny and shady napping spots, receive booty scratches, and perform tricks for treats. He is a very loyal family dog, and he likes to stay near his people as they move around the house. He enjoys sitting next to us on the couch, but sometimes prefers to be given space.
He gets along well with other small and medium sized dogs, but is fearful of certain breeds including boxers and pitbulls. He has never had close contact with cats. His owners occasionally bring him to a doggy dare care, and he has never had an incident with another dog there.
Zephyr does have moderate separation anxiety. His owners have had success reducing his anxiety by sticking to a routine, using the crate when he is left alone, and providing him with a treat (a kong with snacks inside) when we leave. With this approach, Zephyr is able to be calm and quiet when left alone. His separation anxiety also makes him nervous when being dropped off at a vet or at doggy day care, but seeing other dogs calms him down, and he feels secure when confidently led on a leash by an employee at the vet office or day care.
While Zephyr can do OK with some strangers (for example, the employees at the doggy day care), he has been highly reactive to other humans outside his pack, especially in places that feel like "his" territory. When this happens, Zephyr barks aggressively and becomes difficult to control. If not restrained, he will attempt to protect himself and his pack by nipping. He has nipped people, but he has never latched on after nipping or broken the skin. Zephyr's reactivity is hard to predict. For example, Zephyr has been calm around a visitor to the house, but then became reactive when they returned from a trip to the bathroom. Thus, Zephyr's owners now manage this behavior by keeping him on the leash or crating him at all times when any visitors are over, and by keeping him on leash in locations where strangers could suddenly appear.
Zephyr's current owners love him very much, but they also now have a very social two-year-old child who does not understand why Zephyr should not be off leash when her friends are over or that she cannot let him outside. While Zephyr is an excellent dog 99% of the time, his owners believe his reactivity creates a safety risk around young children that do not know how to appropriately manage his behavior.
Because of this, Zephyr's owners are hoping to find a new home where Zephyr will thrive. They feel this would be a home with one or more adults who are generally active, have predictable schedules and spend a good amount of time at home, and who either do not have guests over often or are able to crate or leash Zephyr when guests are over. Zephyr's owners also believe Zephyr would do very well in a home with one or more other dogs, especially if they are friendly, confident, and calm. If you think you are the right home for Zephyr, please contact Danny @ 562-716-7277 (Irvine area)
---
Rune and Charm
with ARSC:
Rune (black and white) and Charm (white and black) are not ready for adoption yet—they are a pair of young female Border Collies that were picked up as strays up in Bakersfield and no one claimed them – they were very scared so the shelter asked if we could take them – we currently have them in boarding and they are doing much better, but we are looking for a foster home for them if possible. They do scope out the top of the fence whenever they are out in their yard, are considered a 'flight risk', so cannot be left out in the yard unattended. If you are interested, please email: aussierescuesocal@gmail.com
---
Nixon
"NIXON" is around 5 years old, he is a neutered male Aussie / Lab mix and weighs 75lbs. He is very energetic and loves people- once he gets to know you or you want to take him for a walk. He was adopted when he was about 10 months old from a shelter from a shelter near Denver CO. He has hiked the 14,000ft hikes in Denver like it was a walk around the block and he will chase whatever you want to throw for as long as you want to throw it, and loves to swim. He is sometimes hesitant to meet new people but if you ignore him, he wants to meet you. Nixon does not even see other dogs when he is walking, or on hikes even if they bark at him. He loves the car and has done many road trips and stayed in hotels.
Nixon is very good inside of the house. He rarely barks, is potty trained, knows the difference between what he can and can't chew on, and wants to be a lap dog, he is also good about staying in his bed. His human parents recently had a baby and he has become jealous. He has nipped at both of his parents but never bit. He has had a lot of training and the trainer thinks that he needs to be with someone who will keep him active and also be in charge. Nixon likes to think that he is in charge and if you stay on top of his discipline he does great. He is staying with his "Grandparents" right now but they rescue and forever foster senior dogs from Frosted Faces. His parents are looking for a family who have the time to spend with him. He loves to work and is incredibly smart and could learn whatever you wanted to teach him. He enjoys being outside so you would have to have a large fenced yard. He has learned to get along with his little senior dog so I think he would adjust to another dog. Nixon is already microchipped. If you are interested in Nixon, please email: toratazlee@yahoo.com (Ramona area)
---
Lola
Please contact owner, Lindsey, directly if you can help Lola by giving her a furever home.
Name: Lola
Breed: Collie/lab/shep
Age: 6 years
Gender: Female
Weight: 70 lbs
Per owner:
Lola needs a new home with no kids (or older kids that can understand boundaries with dogs). She would do best in a home where she is the only dog or there are other calm, non dominant dogs. She great with our 4 cats. The reason we are rehoming her is because we have a six month old baby who is starting to move and although Lola loves kids, she likes them on her own terms. She does not like being approached by when she is sleeping and will growl/snap if scared.
Lola is a quirky girl who takes time to warm up with new people. She does great with all women but it takes a little longer for her to relax with men. Once she is comfortable with someone, she is a snuggler! She loves to be pet and will sit right next to you. Lola enjoys walks, fiesta island and is very food motivated. She likes the dog park but does best when she can approach other dogs on her own terms. We have worked with a trainer to help calm her anxiety and can show you the things we have learned that have made her a happy girl. She is potty trained, spayed and up to date on her vaccinations/vet check ups.
We love her so much and want to make sure the home she goes to is the right place for her. Please text or call me if you think you might be a good fit for her! Lindsey 619-201-4473
---
Reba
COURTESY POST
Senior Reba is not with our rescue but with a private party – please consider giving her a chance!
"Reba is a 13-year-old Aussie girl from working lines.  She was my mother's best friend and companion until my mom went into a facility a few months ago.  She is used to being adored and told that she is beautiful.  She is very loyal and would be okay in a home with another male Aussie but she would not like another queen in her castle.  She is very sad and lonely right now and has no one to love.  She has been obedience trained.  She has been around horses her entire life but not cats.  She gets around fine but she has been alone for a few months so we are not sure what habits she has developed.  She may submissively urinate as she doesn't meet very many strangers, but once she knows you she is very loyal and protective."  If you are interested in giving this beauty a loving home, please fill out our adoption application:  and we will forward it on to her caregiver: https://www.aussierescuesocal.com/applications/adoption_v2/  – if we have your adopt app already, just drop us an email: aussierescuesocal@gmail.com   (Anaheim area)
---
Tonto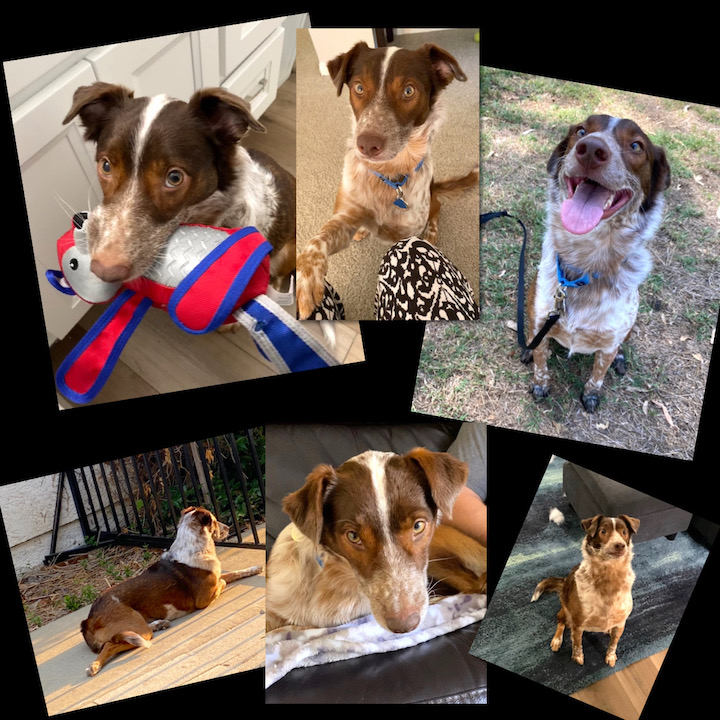 COURTESY POST
Tonto is with his owners
"Tonto is around 4 years old, he is a neutered male Aussie / border collie mix / Heeler mix and weighs 35lbs. He is very energetic and loves people- whether it be his human family, friends, or strangers (even the mail man loves him!). His family adopted him in January of 2020 from a shelter. He does jump on people when excited, meeting new people, or greeting people he hasn't seen in a while. Tonto is aggressive towards other dogs, he lunges and barks at them, going into a trance until they are out of sight. He will chase after cats. On walks, he loves to smell everything, and he enjoys riding in the car, and loves to play hide and seek with his people.
Tonto is very good inside of the house. He rarely barks, is potty trained, knows the difference between what he can and can't chew on, and is a great lap dog. He is fine if left alone for a few hours, his parents watch him on a monitor as he just sleeps until they get home. He just wants to be with his people! His human parents recently had a baby and are finding it difficult to keep up with him. His dad is often away for work and his mom is having much difficulty caring for the newborn and this loving little boy. He is afraid of water (ocean, still, bath, shower, even the rain.)  His parents are looking for a family with older children (preferably teens due to his jumping up), have a a large fenced yard, and no other dog or cat (Tonto has been fine with birds so far).  He knows the following commands (but may forget them if too excited): "sit", "down", "stay", "paw." "
If you are interested in Tonto, please fill out our adoption application and we will forward it to his owners: https://www.aussierescuesocal.com/applications/adoption_v2/   (Laguna Niguel area)
---
Cleo
Cleo is an adorable 1 yr old spayed female Aussie x Cattle Dog mix, weighing in at 25 pounds. Cleo is on keppra for seizures, and in the 4 months she has been in our rescue she has not had any. We've had a complete work-up done at the veterinarian when we first got her, then another pre-op panel done just before she was spayed – all looks good! She is a very happy energetic girl, incredibly friendly towards all human and canines she has meet so far, even sometimes being very submissive and rolling on her back. She can be okay with some cats, others she gets a 'laser focus' on, can't predict which it will be
She has been fine with kids but with her previous history of seizures, we do not want to place her in a home that has a high traffic/chaotic pattern to it, she gets wound up easy enough as it is! She is housebroken and rides well in the car, sometimes get distracted on walks and can get very vocal around other dogs and people that pass, but a quick reminder and she gets back on track. When she first came into our rescue, she had a Big barking problem with a sharp, shrill bark for attention and occasional tantrums, but with work she has gotten MUCH better – because of that, absolutely NO apartments, townhomes, or condos – house with plenty of room and a large fenced yard is a must. Cleo definitely needs someone who is home most of the day, she tends toward some separation anxiety, and we recommend having a second dog in the house to keep her occupied – she is a high energy girl and does much better when she gets PLENTY of exercise both physically and mentally – continued training is a must with Cleo, with only being a year old, she is still in her teens and has a bit to go before can be consider an adult. She is highly food motivated and enjoys learning tricks and playing games, she is a busy girl and needs a home that can understand that and will work with her. If you are interested in this cutie and you can commit to continue training with her, please fill out our adoption application: https://www.aussierescuesocal.com/applications/adoption_v2/ – if we have your adopt app on file, just drop us an email: aussierescuesocal@gmail.com (LA area)
---
Remmy
Peace of Mind Dog Rescue in Monterey, CA reached out for help in finding homes for a couple of senior boys looking for that special home – Anyone out there that has room in their hearts and home for a sweet sweet senior boy?
Remmy: Australian Shepherd Mix, Male, 12 years old, 33 pounds
Remmy is a sweet older gentleman. He is apprehensive at first and does not like to be lifted. He does snap at too forward people and so should go to a home without children and be with understanding adopters. Also, he much prefers women to men and is very distant to men. He has quite an impressive resume otherwise — he is great with big or small dogs and he is crate trained and rides well in the car. He is a bit on the timid side at first and prefers to be left untouched until he gets used to you. He isn't described as overly affectionate with people but will warm up to you once he trusts you. He does need a home without cats.
Remmy did not go many places before coming to POMDR. So a walk to a busy place can be very overwhelming. He has lived a reserved life and it shows in his personality. Slow exposure is ideal for him.
He walks well on leash. He eats and sleeps in his crate – being led in by food and then settling in comfortably. Remmy does pace in the house and yard, especially during transition but then will mostly just follow his person around. He wants to be with you and is actually showing anxiety when left behind so needs help understanding being left alone is ok. He is hearing and vision impaired but has good energy for his age. He watches intently but doesn't really know any commands.
Remmy came to us from the Newman Animal Shelter.
If you'd like to see more pictures of Remmy or are interested in adopting this gentleman, please click here and follow their instructions: https://www.peaceofminddogrescue.org/dog.php?id=2578
---
Fuzzy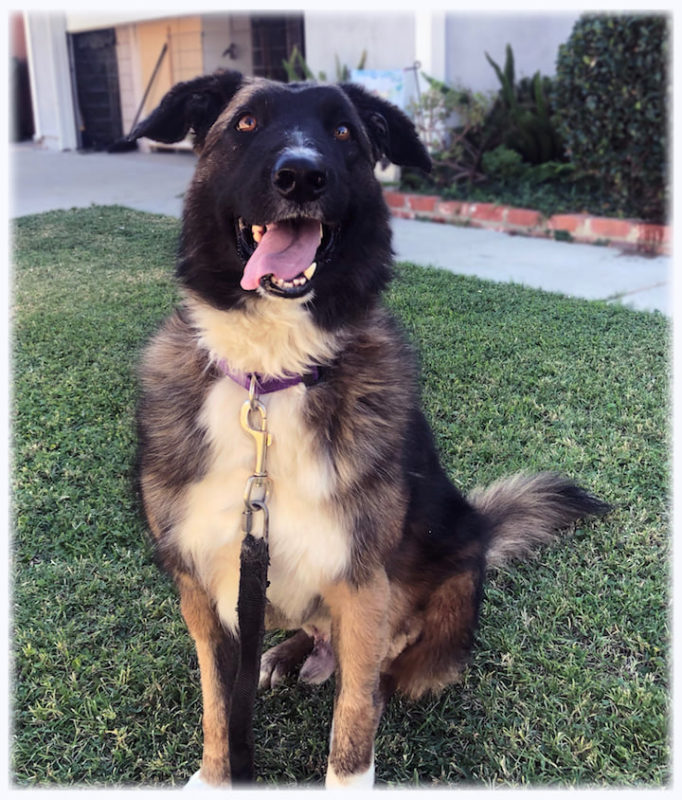 Fuzzy is gorgeous and has had a pretty tough start to life. He was surrendered with his brother to a high kill shelter and intercepted by a Malinois advocate. His brother was adopted immediately as a foster fail. Fuzzy has been under the care of our head trainer – she has over 20 years experience with Malis and other pups.
The litter was bred with an Australian Shepherd and Malinois.
Fuzzy is super sweet. He would be best in a home where he is an only dog and no cats/small creatures. (We imagine him with a doting couple) He grew up with children so is okay with good structure and boundaries.
He is super food motivated and loves working for his treats but is also pretty much a couch potato. His basic OB is on point – he even has a sit pretty! He has a dense undercoat and loves the camera. He will pose for a picture! Fuzzy loves baths and grooming time, he's also potty trained and crate trained. He is shy at first and gets uncomfortable with strangers just coming at him. He is pretty good for a few rounds of fetch and will definitely get a little tubby if overfed. Please LOVE me! I am too ridiculously cute
Currently located in: Simi Valley, CA
Applications please email adoptions@malinoisrescueleague.org
OR
fill out an application at www.malinoisrescueleague.org
---
Cookie
Name: Cookie
Age: 16 years
Gender: Female
Breed: Border Collie Mix
This is Cookie, at 16 years young an old lady with a lot of spring in her step! Our best guess is that she is a border collie mix. She certainly has the intelligence and energy level of the breed although she's also capable of a lot of mellow sleeping since she is a senior.
Cookie is easy to have around the house. She gets along fine with other dogs and cats in the home. She will bark at strangers but is friendly once she knows everyone is safe. I would not trust her around young children because she can be a little reactive to certain kinds of physical contact.
Cookie loves to go for walks. Truly loves it! The one challenge is that when she sees other dogs while she is out she gets very stimulated and will sort of fling herself at their faces. So she needs a strong hand on walks. She's also pretty nearly deaf so she needs to be on leash.
This is a girl with a lot of life in her even at her age for someone willing to meet her needs."  
If you are able to give this senior girl a loving home for her sunset years 
please fill out the Aussie Rescue So Cal adoption application: https://www.aussierescuesocal.com/applications/adoption_v2/. (Santa Barbara area)
---
Adoptable Dogs from Our Rescue Partners:
To view dogs available at our local humane societies and shelters: