Are you interested in adopting, or may be interested in the future? Please fill out this application online.
For most current available dogs, including courtesy posts, please visit our Facebook page Aussie Rescue San Diego.
---
Lottie
Hi! I am Lottie…Lottie Dottie.
I am a very busy girl with lots to do. What do I do? Well, I herd. I herd people, dogs, rocks, balls, toys, whatever may be around. I can even make dirt move. Mostly, I like to herd people cause they laugh and trip and do all kinds of funny things.
I can be nippy if people are not paying attention or moving in the right direction. I really do have to tell people how to do everything! Good thing I am a Baussie. (That's border collie / aussie in case you don't know.) The name suits me. I will be (ok, I am) very bossy and driven if I do not have clear consistent structure and purpose.
I like other dogs but they will need to be tolerant and playful or there might be problems. I am just over 3 months old so I can be "playful".
Here is what you should know about my needs:
– Owner who is experienced working with strong BC or Aussies
– No young children
– House with fenced yard to run / work
– No senior or small dogs
– Owner must be willing to do puppy socialization and training class (location near their home)
– Time and energy to engage me so I am not bored with nothing to do or alone for long periods of time.
I have not lived with a cat. I will probably chase them and I am fast, so get ready. I am doing well in my foster home. I can walk on leash, ride in the car, eat, sleep through the night, potty outside, take naps, play with toys and I am comfortable in my crate. If you think you can meet my needs and you want me to help you organize your days, please fill out the adoption application and I will ask my people to contact you. https://aussierescuesandiego.org/foster-and-volunteer/adoptionapplication/
---
Maisy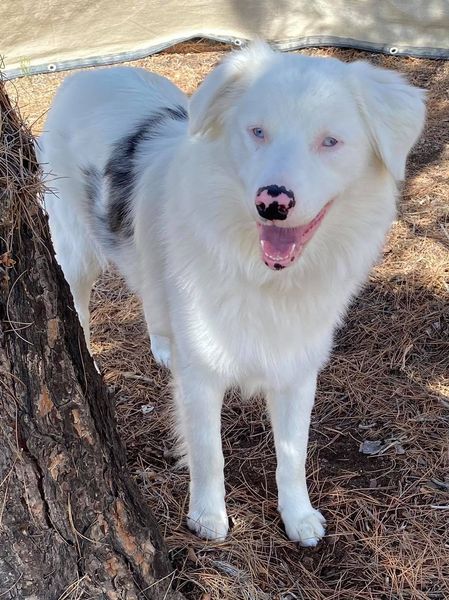 Name: Maisy
Age: 11 months old
Gender: Female
Breed: Australian Shepherd
Weight: 43 lbs
Note: Deaf
Maisy is a sweet girl who loves people and other dogs. Being deaf does not hold her back. She has lots of energy and loves to play. She will need a family with at least one dog who is confident, playful and tolerant. Maisy is still a puppy who needs training but overall she has been a good girl. Besides playing with other dogs, Maisy really likes playing with toys and hanging out (on) her people. What she likes least is being left alone. She will sometimes bark / cry so no apts / condo type residences please. We do not know how she is with cats. No young children. Maisy is ok on leash and rides well in the car.
If you are interested in adopting Maisy, please fill out an adoption application https://aussierescuesandiego.org/foster-and-volunteer/adoptionapplication/. Please answer every required question, otherwise your app will not submit. You will receive an immediate confirmation once it has been submitted. Please allow up to 48 hours for us email you personally. If you do not receive confirmation within 48 hours, email us at Adoptionsaussierescuesandiego@gmail.com.
---
Beach Pups
These sweeties are sure to keep you busy and laughing. The Beach Fun litter was rescued from a local shelter. They are believed to have been born approx 6/15/2021. They seem to be mixed non-herding breeds (NOT Aussie) but are full of love, humor and trainability. We are guessing that they will be medium to large sized when full grown. If you have lots of time, patience and willingness to raise a puppy, please fill out our adoption application at https://aussierescuesandiego.org/foster-and-volunteer/adoptionapplication/
---
Rio
Name: Rio
Breed: Mini Aussie
Age: 8 months old
Gender: Male
Weight: 25 lbs
Rio is a very affectionate boy who needs a quiet environment with no other dogs or young children. He used to live with 3 other small dogs who were very reactive and it became too much for him. Rio has been friendly with people but is very anxious around unknown dogs. Sometimes, he can walk along passing other dogs with no issue but other times, he loses his ability to cope and will determinedly grab his leash and clench down. He has gotten better but he needs someone willing to work with a trainer consistently. Rio loves to play with toys or balls, enjoys walks and likes to get attention. He is used to having someone around most of the time so will not be suitable to left alone much. Rio needs a home with a yard so he can run around and burn off some energy without encountering other dogs. Apts, Condos or very busy areas would be too much for this guy. Rio is not recommended for households with other pets or young children. He needs to work on his own behaviors and learn to cope first. If you are willing to love and work with Rio, please fill out our adoption application. He will be a wonderful buddy for the right owner(s). https://aussierescuesandiego.org/foster-and-volunteer/adoptionapplication/
---
Tommy
Name: Tommy
Age: 8 months old
Breed: Aussie mix
Gender: Male
Weight: 39 lbs now; expected to be about 45 lbs
This cute boy is too smart for his own good! He needs an owner who can train him and give him jobs to do. He likes routine and structure. Tommy already knows lots of tricks and loves training sessions. He also loves playing with doggie friends. Tommy does best with playful well trained dogs who are his size or bigger. A house with a safe yard is required. No apts, condos, or grumpy neighbors. Tommy has been known to use his voice to let humans know when he wants something. He needs someone who is experienced raising an Aussie and knows that as a puppy, he is a work in progress. He will be as good as you teach him to be. Tommy is ok with dog savvy cats. No small children or other puppies please. He can barely handle his own energy let alone someone else's. And no senior doggies. He will just annoy them and they don't want to really play with him.
If you think that you are a good fit and are willing to work with Tommy, please fill out an adoption application https://aussierescuesandiego.org/foster-and-volunteer/adoptionapplication/. Please answer every required question, otherwise your app will not submit. You will receive an immediate confirmation once it has been submitted. Please allow up to 48 hours for us email you personally. If you do not receive confirmation within 48 hours, email us at Adoptionsaussierescuesandiego@gmail.com.
---
Courtesy Posts!
Please contact Owners/Rescues directly.
---
Loki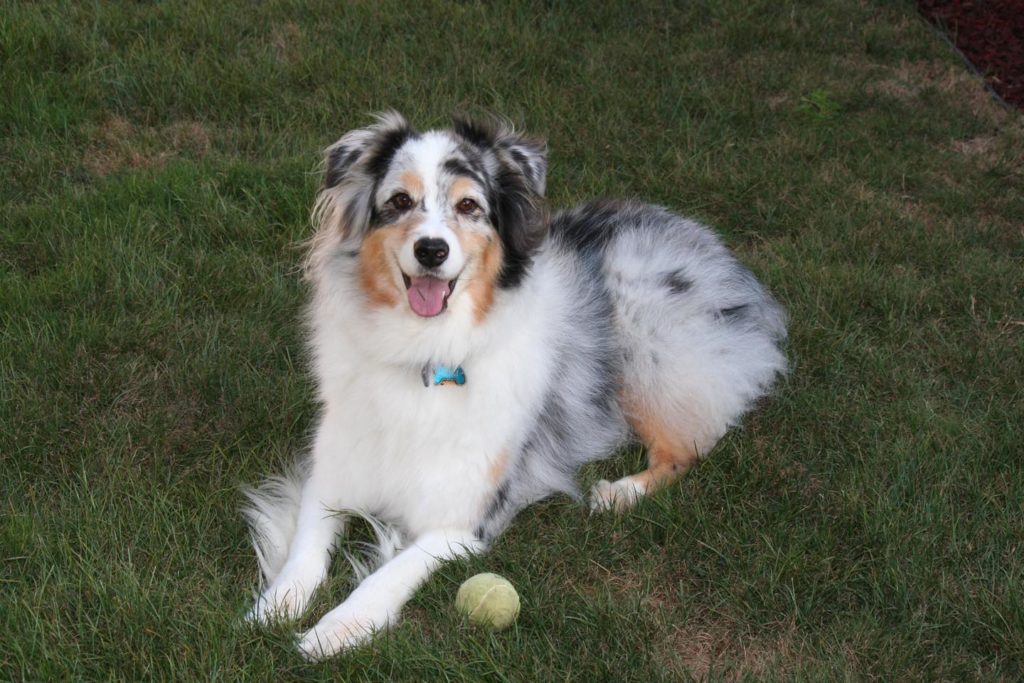 Please read information and if you are a good fit for Loki's needs, fill out our adoption application. We will forward to his owner.
Name: Loki
Age: 8 years old
Weight: 51 lbs
Gender: Neutered male
Needs:
– quiet home
– no young children
– secure yard where he can play ball
-only dog
Per owner: Loki has at times become hyper-excited from stimuli such as things running past him or sudden moves. His tries to stop the action by nipping at what or whoever is moving. He's never attacked anyone, but it's very aggressive looking. There was an incident with our two year old daughter, which scared us. We're worried that she'll get hurt one day since she is now opening doors on her own. So, as otherwise awesome and loved as he is, we just can't take any more chances. He's very playful, loves to play chase with tennis balls. Although he loves to play with our female Aussie, we believe that he would like to be an only dog, with mature owners. Loki rides great in the car. Will sit, lay down, and come. Also responds to three claps to come.Perfect house manners, but won't clean up his own hair.
The dog park can be a bit too stimulating for him. He barks at other dogs when on leash, but not off. Off leash he runs over to introduce and play. If you think you might be a good fit, please fill out our adoption application: https://aussierescuesandiego.org/foster-and-volunteer/adoptionapplication/
---
Baily
COURTESY POST ** (Murrieta area)
From her owner: "This is so hard to do but I'm needing to rehome my spayed Australian Shepherd x Queensland Heeler Mix. Bailey is about 6 years old, I found her as a stray when she was around 2. Bailey is unable to stay at my moms house and due to my work/school schedule im unable to care for her the way she deserves. She's currently at a babysitters house and I see her when I can but not the way she deserves and needs. Bailey is an active dog, needing daily walks she's high energy! But also she's the dog that will nap for 4 hours because she's so lazy! She's the best dog out there in need of a LOVING home. Bailey is great with kids, great with cats, and good with most dogs as long as they can meet and sniff at first! Located near Murrieta, CA Please let me know if you're interested in possibly adopting this sweet girl – 951-467-9877"
---
Trip
Trip is a 12 yr old neutered male red tri male mini Aussie – he is overweight at 37 pounds, but considering he was up to 50 pounds at one point, he's doing much better now! He is currently being boarded, his owner is in hospice care and no one in the family wants him. He is housebroken, used to being primarily indoors, and walks on a loose leash, does well with other dogs (as long as it isn't a puppy jumping in his face!), good with strangers, men, women, and although he has not lived with any children, the few times he's been around kids he's been okay, no idea on cats. The best situation for Trip would be a home where someone is home most of the time and can take him on some slow walks a couple times a day to help him continued to loose the weight and move his joints. He is a super sweet boy that would love to hang out with his person as much as he can
If you are interested in Trip, please fill out our adoption application: please fill out our adoption application: https://www.aussierescuesocal.com/applications/adoption_v2/ – if we have your adopt app on file, just drop us an email: aussierescuesocal@gmail.com (Long Beach)
---
Cleo
With ARSC –
"CLEO" is an adorable 1 yr old spayed female Cattle Dog mix, weighing in at 25 pounds. Cleo is on Keppra (roughly every 8 hours – she takes it eagerly with peanut butter
) for seizures, and in the 8 months she has been in our rescue she has had one when some of her doses of keppra were missed. We've had a complete work-up done at the veterinarian when we first got her, then another pre-op panel done just before she was spayed – all looks good! She is a very happy energetic girl, friendly towards people and other dogs, even sometimes being very submissive and rolling on her back. She can be okay with cats that are not afraid of dogs and stand their ground, but if they hiss and run, she's after them! She has been fine with kids but with her previous history of seizures, we do not want to place her in a home that has a high traffic/chaotic pattern to it, she gets wound up easy enough as it is – if it runs, CHASE IT is her motto! She is housebroken and rides well in the car, enjoys walks/hikes. She does have the Cattle Dog sharp shrill bark for attention and when she is really wound up – because of that, absolutely NO apartments, townhomes, or condos – house with plenty of room and a large fenced yard is a must. Cleo definitely needs a home where someone is home most of the day, and we recommend having a second playful dog in the house to keep her occupied and tired – she is a high energy girl and does much better when she gets PLENTY of exercise both physically and mentally – continued training is a must with Cleo, she is still an adolescent and has a bit to go before can be consider an adult. She enjoys learning tricks and playing games, she is a busy girl and needs a home that can understand that and will work with her. So far, she does not resource guard anything here, is quick to back off if another dogs claims something, but she does play like a Cattle Dog – run, chase and slam is her classic style, may try to nip at another dog in a 'drive by' style of play, but has not nipped at people at all – however if she followed any closer she would be wearing my shoes.
If you are interested in this cutie and understand what Cattle Dogs need, please fill out our adoption application: https://www.aussierescuesocal.com/applications/adoption_v2/ – if we have your adopt app on file, just drop us an email: aussierescuesocal@gmail.com (Perris area)
---
Maverick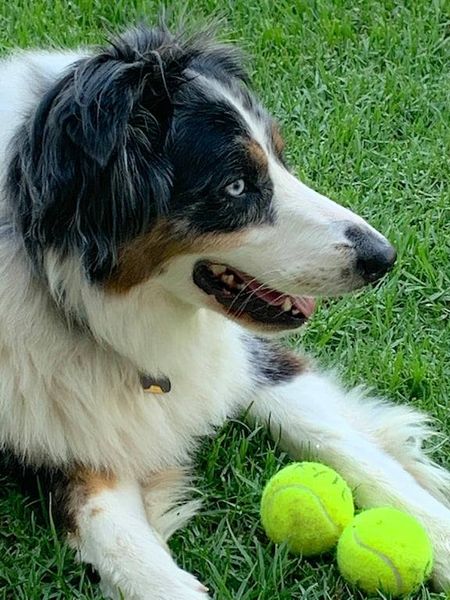 Maverick is with his owners, not with rescue, please read his bio carefully and if you feel you can provide the right home for him, contact his owner directly.
"We adopted Maverick from a private party in the Paso Robles area August 2020. At that time we were told Maverick, a neutered male, Blue Merle Aussie, possibly some Border Collie in him, was born 07/04/2017. He lived on a two acre parcel, running the parcel all day, having access to the house and crated at night. It was apparent that his previously family loved him but fell short where it came to socialization. He is wonderful on leash with people in public, especially at the local car shows we attend with him several times a week. He does have issues meeting dogs on leash but is fantastic at our local dog daycare facility where he plays on a 20,000 square foot yard with anywhere from 20 – 60 dogs at any given time, all off leash. We do not take him to dog parks, again do to dogs coming in on leash. Being a herding breed, Maverick is protective and thinks he owns his people, house, yard, and car. We do keep him on a leash when guest come over to our home or we put him in the back yard, he works best on a transitional leash. He is a very athletic dog, loves to play ball and tug. He is also a great running partner and will also run alongside a bike or even on a treadmill. Maverick would also be a candidate for dog sports such as agility or fly ball. He knows his basic commands along with back up, spin, and crawl, but not solid on a recall. Maverick does well when being groomed. We keep him clipped at medium length and he has a beautiful coat. No health issues and he is current on all his vaccines. He lives in a home with two adults, a backyard and has the option to come in during the day through a dog door. We have an older small dog that Maverick gets along with very well. He does not get up on the furniture and is totally housebroken. A very loving dog to us, as he will come over to us and just rest his head on our knee when we are sitting down. He loves to be petted, kissed and scratched. Since Maverick is a high energy breed, when we first adopted him he paced around the house so we talked to our veterinarian and we decided to put him on Prozac, 20mg once daily. He has been on Prozac for the past seven months. If his new owners decide to take him off Prozac he will need to be weaned off at the direction of a veterinarian. We have fostered dogs in the past that came to us with anxieties and this drug worked very well. The reason we need to re-home Maverick is due to the selling of our home and moving to a senior mobile home park that doesn't allow dogs over 25 pounds, Maverick is 62 pounds and not over weight. He is a strong, healthy, loving dog and it is breaking our hearts to re-home him. He would be best in an active home with no children younger than high school age or any cats. Please contact Kim at 714-609-9232 if interested in meeting Maverick." (Yorba Linda area)
---
Duke
Duke is a 6 yr old red tri neutered male Aussie mix, weighing about 70 pounds. He is a very friendly boy, with strangers, men, women, kids, other dogs too. He is housebroken, uses a dog door, is well behaved in the house and walks well on the leash. His owner has this to say about him:
"I am unable to meet his needs due to changes in life circumstances. He has a lot of anxiety and can't be left alone for too long. I am looking for someone who can walk him regularly and is home often. A fenced yard is a must. He is a runner. Needs to always be on a leash. He wears a thunder vest when anxious. He's very mellow and hangs out inside and outside on his own terms. Gets a walk or a hike 5ish times a week. But now is left home alone and unattended lately, my daughter moved for school, so he is home alone and barks, whines and is stressed a lot. He barks and can dig if he hears and sees wildlife.
He would love a home with his human chilling out. Cuddling. Walks. Dog parks. Likes playing with dog buddies. Car rides as long as he can be in the front seat. Duke is a great dog. He needs a human who is home regularly. He is a sweetheart and a lover. Easy going and calm if someone is with him. He loves walks and hikes. He is very anxious when left alone and unattended for more than 2-4 hours. He will bark and dig if left alone for long periods of time. He really is a great dog in so many ways. Just needs stability and a schedule. When home with his human he lays around and naps on his dog bed or couch. Likes to sleep next to the bed. He absolutely hates crates/ kennels. He will always run away if off leash or a door is left open. A good fence is a must!" If you feel you are the right match for Duke, please email: jzoe333@gmail.com (Lake Elsinore area)
---
Bolt
With ARSC
Bolt is a one year old Australian Cattle Dog/Border Collie mix. He was picked up as a stray in Long Beach and given the name "Bolt" at the shelter because he looks just like the Disney character. He has been in foster care about 4 months, and gets along well with his foster sisters, two border collies and a collie mix. He is sweet, energetic, fast and smart. He loves to play tug, hike and has started agility training. He loves to go to the park and will go say hello to nearly every human there, After a half hour or so of running, he crashes for the rest of the afternoon until it's time for his evening park visit. Needless to say, Bolt needs physical AND mental stimulation and would do well in a working home with someone who has experience with herding breeds.
Although Bolt is deaf, he knows hand signals for sit, stay, come, good dog, bad dog, spin right and spin left. He was quite nippy in the beginning, but that has substantially subsided. He is crate trained and house trained, likes most other dogs, but can become a bit overwhelmed by dogs that are very large or play too rough. He would do well in a household with other dogs of similar size and temperament. Like many herding dogs, he might not do well with small children. Bolt likes to cuddle and lay next to his human.
He is chipped and neutered. He had FHO surgery in April, but has recovered to the point that no one would ever guess he had been injured. Now he is ready for his forever home. If you feel you are a good match for this handsome fella, please fill out our adoption application: https://www.aussierescuesocal.com/applications/adoption_v2/ – if we have yours on file already, just drop us an email: aussierescuesocal@gmail.com (Long Beach area)
---
Eddie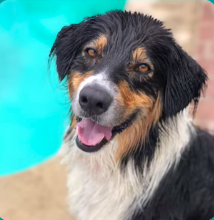 Meet Eddie, a 2.5 year old Australian Shepherd (standard size, DOB 11/4/2018). Eddie is in need of a new home, one where he can get the time, and more importantly the training, he needs. Eddie has several excellent qualities: he is very loyal, sweet, extremely tolerant of kids, he does not nip/herd the children, he's house-trained, has mad cuddling skills and his fetch game is strong. Eddie has earned the nickname "Ready Eddie" because no matter the time he is ready to participate in whatever you are doing, that being said, he does know how to be calm in the house. Eddie also needs some intensive training – he started showing signs of aggression towards other dogs early on and his owner does not have the time or skills to get him where he needs to be in terms of training. He's made some improvements on walks and is capable of sitting and being calm despite a dog barking behind a fence. Dogs on leash are an different story and are much harder for Eddie to tolerate, he has bitten his owner twice in these situations and it is recommended that he be walked wearing a proper muzzle. Both times the bites were minor and did not require medical attention; it was clearly redirected aggression as Eddie shows no aggression towards people otherwise. He occasionally encounters horses on walks and does not seem to mind them, but has not been allowed to get very close; he has not been around cats. His current owner made a point to pet/brush him while eating and he shows no signs of food aggression. Eddie loves every one he meets, no warm up period required, but not everyone can handle his enthusiasm. His tail-less butt-wiggle is a classic Eddie greeting. On occasion he jumps but rarely on a person – he'd rather show off his impressive vertical leap. Frequent and vigorous exercise is needed and he will even exercise himself if a pool is available. A large fenced yard is a must, especially until he can behave himself around other dogs, a pool would be a huge plus. Eddie has lived with one other dog his whole life and gets a long with him really well. Eddie is a well-loved pup and his owner just wants what's best for him but recognizes that it's not his current situation.
If you are interested in Eddie, please fill out our adoption application and we will forward it on to his owner: https://www.aussierescuesocal.com/applications/adoption_v2/ – if we have your adopt app already, drop us an email of your interest: aussierescuesocal@gmail.com (Alta Loma area)
---
Cali
Cali is a 4 yr old spayed blue female Aussie with two blue eyes and about 50 pounds. She is housebroken and well behaved in the house, loves to run and go on walks, thrives with attention and wants a job to do. Cali loves to snuggle and loves kids, but she is very anxious at times and this makes her impulsive, she can and has bitten if she feels threatened or if you try to take something from her/out of her mouth – she will get very focused/fixated on something and may bite if you try and distract her or get between it and her. However she is not aggressive with food and even lets other animals eat out of her bowl before she does. She is good with other dogs, no idea on cats, is friendly and high energy. She loves playing in the water and the snow. If you are interested in adopting Cali please fill out our adoption application: https://www.aussierescuesocal.com/applications/adoption_v2/ (Laguna Niguel area)
---
Ash
With ARSC **
Ash is about 1-1.5 yrs old, neutered male Aussie X Border Collie…? He is housebroken and walks well in leash once he gets his ya-yas out
He does like to pick up everything he spots on the walk, but working on it and he is getting much better. From his foster mom:
Ash is one of the most loving, cuddliest and happiest guys around. He will snuggle you all day and fall over for a belly rub without question. He is extremely smart, loyal, friendly and active. Very trainable and would be incredible with agility/nose training. Ash is looking for a house that can offer him lots of love, attention and play time. A fenced back yard is a must as he is very high energy and needs space to run around. He loves to fetch, tug-of-war, and all his stuffed animals/squeaky balls. Ash loves his humans immensely and will follow you everywhere you go, even if you just get up to grab some water. He is friendly with people, most dogs and children. That being said, he's not good around hyper or outgoing dogs that try to play/jump especially if they are close to his size. He gets very scared and hides. He does not like the dog park unless it is empty or with a few very calm dogs that keep to themselves. A few things to be aware of: Ash is very high energy but once he gets it out he will sleep for a while until he's ready to play again. If he doesn't get his daily exercise he will find a way to entertain himself in the house by chewing anything that looks fun including your shoes. He is house trained but not crate trained. He sleeps in his own bed as he gets pretty hot on our bed at night. He is also good when left at home alone for an hour or two. He will not be a good fit for a family that is gone/at work most of the day. Ash is a young dog and needs a lot of patience and understanding. As with any young dog, he can be a handful. It takes time to build trust in order for him to listen and follow commands. He gets mouthy but in a gentle way and we are working on it. Ash is one of the sweetest dogs you'll meet. He deserves a family that will give me a ton of love and attention and has experience with high energy herding dogs. If you are interested in adopting Ash, please fill out our adoption application: https://www.aussierescuesocal.com/applications/adoption_v2/ (Beverly HIlls area)
---
Duke & Duchess
With ARSC –
Duke and Duchess are a pair of possible Aussie mixes – no idea with what, sorry. Duke is a black tri neutered male with 2 blue eyes and a bobbed tail, Duchess is a spayed female, white with red patches, one blue eye and the other looks like it may not have developed fully. They are about 18 months to 2 years old, they were relinquished to a rescue because they kept digging out (we got them from the other rescue, so have never talked to the original owners), so a secure fenced yard is a must. They are very bonded, so please do not ask if we will separate; they are social, both with humans and other dogs, and seem to be kid friendly – but no young kids, they may get knocked over! They are active, alert and playful, have a good start on being housebroken, just really nice fur-kids! If you are interested in this delightful pair, please fill out our adoption application: https://www.aussierescuesocal.com/applications/adoption_v2/ (Palmdale area)
---
Kulture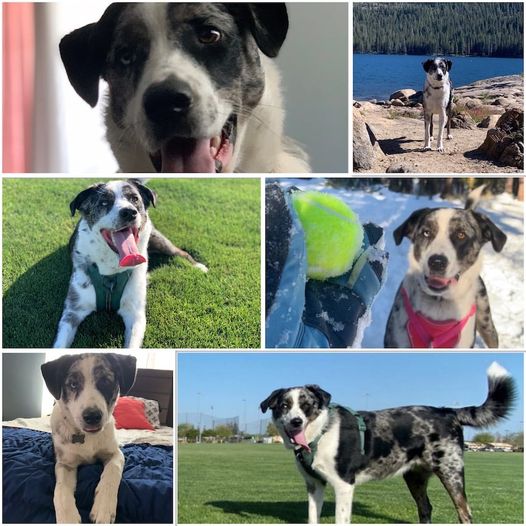 COURTESY POST—Kulture is with her owner, not with rescue
Kulture is a 2 year old Aussie Mix. She would thrive in a home where she is the only pet as she is an Alpha female. She is a sweet dog full of energy, her favorite thing to do is play ball. She is very smart and likes to show off all the tricks she knows: sit, lay, stay, play dead, roll over, paw, high five, spin. She also loves to do agility training and loves challenge and puzzle toys. She is very nervous and anxious around new people but once she knows you she is very loving and affectionate. She is an amazing dog but in need of rehoming due to us having another Alpha female and they recently got into a dog fight so we believe it is best to rehome Kulture since she would do best in a home by herself. She loves taking trips to the beach and playing fetch in the water. She is crate trained, potty trained, and has completed basic obedience courses. She could use some more strict training with heel and when walking on leash. She is very reactive to other dogs. but this comes from fear and anxiousness. She is great with my sister's baby but that may be because they grew up together. She is spayed, and up to date on all her vaccines, she is also microchipped. She is definitely an indoor house dog but loves to play outside with you during the day. Kulture is a bigger dog weighing 77lbs. The family that wishes to rehome her will receive her crate, bed, toys, food, favorite treats, balls to play fetch, collar, leash vaccination records, and microchip info.
I hope to find her the perfect home so a phone interview and home check will be required. And questions or if you would like more info and pictures or videos please feel free to contact me: (209) 672-5207. (San Jose area)
---
Lola
Please contact owner, Lindsey, directly if you can help Lola by giving her a furever home.
Name: Lola
Breed: Collie/lab/shep
Age: 6 years
Gender: Female
Weight: 70 lbs
Per owner:
Lola needs a new home with no kids (or older kids that can understand boundaries with dogs). She would do best in a home where she is the only dog or there are other calm, non dominant dogs. She great with our 4 cats. The reason we are rehoming her is because we have a six month old baby who is starting to move and although Lola loves kids, she likes them on her own terms. She does not like being approached by when she is sleeping and will growl/snap if scared.
Lola is a quirky girl who takes time to warm up with new people. She does great with all women but it takes a little longer for her to relax with men. Once she is comfortable with someone, she is a snuggler! She loves to be pet and will sit right next to you. Lola enjoys walks, fiesta island and is very food motivated. She likes the dog park but does best when she can approach other dogs on her own terms. We have worked with a trainer to help calm her anxiety and can show you the things we have learned that have made her a happy girl. She is potty trained, spayed and up to date on her vaccinations/vet check ups.
We love her so much and want to make sure the home she goes to is the right place for her. Please text or call me if you think you might be a good fit for her! Lindsey 619-201-4473
---
Remmy
Peace of Mind Dog Rescue in Monterey, CA reached out for help in finding homes for a couple of senior boys looking for that special home – Anyone out there that has room in their hearts and home for a sweet sweet senior boy?
Remmy: Australian Shepherd Mix, Male, 12 years old, 33 pounds
Remmy is a sweet older gentleman. He is apprehensive at first and does not like to be lifted. He does snap at too forward people and so should go to a home without children and be with understanding adopters. Also, he much prefers women to men and is very distant to men. He has quite an impressive resume otherwise — he is great with big or small dogs and he is crate trained and rides well in the car. He is a bit on the timid side at first and prefers to be left untouched until he gets used to you. He isn't described as overly affectionate with people but will warm up to you once he trusts you. He does need a home without cats.
Remmy did not go many places before coming to POMDR. So a walk to a busy place can be very overwhelming. He has lived a reserved life and it shows in his personality. Slow exposure is ideal for him.
He walks well on leash. He eats and sleeps in his crate – being led in by food and then settling in comfortably. Remmy does pace in the house and yard, especially during transition but then will mostly just follow his person around. He wants to be with you and is actually showing anxiety when left behind so needs help understanding being left alone is ok. He is hearing and vision impaired but has good energy for his age. He watches intently but doesn't really know any commands.
Remmy came to us from the Newman Animal Shelter.
If you'd like to see more pictures of Remmy or are interested in adopting this gentleman, please click here and follow their instructions: https://www.peaceofminddogrescue.org/dog.php?id=2578
---
Cookie
Name: Cookie
Age: 16 years
Gender: Female
Breed: Border Collie Mix
This is Cookie, at 16 years young an old lady with a lot of spring in her step! Our best guess is that she is a border collie mix. She certainly has the intelligence and energy level of the breed although she's also capable of a lot of mellow sleeping since she is a senior.
Cookie is easy to have around the house. She gets along fine with other dogs and cats in the home. She will bark at strangers but is friendly once she knows everyone is safe. I would not trust her around young children because she can be a little reactive to certain kinds of physical contact.
Cookie loves to go for walks. Truly loves it! The one challenge is that when she sees other dogs while she is out she gets very stimulated and will sort of fling herself at their faces. So she needs a strong hand on walks. She's also pretty nearly deaf so she needs to be on leash.
This is a girl with a lot of life in her even at her age for someone willing to meet her needs."
If you are able to give this senior girl a loving home for her sunset years
please fill out the Aussie Rescue So Cal adoption application: https://www.aussierescuesocal.com/applications/adoption_v2/. (Santa Barbara area)
---
Adoptable Dogs from Our Rescue Partners:
To view dogs available at our local humane societies and shelters: