Are you interested in adopting, or may be interested in the future? Please fill out this application online. 
For most current available dogs, including courtesy posts, please visit our Facebook page Aussie Rescue San Diego.
---
Tommy
Name: Tommy
Age: 5 months old
Breed: Aussie mix
Gender: Male
Weight: 25lbs now; expected to be about 50lbs

This cute boy is too smart for his own good! He needs an owner who can train him and give him jobs to do. He likes routine and structure. Tommy already knows lots of tricks and loves training sessions. He also loves playing with doggie friends. Tommy does best with playful well trained dogs who are his size or bigger. A house with a safe yard is required. No apts, condos, or grumpy neighbors. Tommy has been known to use his voice to let humans know when he wants something. He needs someone who is experienced raising an Aussie and knows that as a puppy, he is a work in progress. He will be as good as you teach him to be. Tommy is ok with dog savvy cats. No small children or other puppies please. He can barely handle his own energy let alone someone else's. And no senior doggies. He will just annoy them and they don't want to really play with him.

If you think that you are a good fit and are willing to work with Tommy, please fill out an adoption application https://aussierescuesandiego.org/foster-and-volunteer/adoptionapplication/. Please answer every required question, otherwise your app will not submit. You will receive an immediate confirmation once it has been submitted. Please allow up to 48 hours for us email you personally. If you do not receive confirmation within 48 hours, email us at Adoptionsaussierescuesandiego@gmail.com.
---
  Courtesy Posts!
  Please contact Owners/Rescues directly
---
Rune and Charm
with ARSC:
Rune (black and white) and Charm (white and black) are not ready for adoption yet—they are a pair of young female Border Collies that were picked up as strays up in Bakersfield and no one claimed them – they were very scared so the shelter asked if we could take them – we currently have them in boarding and they are doing much better, but we are looking for a foster home for them if possible. They do scope out the top of the fence whenever they are out in their yard, are considered a 'flight risk', so cannot be left out in the yard unattended. If you are interested, please email: aussierescuesocal@gmail.com
---
Nixon
"NIXON" is around 5 years old, he is a neutered male Aussie / Lab mix and weighs 75lbs. He is very energetic and loves people- once he gets to know you or you want to take him for a walk. He was adopted when he was about 10 months old from a shelter from a shelter near Denver CO. He has hiked the 14,000ft hikes in Denver like it was a walk around the block and he will chase whatever you want to throw for as long as you want to throw it, and loves to swim. He is sometimes hesitant to meet new people but if you ignore him, he wants to meet you. Nixon does not even see other dogs when he is walking, or on hikes even if they bark at him. He loves the car and has done many road trips and stayed in hotels.
Nixon is very good inside of the house. He rarely barks, is potty trained, knows the difference between what he can and can't chew on, and wants to be a lap dog, he is also good about staying in his bed. His human parents recently had a baby and he has become jealous. He has nipped at both of his parents but never bit. He has had a lot of training and the trainer thinks that he needs to be with someone who will keep him active and also be in charge. Nixon likes to think that he is in charge and if you stay on top of his discipline he does great. He is staying with his "Grandparents" right now but they rescue and forever foster senior dogs from Frosted Faces. His parents are looking for a family who have the time to spend with him. He loves to work and is incredibly smart and could learn whatever you wanted to teach him. He enjoys being outside so you would have to have a large fenced yard. He has learned to get along with his little senior dog so I think he would adjust to another dog. Nixon is already microchipped. If you are interested in Nixon, please email: toratazlee@yahoo.com (Ramona area)
---
Lola
Please contact owner, Lindsey, directly if you can help Lola by giving her a furever home.
Name: Lola
Breed: Collie/lab/shep
Age: 6 years
Gender: Female
Weight: 70 lbs
Per owner:
Lola needs a new home with no kids (or older kids that can understand boundaries with dogs). She would do best in a home where she is the only dog or there are other calm, non dominant dogs. She great with our 4 cats. The reason we are rehoming her is because we have a six month old baby who is starting to move and although Lola loves kids, she likes them on her own terms. She does not like being approached by when she is sleeping and will growl/snap if scared.
Lola is a quirky girl who takes time to warm up with new people. She does great with all women but it takes a little longer for her to relax with men. Once she is comfortable with someone, she is a snuggler! She loves to be pet and will sit right next to you. Lola enjoys walks, fiesta island and is very food motivated. She likes the dog park but does best when she can approach other dogs on her own terms. We have worked with a trainer to help calm her anxiety and can show you the things we have learned that have made her a happy girl. She is potty trained, spayed and up to date on her vaccinations/vet check ups.
We love her so much and want to make sure the home she goes to is the right place for her. Please text or call me if you think you might be a good fit for her! Lindsey 619-201-4473
---
Lord
Lord is with his owners but they are having to move in a few weeks and are not able to take him with them. 
"This is Lord. He is a neutered 14-year old Australian shepherd mix and he is looking for a new yard to lay his head. Lord is an outside pup who loves to roam his yard, interact with his doggie friends and neighbor kids in the neighboring yards, and chill in his mud puddle in the summer. Lord was originally adopted from the local shelter together with another dog, Lady, and the two were a pair for 7 years. After Lady passed, Lord became more interested in and socialized with the neighboring pups and children. He is up-to-date on his shots as he just last month traveled like a good boy in his crate to the vet for his check-up.
Lord has a sweet, easy-going disposition and enjoys tummy rubs more these days than fetching a ball. Although, he will play for a little while before settling into the tummy-rub position. While a vigilant observer, Lord rarely barks. So an alert from Lord means a lot. He also enjoys walks; however, these days he tires easily and needs the occasional break and water.
Lord is used to dry food (Beneful for Adult Dogs) but takes easily to new food brands. Currently,he is also spoiled with a daily hot dog and treats from the aforementioned neighbor kids. Overall, he has not encountered a treat he did not enjoy
Ideally, Lord would do best in a yard with room to roam, opportunities for plenty of naps and observation, and other adult dogs. Will Lord find new friends in your backyard?"
If you are interested in this beautiful and sweet old man, please fill out our adoption application: https://www.aussierescuesocal.com/applications/adoption_v2/ – if we have your adopt app on file, just drop us an email: aussierescuesocal@gmail.com . (High Desert / Hesperia Area)
---
Oreo
With ARSC:
This handsome fellow is Oreo, a 7-ish year old neutered male border collie mix (probably with lab), recently transferred from Santa Barbara County Animal Services. He came in as a stray and clearly had been neglected; he had extensive hair loss from untreated flea allergies, and his teeth are very worn down (probably from chewing those itchy flea bites!). But this neglect hasn't affected Oreo's sunny disposition: he is a friendly, affectionate, well mannered boy, eager to please. He loves other dogs and has a healthy fear of cats. He's underweight and a bit out of shape, but easily able to jump into the back of an SUV, so he should be able to go on long walks (in fact, he might need them to burn off his border collie energy). He crates well, rides politely in the car, and is overall a civilized boy ready to be someone's loving companion!
Oreo's coat is still a work in progress as his hair grows back, and he'll need a dental before he goes home. But otherwise, he's a dog in search of a loving family. Will that be yours?
If you are interested in Oreo, please fill out our adoption application: https://www.aussierescuesocal.com/applications/adoption_v2/  If we have yours already, drop us an email: aussierescuesocal@gmail.com  (Santa Barbara area)
---
Reba
COURTESY POST
Senior Reba is not with our rescue but with a private party – please consider giving her a chance!
"Reba is a 13-year-old Aussie girl from working lines.  She was my mother's best friend and companion until my mom went into a facility a few months ago.  She is used to being adored and told that she is beautiful.  She is very loyal and would be okay in a home with another male Aussie but she would not like another queen in her castle.  She is very sad and lonely right now and has no one to love.  She has been obedience trained.  She has been around horses her entire life but not cats.  She gets around fine but she has been alone for a few months so we are not sure what habits she has developed.  She may submissively urinate as she doesn't meet very many strangers, but once she knows you she is very loyal and protective."  If you are interested in giving this beauty a loving home, please fill out our adoption application:  and we will forward it on to her caregiver: https://www.aussierescuesocal.com/applications/adoption_v2/  – if we have your adopt app already, just drop us an email: aussierescuesocal@gmail.com   (Anaheim area)
---
Tonto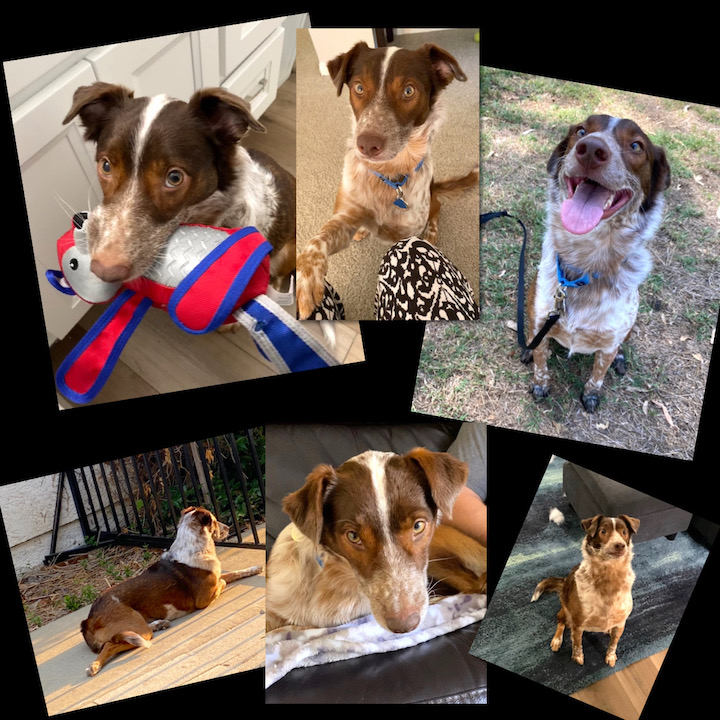 COURTESY POST
Tonto is with his owners
"Tonto is around 4 years old, he is a neutered male Aussie / border collie mix / Heeler mix and weighs 35lbs. He is very energetic and loves people- whether it be his human family, friends, or strangers (even the mail man loves him!). His family adopted him in January of 2020 from a shelter. He does jump on people when excited, meeting new people, or greeting people he hasn't seen in a while. Tonto is aggressive towards other dogs, he lunges and barks at them, going into a trance until they are out of sight. He will chase after cats. On walks, he loves to smell everything, and he enjoys riding in the car, and loves to play hide and seek with his people.
Tonto is very good inside of the house. He rarely barks, is potty trained, knows the difference between what he can and can't chew on, and is a great lap dog. He is fine if left alone for a few hours, his parents watch him on a monitor as he just sleeps until they get home. He just wants to be with his people! His human parents recently had a baby and are finding it difficult to keep up with him. His dad is often away for work and his mom is having much difficulty caring for the newborn and this loving little boy. He is afraid of water (ocean, still, bath, shower, even the rain.)  His parents are looking for a family with older children (preferably teens due to his jumping up), have a a large fenced yard, and no other dog or cat (Tonto has been fine with birds so far).  He knows the following commands (but may forget them if too excited): "sit", "down", "stay", "paw." "
If you are interested in Tonto, please fill out our adoption application and we will forward it to his owners: https://www.aussierescuesocal.com/applications/adoption_v2/   (Laguna Niguel area)
---
Cleo
Cleo is an adorable 1 yr old spayed female Aussie x Cattle Dog mix, weighing in at 25 pounds. Cleo is on keppra for seizures, and in the 4 months she has been in our rescue she has not had any. We've had a complete work-up done at the veterinarian when we first got her, then another pre-op panel done just before she was spayed – all looks good! She is a very happy energetic girl, incredibly friendly towards all human and canines she has meet so far, even sometimes being very submissive and rolling on her back. She can be okay with some cats, others she gets a 'laser focus' on, can't predict which it will be
She has been fine with kids but with her previous history of seizures, we do not want to place her in a home that has a high traffic/chaotic pattern to it, she gets wound up easy enough as it is! She is housebroken and rides well in the car, sometimes get distracted on walks and can get very vocal around other dogs and people that pass, but a quick reminder and she gets back on track. When she first came into our rescue, she had a Big barking problem with a sharp, shrill bark for attention and occasional tantrums, but with work she has gotten MUCH better – because of that, absolutely NO apartments, townhomes, or condos – house with plenty of room and a large fenced yard is a must. Cleo definitely needs someone who is home most of the day, she tends toward some separation anxiety, and we recommend having a second dog in the house to keep her occupied – she is a high energy girl and does much better when she gets PLENTY of exercise both physically and mentally – continued training is a must with Cleo, with only being a year old, she is still in her teens and has a bit to go before can be consider an adult. She is highly food motivated and enjoys learning tricks and playing games, she is a busy girl and needs a home that can understand that and will work with her. If you are interested in this cutie and you can commit to continue training with her, please fill out our adoption application: https://www.aussierescuesocal.com/applications/adoption_v2/ – if we have your adopt app on file, just drop us an email: aussierescuesocal@gmail.com (LA area)
---
Luna
Luna is a 9 yr old spayed red merle female Australian Shepherd still with her owners:
"We are searching for a loving and safe new home for our family pet, Luna. Luna is a very sweet, playful, and energetic Australian Shepherd. Although we love her dearly, we have not been able to provide her with the attention that she needs to live her happiest life. Like most Australian Shepherds, Luna is full of energy and very smart. She loves running, hiking, mountain bike rides, and frisbee. Luna has never shown signs of aggression, and other than being rambunctious is good with children and other dogs. She has spent lots of time around toddlers. We are unsure of how she would do with cats, but she does not tend to chase after prey animals. She does great when boarded at the kennel and enjoys playing with the other dogs.
Luna has a few behavioral issues that her future family should be aware of: 1) When greeting unfamiliar people or friends and family that she has not seen recently, she stands up and puts her paws on them; 2) She has escaped from our yard on several occasions despite our best efforts to secure the backyard; 3) She gets nervous (paces and whines) when we pack for a trip, or get ready to go on a hike or run and she thinks we may leave her at home; and 4) She and the neighbor dog bark at each other through the fence when in their backyards.
Luna weighs approximately 40 pounds. She has not had any significant health issues. She is spayed; has updated vaccinations; is on flea, tick, and heartworm prevention medication; has a microchip; and is licensed in San Luis Obispo County.
We are seeking a home for Luna that will provide her a loving, caring, and safe environment. She would love a family that has plenty of time to give her the attention she deserves. We think she would be her happiest on a large property with room for her to roam."
If you are interested in Luna, please fill out the Aussie Rescue So Cal adoption application and we will forward it to her owners: https://www.aussierescuesocal.com/applications/adoption_v2/  – if we have one from you already, email us: aussiesrescuesocal@gmail.com  (San Luis Obispo area)
---
Remmy
Peace of Mind Dog Rescue in Monterey, CA reached out for help in finding homes for a couple of senior boys looking for that special home – Anyone out there that has room in their hearts and home for a sweet sweet senior boy?
This first boy needs someone that is experienced and understanding of the normal Aussie personality – reserved at first and slow to warm up – he's not going to be your best friend the first moment you meet, and probably not the first few days or week in a new home – if that is what you are looking for, please consider looking into a Lab or a Golden.
Remmy is a 12 year old, 33 pound neutered male Aussie mix. (looks purebred to me but they do not have papers for him so listed him as a mix)
Remmy is a sweet older gentleman. He is apprehensive at first and does not like to be lifted. He does snap at too forward people and so should go to a home without children and be with understanding adopters. Also, he much prefers women to men and is very distant to men. He has quite an impressive resume otherwise — he is great with big or small dogs and he is crate trained and rides well in the car. He is a bit on the timid side at first and prefers to be left untouched until he gets used to you. He isn't described as overly affectionate with people but will warm up to you once he trusts you. He does need a home without cats.
Remmy did not go many places before coming to POMDR. So a walk to a busy place can be very overwhelming. He has lived a reserved life and it shows in his personality. Slow exposure is ideal for him. He walks well on leash. He eats and sleeps in his crate – being led in by food and then settling in comfortably. Remmy does pace in the house and yard, especially during transition but then will mostly just follow his person around. He wants to be with you and is actually showing anxiety when left behind so needs help understanding being left alone is ok. He is hearing and vision impaired but has good energy for his age. He watches intently but doesn't really know any commands.
Remmy came to us from the Newman Animal Shelter.
If you'd like to see more pictures of Remmy or are interested in adopting this gentleman, please click here and follow their instructions: https://www.peaceofminddogrescue.org/dog.php?id=2578
---
Kupuna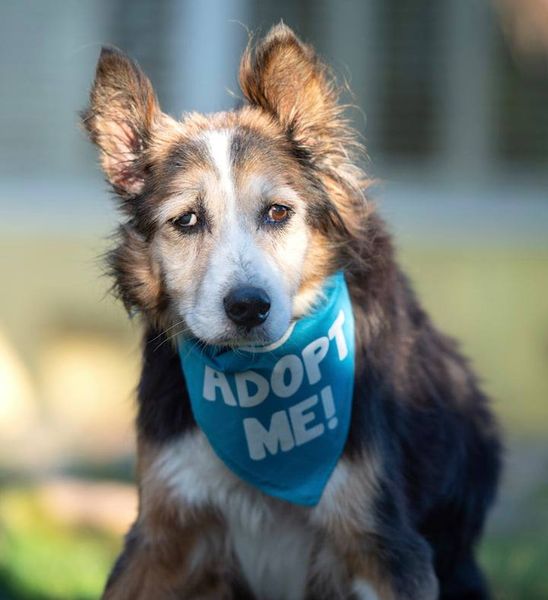 Peace of Mind Dog Rescue in Monterey, CA reached out for help in finding homes for a couple of senior boys looking for that special home – Anyone out there that has room in their hearts and home for this super sweet senior boy?
Kupuna
Looks like: Border Collie/Australian Shepherd Mix
Male, 14 years old, 34 pounds
Kupuna has shown remarkable resilience since he came to us in December emaciated and unable to walk. He'll never be an active dog who goes on walks, but he's reached a point where he can follow his person around the house. He's very affectionate and loves pets and attention. He gets along well with other dogs, and has a docile demeanor.
Kupuna's mobility issues are due to spinal arthritis. He is on arthritis medications for the rest of his life, which has been helpful for him. He also needs regular medicated baths for some ongoing skin allergies. He is deaf and has some fecal incontinence due to lack of control of his hind end. Kupuna will need a very special home, one where he can receive loving, dedicated care. This gentle soul will give you as much if not more love than he receives. He has a gentle, loving spirit and needs a soft landing in this next phase of life.
If you would like to see more pictures of Kupuna or are interested in adopting him, please click here: https://www.peaceofminddogrescue.org/dog.php?id=2671
---
Angel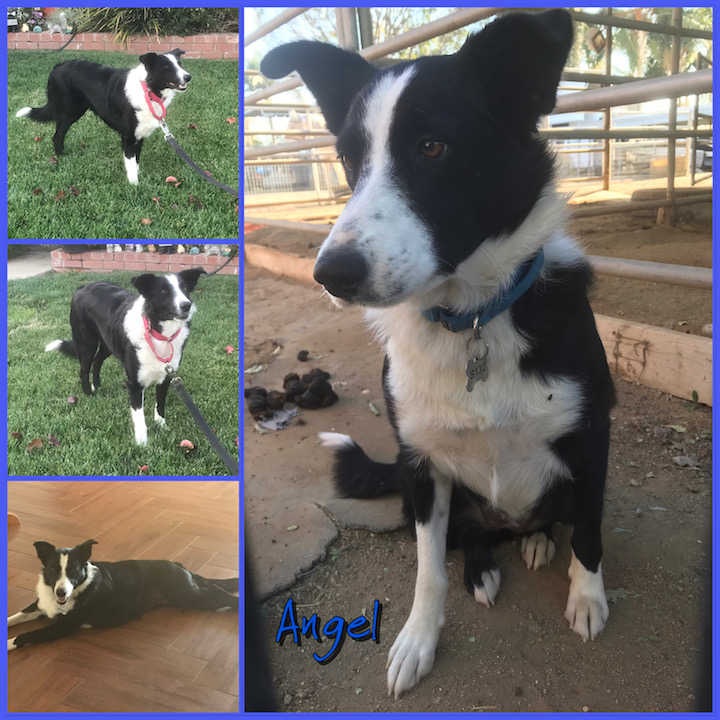 "ANGEL" is an approximately 2 year old spayed female medium coat Border Collie. She was bailed out of the shelter and came to live with her foster parents as she was deemed "rescue only"  because she had some medical issues at the time that were quickly resolved.  When Angel was at the vet to get spayed it was noticed that she had some mild limping and it was soon discovered that she had a bad hip and required surgery. It is best guessed that she suffered injury as a puppy and developed some issues with her hip joint. The rescue had a FHO (femoral head osteotomy) performed . Angel has recovered very nicely from her surgery and most times you can't tell she ever had a problem.  Although Angel is doing well and is active and does love to run and play, her activity level is not the same. She is not a candidate for agility or herding, or even frisbee, as this kind of strenuous activity could maybe cause more issues later.
Angel (so named because her ears would stand up like an Angels wings) is a very sweet and affectionate dog. She loves to be by your side and have you pet her. She seems to love all people and children. She is leashed trained but does require some more training.  She is also housebroken, and crate trained (night only).  However, Angel is a true Border Collie in that she does love to run and play but cannot be allowed to overdo it.  She does well with her foster siblings. We are not sure how Angel is with cats, but she does love to herd other small animals so its probably not a good idea.
Angel requires a herding dog savvy home with someone who can spend a lot of time with her, and she does need a yard – No apartments or townhomes. She has the potential to do just about anything you ask of her.  
If you are interested in Angel, please fill out our adoption application: https://www.aussierescuesocal.com/applications/adoption_v2/  – if we have one from you already, please email aussierescuesocal@gmail.com  (Norco area)
---
Buddy
This handsome fella is with Friends of Orange County's Homeless Pets – you need to contact them directly with any questions/interest!
Name: BUDDY
Age: 13 Years
Breed: Aussie
Posted: 2021-01-13
Buddy is about 13 years old and he is rather over weight. His owner has become homeless and he is living at a boarding facility. He is a very sweet dog, He is not good with other dogs. He does have a dog buddy he has lived with most of his life and he is good with her. He is really hoping to find a nice soft bed where he can spend the rest of his life enjoying the sun and family. He has no medical issues and likes to romp around the yard. If you are interested in meeting or adopting him please email fochp@yahoo.com
link to BUDDY'S page: http://www.fochp.org/dogdetail.php?id=57837
---
Fuzzy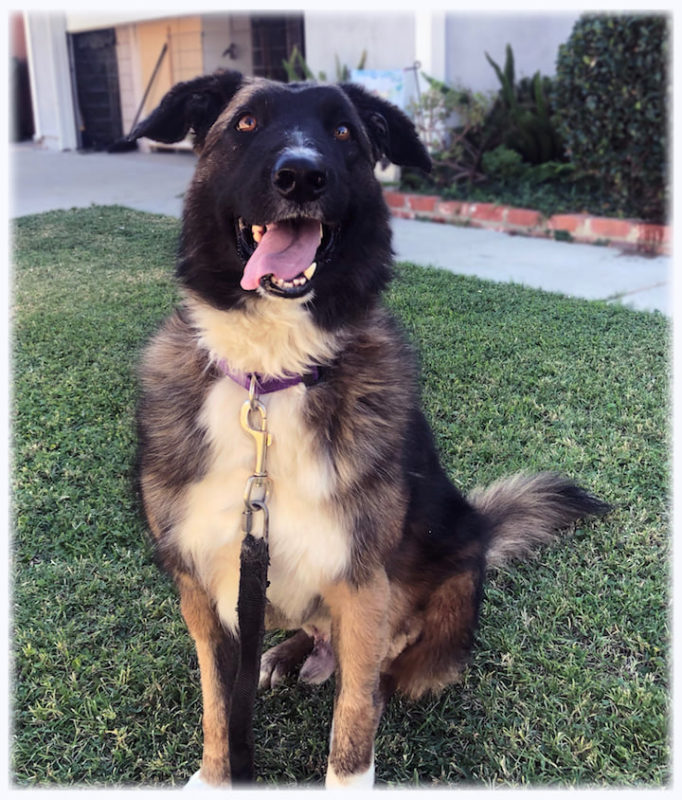 Fuzzy is gorgeous and has had a pretty tough start to life. He was surrendered with his brother to a high kill shelter and intercepted by a Malinois advocate. His brother was adopted immediately as a foster fail. Fuzzy has been under the care of our head trainer – she has over 20 years experience with Malis and other pups.
The litter was bred with an Australian Shepherd and Malinois.
Fuzzy is super sweet. He would be best in a home where he is an only dog and no cats/small creatures. (We imagine him with a doting couple) He grew up with children so is okay with good structure and boundaries.
He is super food motivated and loves working for his treats but is also pretty much a couch potato. His basic OB is on point – he even has a sit pretty! He has a dense undercoat and loves the camera. He will pose for a picture! Fuzzy loves baths and grooming time, he's also potty trained and crate trained. He is shy at first and gets uncomfortable with strangers just coming at him. He is pretty good for a few rounds of fetch and will definitely get a little tubby if overfed. Please LOVE me! I am too ridiculously cute
Currently located in: Simi Valley, CA
Applications please email adoptions@malinoisrescueleague.org
OR
fill out an application at www.malinoisrescueleague.org
---
Cookie
Name: Cookie
Age: 16 years
Gender: Female
Breed: Border Collie Mix
This is Cookie, at 16 years young an old lady with a lot of spring in her step! Our best guess is that she is a border collie mix. She certainly has the intelligence and energy level of the breed although she's also capable of a lot of mellow sleeping since she is a senior.
Cookie is easy to have around the house. She gets along fine with other dogs and cats in the home. She will bark at strangers but is friendly once she knows everyone is safe. I would not trust her around young children because she can be a little reactive to certain kinds of physical contact.
Cookie loves to go for walks. Truly loves it! The one challenge is that when she sees other dogs while she is out she gets very stimulated and will sort of fling herself at their faces. So she needs a strong hand on walks. She's also pretty nearly deaf so she needs to be on leash.
This is a girl with a lot of life in her even at her age for someone willing to meet her needs."  
If you are able to give this senior girl a loving home for her sunset years 
please fill out the Aussie Rescue So Cal adoption application: https://www.aussierescuesocal.com/applications/adoption_v2/. (Santa Barbara area)
---
Adoptable Dogs from Our Rescue Partners:
To view dogs available at our local humane societies and shelters: