Operation Perfect Match
– finding the perfect family for me!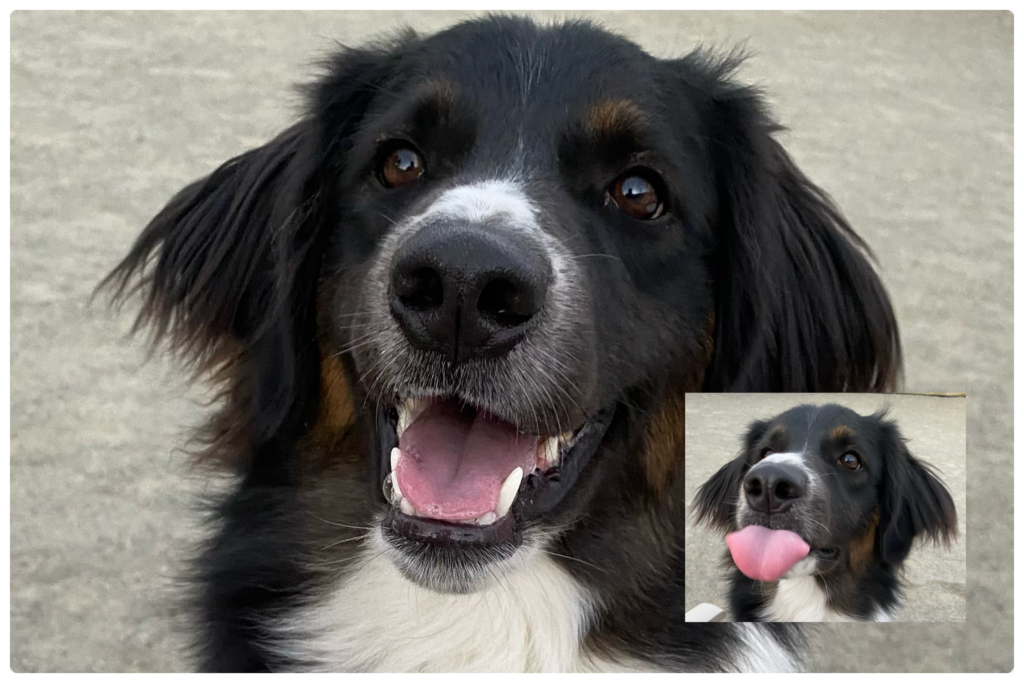 MY NAME IS JAKE!
About Me: I am a 60lb goofy and affectionate one year old wigglebutt!
🔎: Seeking someone who loves adventures and enjoys teaching me new tricks to maintain my good behaviors
👍: Likes
– playing with toys
– getting attention and Aussie bootie rubs
– going on adventure walks
– taking afternoon naps
– working for treats
– stealing my person's chair even before they get up. I am famous for sitting tall in their chair and sticking my tongue out at them just to joke with them!
I need…
– a home with a fenced yard to run zoomies
– a knowledgeable and patient owner who can help me build confidence and coping skills. I can be reactive when I feel challenged. I am uncomfortable when other dogs make me feel awkward so I will bark loudly at them.
Special skills:
Looking to be greeted enthusiastically when you come home? I am not one to brag, but I just might get so excited to see you that I pee a little. I've improved but sometimes I really need to show you just how happy I am! (Pro tip, as long as you don't lean over or try to pet me, I can contain my excitement and will mellow out after a minute or two.)
And in case you have not heard, all of the ARSD volunteers including my foster mom tell me that I am a "Good Boi!" I love to make everyone happy.
If you are interested in being my family, click below to fill out an adoption application.
MY NAME IS ZIPPY!
About Me: I am a 17lb very smart one and a half year old boy who loves to work and perform!
🔎: Searching for a director who will only show my good side (even though all my sides are good 😉). You must be confident and savvy or I will outsmart and outperform you.
👍: Likes
– learning and showing off my skills. Get your treats and toys ready! You're gonna need to pay me for my talents!
-moving real fast. I can zip around super fast. If you blink, you might not even see me cause I am so fast.
– hanging out with like-minded people. Respect me and I will trust and respect you!
I need…
– to be the only baby in the house. No other pets or children.
– an experienced owner who has dealt with little stinkers like me.
– my own things. I can give on cue but don't be trying to take MY things unless you know how to ask nicely
– a home with a fenced yard where I can do my "tricks" and speed racing zoom zooms. I got about 11 million spin moves!
My super power is dazzling people! With me at the end of your leash, people are going to stop in their tracks to tell you how cute I am and they will ask you a bunch questions hoping for a little touchy touchy. I look good doing what I do until that happens. When people get all oochy woochy coochy coo at me, my face contorts and I will have to tell them to get away from me. If you love me at all, you'll keep my fans at a distance. 🤩
I know my perfect match is out there and that they will value me for my unique and fun personality and my ability to do lots of fun things.
If you are interested in being my family, click below to fill out an adoption application.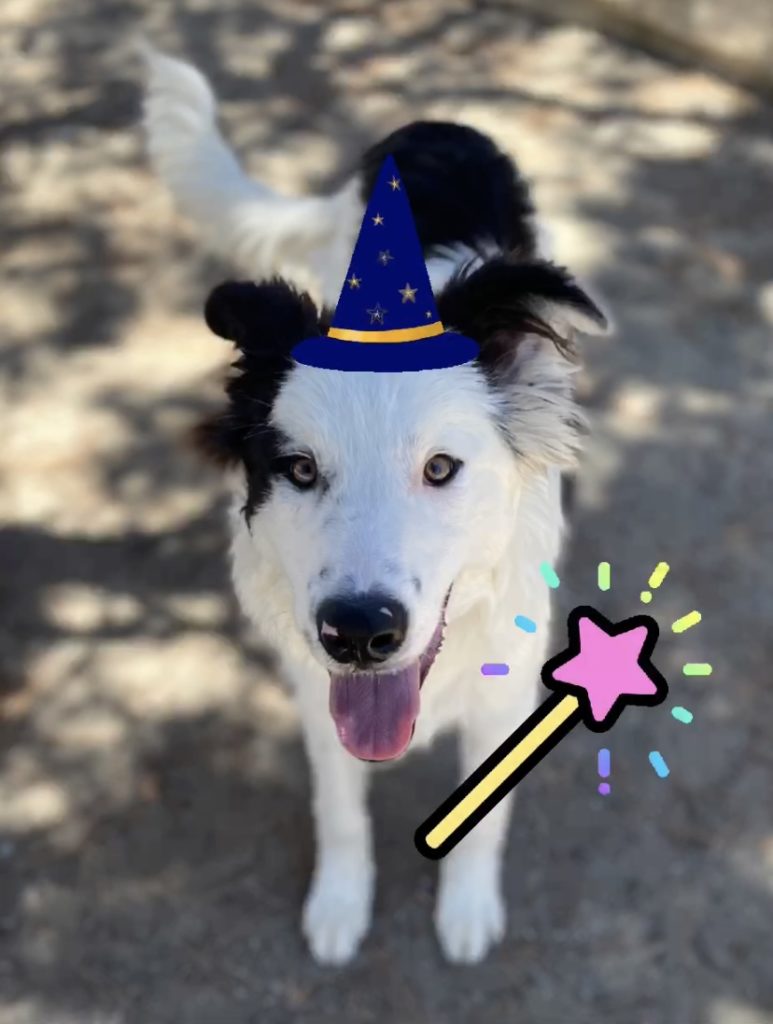 MY NAME IS HARVEY THE MAGNIFICENT!
Chewmeister Extraordinaire & Performer of Silly Antics
About Me: I weigh about 40 lbs but will get a little bigger. Maybe 45 – 50 lbs when I am all grown up. Right now, I am about 8 or 10 months old. And if you did not guess, I am a border collie mix.
🔎: I seek someone with a great sense of humor who likes to laugh and will appreciate me.
👍: Likes
– I love being with people! Riding in the car, going for a walk, whatever you are doing, I can keep you company.
– Toys are fun! I like chew toys as well as stuffies. Both are useful to keep my mouth occupied.
– Playing with my foster sisters is fun too! I am not sure exactly what to do so if I am lucky enough to get a real sister, she'll need to be friendly and playful enough to show me without scaring me.
I need…
– A partner who can spend lots of time with me. I get lonely if all alone. Life is better when shared.
– Someone who can provide lots of structure and help me learn basic manners. I am still a puppy and I like to "taste" things. You'd be amazed at what I can make disappear using only my mouth!
– A home with a fenced yard where I can be safe to practice my magic and lounge in the shade.
I have lots of tricks up my sleeve and will steal your heart with my all genuine sweetness.
Right before your eyes, I can do all kinds of things! If you have the ability to help me learn more, I promise I will be the bestest buddy you could ever hope for.
If you are interested in being my family, click below to fill out an adoption application.
---
Courtesy Posts!
This section is dedicated to Becky Rice who loved connecting people and helping others. She had a gift for matching up a dog in need with a person in need.
Please contact Owners/Rescues directly.
Courtesy Posts are dogs currently still with their owners or another rescue. If you think you might be a good fit for one (or more) of them, please follow the contact instructions listed in the bio.
---
Roxy
Roxy needs a new home where she will not need to live with young children.
Name: Roxy
Age: 9 year old
Breed: Australian Shepherd
Size: 45 lbs
Gender: Female
Located in Thousand Oaks
Per her owners: "Roxy is a very friendly, loving and gentle female. Due to a changed lifestyle and adding young children to the family, she is not able to live the lifestyle she should. Roxy is housebroken. She loves the beach, swimming, walking, running, going in the car and just being around her humans all day! Her owners should be home most of the time.
Roxy does not do well with other dominant dogs or cats. She sleeps inside at night, does not like a crate or to be locked outside. She is protective of her home and very vocal when visitors arrive. Once everyone is inside, she's friendly and will let herself be known. She is great with people outside of her home though.
Roxy is best suited as an only dog in her home. She isn't a dog that enjoys the dog park and is not suited for a home with children under age 10. She does not like fireworks or loud construction noises either. She recently had surgery on her left leg – fully fused – and is fully healed as of June 1, 2022.
If you think you might be a good fit for Roxy, please fill out application and we will forward to her owners. https://aussierescuesandiego.org/foster-and-volunteer/adoptionapplication/
---
Rocco
Name: Rocco
Age: 4 years old
Gender: Male
Weight: 76 lbs
Located in San Diego
Per owner: "Rocco is very athletic and loves to play! He especially loves his frisbee and ball. He obeys commands but needs a strong and consistent owner who is experienced dealing with reactivity. Rocco will need a home with no other pets. He gets nervous / anxious with loud noises so quiet home with securely fenced yard please. Rocco gets very reactive around other dogs and redirects on another dog, starting a fight. Except for these moments, Rocco is very sweet, loving and an amazing boy! No kids, cats or other dogs please."If you think your environment is calming and quiet and you have the skills to work with this handsome boy, please fill out our adoption application. We will forward to his owner. https://aussierescuesandiego.org/foster-and-volunteer/adoptionapplication/. Answer every required question, otherwise your app will not submit. You will receive an immediate on screen confirmation once it has been submitted. Please allow up to 48 hours for us email you personally. If you do not receive an email within 48 hours, email us at info@aussierescuesandiego.org
---
Adoptable Dogs from Our Rescue Partners:
To view dogs in Southern California shelters, click here >
To view dogs available at our local humane societies and shelters: