There are many ways you can help Aussie Rescue San Diego & Friends, see below for several options and ideas. We are a 501c3 non-profit and all donations to Aussie Rescue are tax-deductible. Our EIN is #80-0475841, if you need it to fill out your taxes.
---
General Donations to Aussie Rescue
Donate through Paypal, below. Don't have to have a Paypal account but still want to donate you can use a credit card.

---
2019 Holiday Fundraiser

Proceeds for each shirt purchased will support Aussie Rescue San Diego and help us help more dogs! https://www.bonfire.com/store/aussie-rescue-san-diego-shirt-shop/
---
Sponsor an Adoptable Dog!
We need your help! Will you become a sponsor? Your generous donation will help us continue to rescue more abandoned dogs in need.
Most people are not aware of the expenses that go into rescuing an adult dog or puppy. We provide all the medical care for the animals in our rescue, as well as food, crates, toys, bowls, treats, collars, leashes and more! These costs add up quickly. Adoption fees do not cover our expenses and it would be unreasonable to raise them higher. We rely on fundraising to make up the deficits.
Your one-time sponsorship includes:
– a photo for you with story
– recognition on facebook and website
– weekly updates with photo
– Warm, fuzzy feeling knowing you helped a dog in need
We are a 501(c)(3) non-profit rescue agency. All donations are tax-deductible. Sponsoring is a great way to get involved and make a difference!
If you'd like to sponsor an adoptable dog, click below:
You can pay with a credit card, look for the section on the next page the says "Don't have a Paypal account", in the lower left.
---
We have our own etsy shop!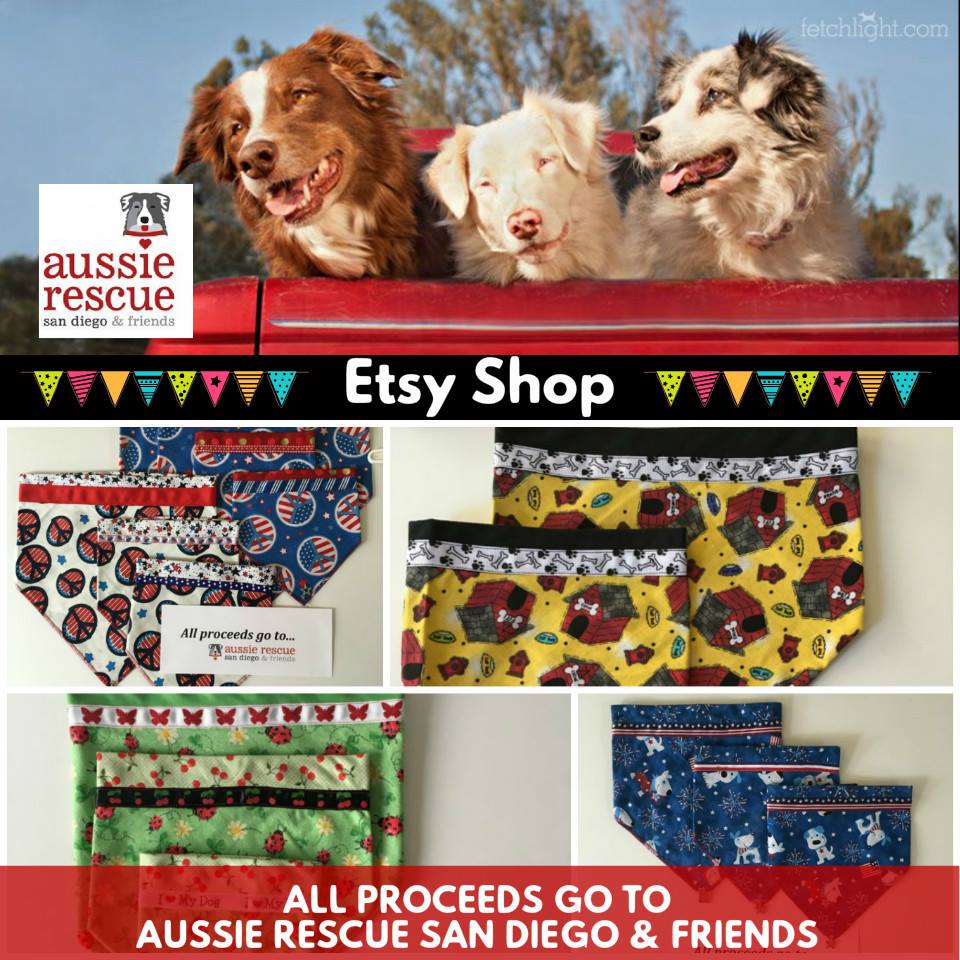 We are currently selling handmade bandanas for dogs and all proceeds go to helping our dogs in need. The bandanas range from $5-$8, and sizes XS-L. All bandanas are pre-made with velcro closures and an adorable charm. Help support Aussie Rescue San Diego and make that dog of yours even cuter with one of these handmade bandanas!
---

Amazon's Aussie Rescue San Diego
By simply clicking on the Amazon link below, you will earn funds for us when you shop Amazon!
If you make purchases on Amazon.com, don't forget to use our affiliate link http://shopping.escrip.com/click/5400/7337/amazonhome/s1a500068/afsrc=1/sidG500045146.
Between 2-3% of your purchase will go to Aussie Rescue San Diego, and it doesn't cost you a thing! Every little bit helps!
---
Thank you to our business sponsors!
Diamond D Feed and Supply Company
---
More ways to help Aussie Rescue:
Click this picture to donate a Kuranda bed

---
Use this link to automatically receive 20% off your purchase of Canna-Pet with proceeds going to Aussie Rescue: https://canna-pet.com/sd_aussie_rescue
---

We have recently been accepted to participate in the eScrip program. eScrip allows you to make donations to Australian Shepherd Rescue San Diego & Friends just by doing your everyday grocery shopping and living. Participating Merchants will donate a portion of monies you spend to the group you request. Please take advantage of this easy no-hassle way to direct money to Australian Shepherd Rescue San Diego & Friends, courtesy of the participating merchants of eScrip. Please read below for details.
Go to: http://www.escrip.com and click the link to sign up. The Australian Shepherd Rescue San Diego & Friends account number can be found by typing "Australian." Sign up using your Vons/Pavilion/Safeway and other cards. When you use your participating club cards and every time you swipe your card at the grocery store, a percentage of your purchase will be given to Aussie Rescue San Diego. Sign up your Vons, ATM card, Visa/MC/Discover/Amex cards and a percentage of your purchases from participating merchants will go to the rescue. Participating merchants in Southern California include restaurants such as Riviera Supper Club, Burger Lounge, The Broken Yoke, Bristol Farms, and other merchants listed on the website — money will go into our rescue account. The link for participating dining merchants is http://escrip.rewardsnetwork.com/
---
---
Ralphs will donate a portion of the total of your grocery bill to Aussie Rescue San Diego! Registration is easy, but you must re-register every year on or after September 1st. We are listed as Australian Shepherd & Others Rescue San Diego, #94376.
To Register:
1. Log in to http://www.ralphs.com/community/Pages/default.aspx
2. Scroll to the left of the page where you will see Community. Click on Community Contribution
3. Click on Enroll Now
4. Login using your email and password (or create a new account)
5. In the Find Your Organization box, type in Aussie and hit Search and look for Australian Shepherd & Others Rescue San Diego
6. Once Australian Shepherd & Others Rescue San Diego populates below, click on circle that shows our name
7. Click on Save Changes
8. Make sure to use your Ralphs Reward card and look at the bottom of your receipt to make sure it states "At your request, Ralphs is donating to Australian Shepherd & Others Rescue San Diego
---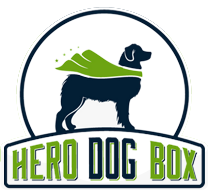 Buy a subscription to HeroDogBox and Aussie Rescue receives $5!  Type "Aussie" into the coupon code and Aussie Rescue San Diego receives $5 for every sign up, as well as product and monetary donations throughout the year.
---


Another way to donate is through iGive.com, inviting you to change YOUR online shopping into support for a truly worthy cause. You can support Aussie Rescue San Diego by just by shopping online for brand-name stuff at over 549 well-known online stores. And get free deals and coupons just by being an iGive.com member. If you join iGive.com and make a purchase within 45 days, iGive.com will donate $5 FREE to your favorite worthy cause!
How it Works
1. Register with iGive and add Aussie Rescue San Diego, its free. Sign up here. Search for "Australian Shepherd Rescue San Diego & Friends" as your cause.
2. Select stores you shop at in the Shop the Mall at iGive.com. You'll see familiar stores like Land's End, the Gap, L.L.Bean, Barnes&Noble.com, Expedia, and Office Depot to mention just a few.
3. Watch the $$ roll in for Aussie San Diego Rescue! Up to 27% of EACH purchase gets donated!
Use this link to join for free and begin supporting us Animal Rescue: http://www.igive.com/html/tellafriend.cfm
We at Australian Shepherd San Diego & Friends thank you for your participation and generosity. Please forward to anyone you feel may be interested in participating in this program.

 If you use 1-800-Pet Meds to order your flea and tick medicine or any other dog and cat products, iGive.com gives a 4.8% donation for purchases. iGive is a great way to make online purchase and donate to help support Aussie Rescue San Diego.
---
Contact Geri to donate gently used items like collars, leashes, crates, x pens, toys, etc. Visit our contact us page with ideas and interest for fundraising
Save
Save
Save
Save
Save
Save
Save
Save